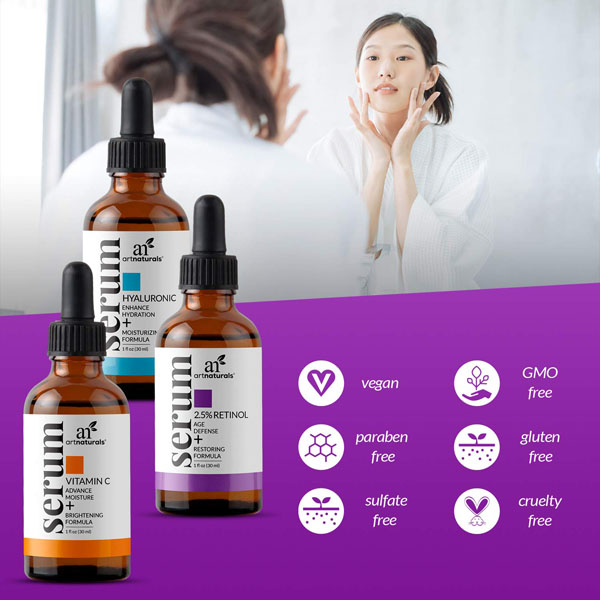 I got the Sleepytime Extra tea with valerian that we featured last week. Thankfully I just bought one box from the store because I couldn't sleep after drinking two cups! Apparently valerian has the opposite effect on some people in that it causes insomnia. I don't recommend it, and I was convinced after reading the reviews. Here are some more things I own or am interested in.
A set of 3 anti-aging serums for under $15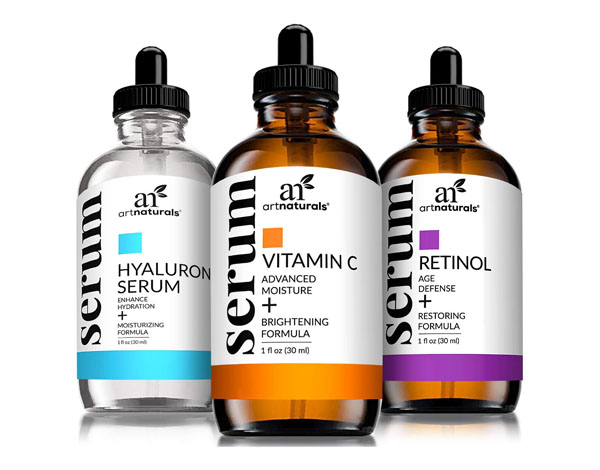 I know I'm spoiled, but I like to have three serums at once so I can alternate. This is a set of three one-ounce anti-aging serums from ArtNaturals for just $15! It comes with Vitamin C, hyaluronic acid and retinol. This set has over 3,400 ratings, 4.4 stars and an A on Fakespot. It also comes with an instruction card so you know when to apply which serum. There are convincing before and after photos showing much clearer, hydrated skin with a reduction of fine lines. Reviewers write "I started using these serums about a year ago and have stopped using everything else. They have made a significant change in the appearance and health of my skin. Not to brag, but people comment on my skin all the time and I always tell them it is because of this trio of serums." "Used these serums for a month now and have noticed the major improvement of my skin. Pores have diminished by nearly 100%! Skin is brighter and hydrated."
A detangling brush for all hair types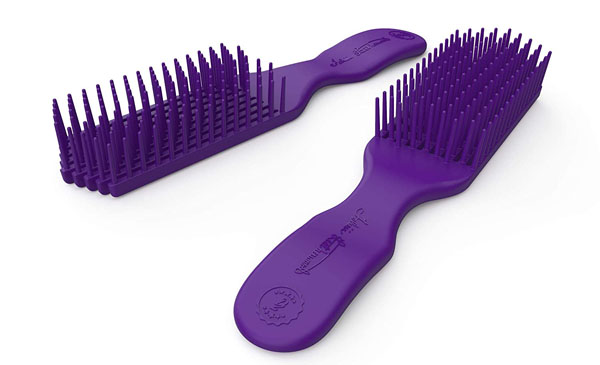 Taraji P. Henson featured this detangling brush by Felicia Leatherwood in a recent haircare video which Oya covered. It's made of wood and is said to work with all hair types, including straight and synthetic hair. This has over 2,100 reviews, 4.6 stars and a B on Fakespot. It's said to be better than the Denman to detangle with less pain. This brush is very solid and detangles so well you have to be careful with and may want to use it on wet hair with conditioner. Reviewers say it works very well. "Finally a brush that detangles without snatching out thousands of strands. I literally had 1/4 the loss that I normally have with tangle teaser, comb or denmen." "Love how it gets through 4b/4c hair. I bought a few brushes for other family members." "After using it, I realized that it detangles much faster and with less breakage than any other brush I've ever used on my 4C hair. The key is brushing from the bottom to top, slowly detangling. If you are inpatient, this brush is not for you because you will rip your hair out. However, if used correctly, it works so well!"
An under-$20 leather oversize watch would make a great gift for you or a friend


These pretty large face watches with leather bands are so inexpensive you can get them in a couple different colors. They would also make great gifts. They come in 12 different band colors and face options, all under $20 with a $1 coupon to apply. These have over 1,700 ratings, 4.4 stars and a B on Fakespot. Plus they're waterproof. Women say they're lovely watches that look feminine and make your wrist look small. Reviewers like how bold yet lightweight it is and one person said it even works fine after going through the washer. "I love this watch! I wanted something that looked professional enough for work and this is beautiful." "I absolutely love these watches! I bought a black one and a brown one and I fell in love with both of them. It's fashionable and I have received a LOT of compliments about them." "This watch is so clean and sleek. I can't even count how many compliments I've gotten on it." Thanks to Buzzfeed for featuring this and the next listing.
Super cute scrunchies with detachable bows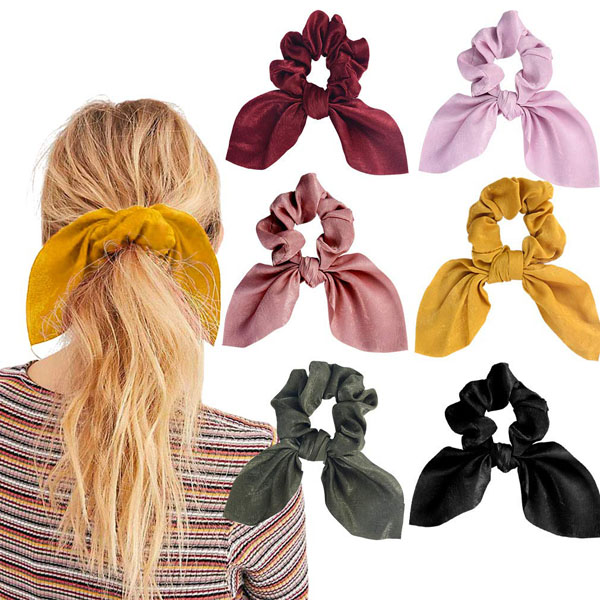 These are six satin scrunchies with big bows for just $7. These come in different cute solid colors and would work for both casual or dressed up looks. They have over 1,500 ratings, 4.6 stars and an A on Fakespot. Reviewers say they're high quality, pretty, and that the bows detach so you can use them as a regular scrunchie if you want. "I love feminine/ girly style, but I have a LOT of lazy hair days, and these are a dream!! Makes your basic ponytail or messy bun look cute and intentional." "These are very pretty as pictured. They are a soft satiny texture and they are large enough to hold my long, thick hair."
Organic hemp oil for relaxation and clearer skin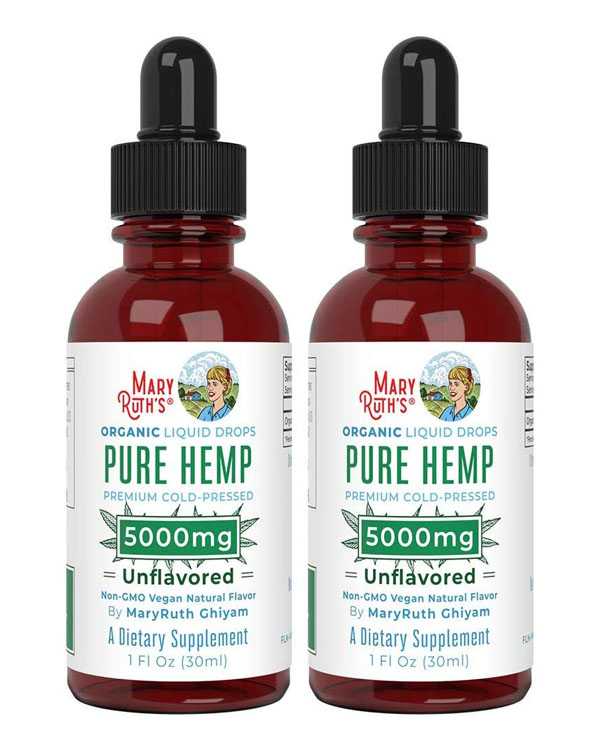 I've been buying CBD oil from a Colorado company. It's expensive at around $60 for an ounce of 1,000 mg. Amazon can't sell CBD oil, but they can sell hemp oil and it's much more affordable. (Here is a link to an explainer about the differences between CBD oil and hemp oil.) This is 2 ounces of 5,000 mg organic unflavored hemp oil. It can be used both topically and orally. I looked through so many hemp oil listings and most had fake ratings. This has 374 ratings, 4.3 stars and an A on Fakespot. Reviewers say it's relaxing when taken orally and that it works really well to clear skin and treat sensitive skin. "I have been taking it at night and it definitely helps lessen some of the pain I have at night due to a chronic condition." " I always experience a subtle calm after taking and holding under tongue. Use every night to relax." "My skin is unbelievably sensitive and I have been suffering from insane acne and eczema breakouts for months… it's really shocking how much of a difference I see already – acne marks almost completely gone after less than a week NO new acne whatsoever, eczema skin isn't peeling and the skin on my face looks plump and hydrated."
Gorgeous handmade statement earrings that will get noticed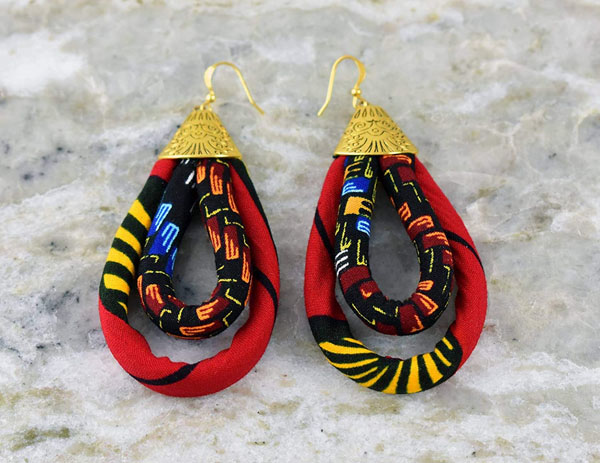 Cloth and Cord and a Black-owned business that creates handmade statement jewelry in bold prints. These red, gold, black and blue double print hoop 3 inch earrings are under $27. They have 49 ratings, 4.4 stars and an A on Fakespot. Women rave about how gorgeous they are and say they're lighter than they look. "I am in LOVE with these earrings. They are super light and a beautiful vibrant color/pattern. I receive a lot of compliments when wearing them." "The earrings are exactly as pictured and I love them." This seller has so many other fashionable pieces including necklaces, bracelets and headbands. These are the mini 3″ earrings and are a little shorter than shown on the model in the listing. Here's a link to the larger version.
A little cool mist humidifier so you're not breathing dry air all night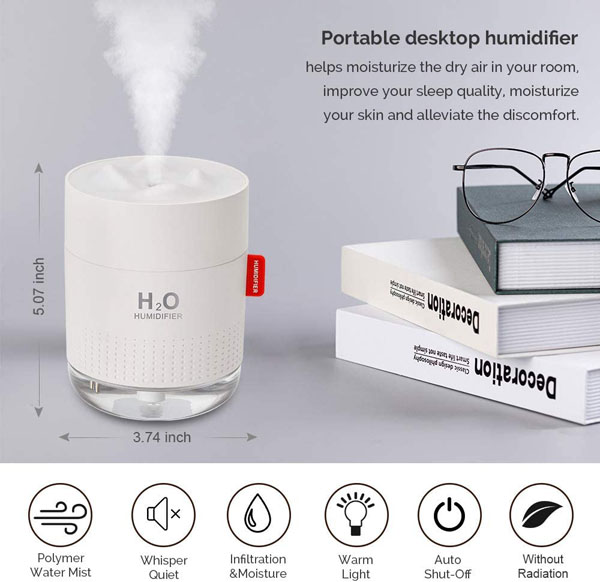 I got this portable cool mist humidifier months ago and only remembered I have it after I woke up with a sore throat for about a week. I fill this up, plug it in and it works all night and into the next morning. It's so quiet I've never heard it and it has a low pretty glow light that I don't notice either. This humidifier is under $15 and has 4.2 stars, over 11,000 ratings and a B on Fakespot. People say they work great for dry air and some even use them for their indoor plants. "My daughter has had a respiratory issue for so long and her doctor insists she use a humidifier. I got this little one for travel. It was amazing. It is so quiet… and it provided a lot of moisture in the air for such a small device." "My old humidifier has the water container loaded from the top and if spill, its a big mess to clean. This one, the water container is on the bottom and sealed by the electronic portion from the top. If you accidently tip it over, only a few drips of water will come out of the top."
A ring light for better lighting in Zoom calls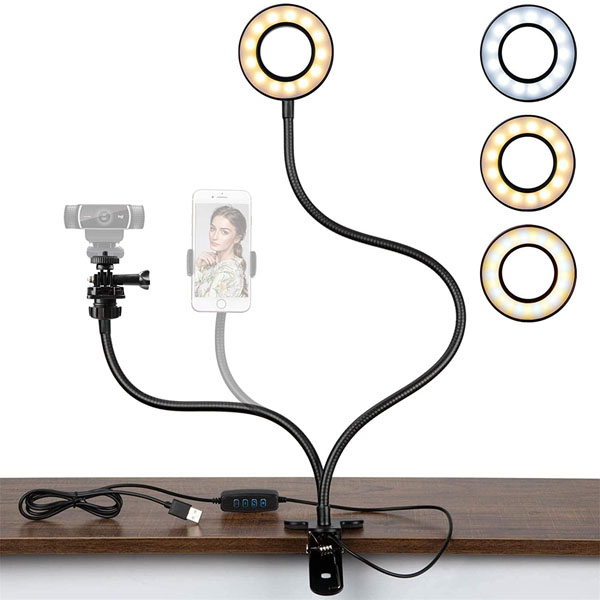 Kittycat asked in our last Amazon post for help with Zoom lighting. I bought this affordable gooseneck ring light after we featured it in June and it works great. It has over 1,800 ratings, 4.3 stars and a B on Fakespot. It comes with accessories to attach either a phone or a webcam and it has a clip so it attaches easily and securely to a desk or table. It has three different light colors and ten levels of brightness. This is just $24 and comes with a $2 off coupon. Reviewers like it as much as I do. "I love this item. I was looking for a ring light, and a webcam mount and this took care of both!' "The light mounts a standard tripod mount, as stated, and the stalk is very flexible while keeping the light and camera positioned where I put it." "The ability to change the lighting characteristics (soft, warm, cold and brightness levels) is very helpful to set the right atmosphere for the desired shot."
Thanks for reading and commenting on our affiliate post. If you make any purchases through these links we get a small percentage and appreciate it!