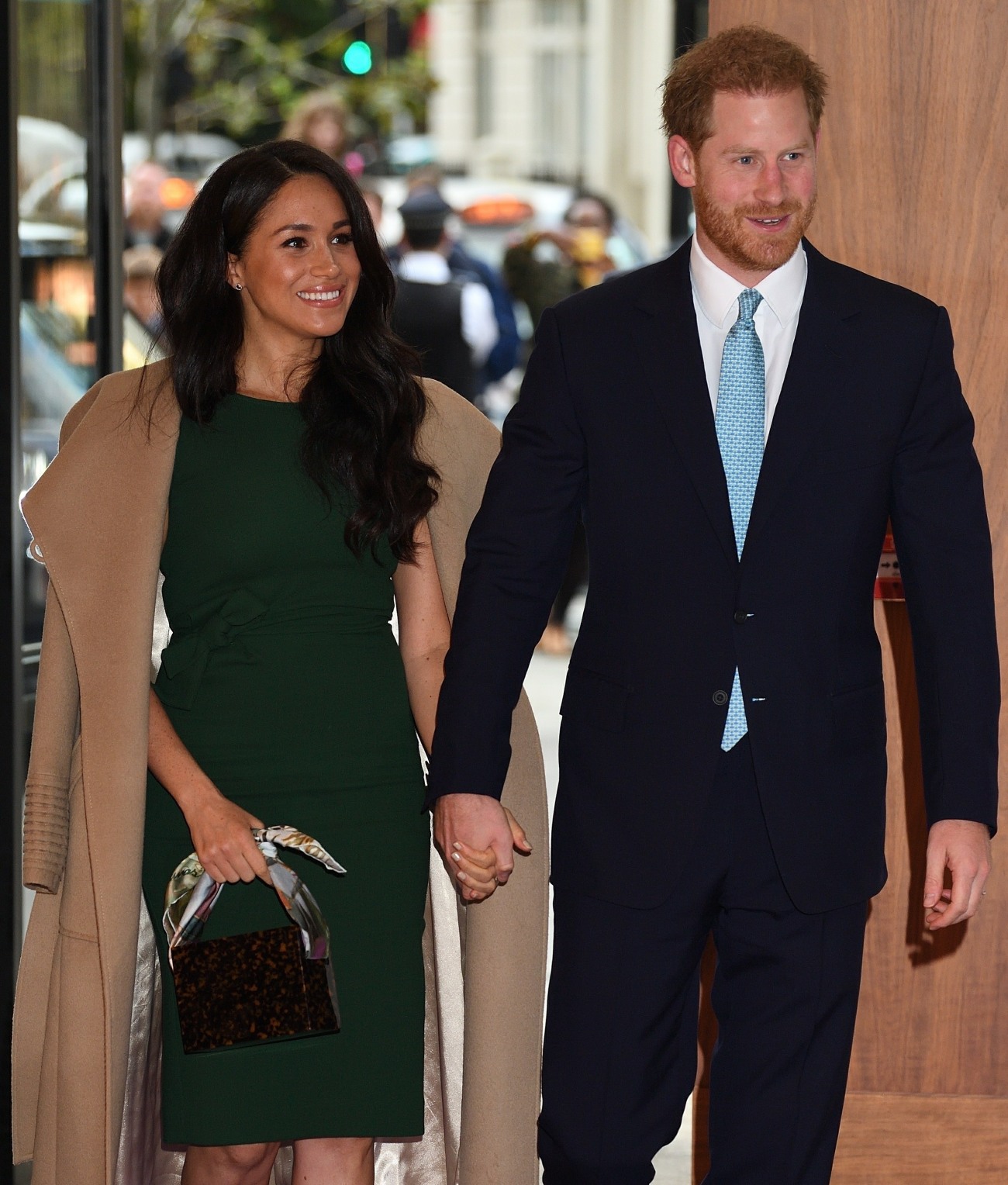 On Friday, Queen Elizabeth II officially stripped the Duke and Duchess of Sussex of all of their "royal patronages," meaning the patronages that Buckingham Palace controls. Which I still don't fully understand – the military titles, sure, I get that QEII can literally pull rank and say this royal person gets the Marines and this royal gets the Irish Guards, etc. But, say, the National Theatre runs completely independently of the Windsors. Surely they would get a say in their patron? Apparently not.
What was interesting is that 3-4 minutes after the palace's official announcement, the Sussexes made their own announcement, which was read as it was intended: as clapback. The Palace noted in their statement that "in stepping away from the work of The Royal Family it is not possible to continue with the responsibilities and duties that come with a life of public service." As in, the petty-ass Queen thinks she's the sole gatekeeper to public service. M&H's statement took issue with that, of course, noting: "The Duke and Duchess of Sussex remain committed to their duty and service to the UK and around the world and have offered their continued support to the organisations they have represented regardless of official role. We can all live a life of service. Service is universal." Judging from the reaction of their remaining patronages, it's clear that everyone acting independently of the House of Windsor is more than happy to have Harry & Meghan's service. From Harper's Bazaar:
Meghan & Harry's remaining "private" patronages: For Meghan, this includes animal welfare charity, Mayhew, and Smart Works, which helps empower disadvantaged women back into the work place. Prince Harry will continue with his roles as patron for the Invictus Games Foundation, children's charity WellChild, and Rhino Conservation Botswana.

Mayhew loves Meg: CEO of the Mayhew, Caroline Yates, tells BAZAAR that the charity, which Meghan became patron of in January 2019, is excited to continue their relationship with the duchess. "We are very proud to have the Duchess of Sussex as our patron, and are so pleased with the positive impact she has had on Mayhew over the past two years," says Yates. "[The duchess] has helped us to shine a light on the vital work we do in our local community—helping vulnerable pets and owners and championing the human-animal bond," she continues, who notes that the Sussexes' Christmas card, which was shared exclusively with the charity, reached 250 million people through its social media channels. "We have also seen a rise in awareness of Mayhew and our services since becoming one of the duchess's patronages, and we are extremely grateful to the duchess and our many supporters for their continuing dedication and generous donations. We can't thank our Patron enough for her ongoing support."

SmartWorks loves Meg: Smart Works are equally thrilled to continue their work with Meghan, who released a capsule wardrobe collection in September 2019 to raise resources and awareness for the program. "We are delighted to confirm that the Duchess of Sussex will remain a patron," a spokesperson said in a statement. "We are thankful for everything she has done in support of our clients and look forward to working together in the future."

Invictus loves Harry: Founded by Prince Harry in 2014 after serving in the military for 10 years, the Invictus Games Foundation has help thousands of veterans and military personnel around the world find new purpose and raise awareness of wounded, injured, and sick service men and women through its international sporting events and charity programs. In a statement shared with BAZAAR, CEO Dominic Reid, says the foundation is proud to have the prince as their patron. "He remains fully committed to both the Games and to the Invictus Games Foundation," says Reid. "His work has had an extraordinary impact on the way in which disability, service, and mental health is viewed around the world. And he has been instrumental in changing the lives of many."

WellChild loves Harry: The British children's charity WellChild, which Prince Harry first worked with in 2011, has also enjoyed a long relationship with the royal. Chief executive Colin Dyer tells BAZAAR they're "delighted" to still be working with the duke. "He has always been a great supporter of WellChild's work and we look forward to continuing to work with him in the future," says Dyer, who notes that Harry has recently spoken with the charity about how the existing needs of vulnerable children should not be forgotten during the pandemic.

What happened was not their call: "Of course they would have liked to continue with as many [of their patronages] as possible but, ultimately, returning the roles was not their decision," a friend of the couple tells BAZAAR. "They're moving forward proud of their achievements so far and eager to get on with the work ahead."
I'm including some of the social media posts done by their current patronages. I'm sure it stings for Meghan and Harry to lose the patronages – especially Harry, with the military patronages – but they made it clear throughout the past year that if it was up to them, they would love to keep working. And it also stings because the Palace WANTS it to sting. The goal wasn't to uphold some prissy-ass rule or petty-ass standard. The goal was to hurt Harry (and Meg, but especially Harry) for choosing his wife over his white privilege. Anyway, good luck to the National Theatre when Top CEO Kate is designated your royal patron. Get ready for her to show up once every five years. Same with William taking over some of Harry's old patronages.
We're pleased to confirm that The Duchess of Sussex will remain our Patron.

We want to thank The Duchess for all of her support, and look forward to continuing our work with her helping dogs, cats and communities in need. 💜 pic.twitter.com/IGIPTAEhqm

— Mayhew 🐶🐱 (@themayhew) February 19, 2021
We are delighted to confirm that The Duchess of Sussex will remain a Patron of Smart Works.

We are thankful for everything she has done in support of our clients and look forward to working together in the future. pic.twitter.com/ZAI0dW3ckq

— Smart Works Charity (@SmartWorksHQ) February 19, 2021
We are delighted to confirm that The Duke of Sussex will continue as Patron of WellChild. He has always been a great supporter of ours and has made an important difference to the work we are able to do for families across the UK. We look forward to working with him in the future. pic.twitter.com/C1IbYZbZCF

— WellChild (@WellChild) February 19, 2021
Our statement on the Duke of Sussex remaining as Patron of the Invictus Games Foundation: pic.twitter.com/uXe52t9BY7

— Invictus Games Foundation 💛🖤+💙 (@WeAreInvictus) February 19, 2021
A statement from QCT following today's statement from Buckingham Palace. We would like to thank The Duke and Duchess of Sussex for their support and commitment to Team QCT: pic.twitter.com/lzBG9ExnUL

— The Queen's Commonwealth Trust (@queenscomtrust) February 19, 2021
Photos courtesy of Avalon Red, Backgrid, WENN.