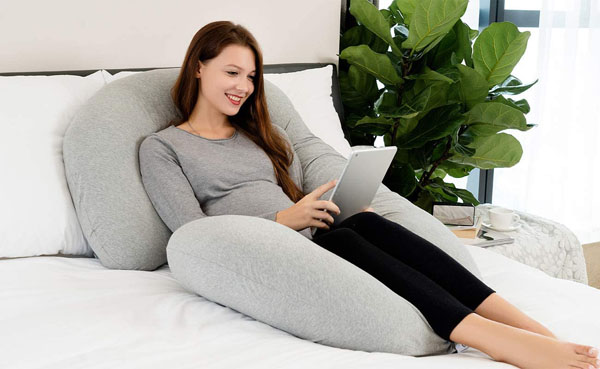 Someone asked for a rebound trampoline a couple of weeks ago but they all had terrible Fakespot ratings. I looked a couple of times and couldn't find anything. The set of 10 essential oils from Pura D'or arrived for a reader without the peppermint oil! It was packaged well and looked nice but was missing one. However the seller said they will send her a replacement. Let me know if there's anything you want me to find on Amazon. I was in search of decent slippers, ordered three different pair which didn't fit right and then just gave up and bought some at Walmart. (That's the only option in my town.) Sometimes you have to try things on. Here are some more things I'm interested in from Amazon.
A C-shaped pregnancy pillow that's great for side sleepers too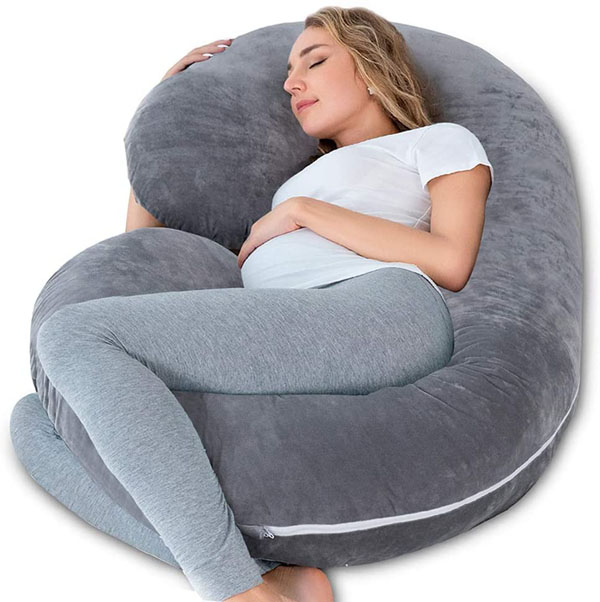 I got a noodle pillow when I was pregnant eons ago and it helped so much, especially in the last few months when I was so uncomfortable. I saw one of these pillows on Buzzfeed and now I really want one. I've been having neck and back issues and keep looking for better pillows. This pregnancy pillow by Insen has over 8,300 ratings, 4.6 stars and a B on Fakespot. It comes in six colors and in jersey and velvet fabrics. Both pregnant women and side sleeping non-pregnant people say this pillow is comfortable and helps them sleep better and wake up refreshed. They write "I sleep on my side, but have to have back support, also. I used to line the bed with pillows. Since this arrived, I literally have done away with my mass of pillows, as this provides me with the support I need, everywhere. One of my favorite purchases, and I only regret not buying one sooner!" "This pillow is so insanely comfortable, I've slept through my alarms twice this week. I'm not a pregnant woman, so I can't attest to how the pillow works under that circumstance, but I will say that it has been very supportive with my back and for use between my knees."
A 10% niacinamide serum with 1% zinc for clearer, smoother skin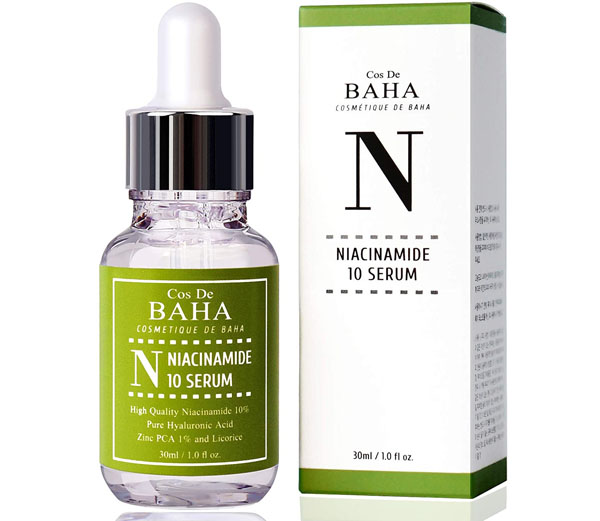 I've ordered this Cos de Baha niacinamide twice and the last time I ran out it was no longer in stock. It seemed to really make a difference. I'm out of the replacement brand I ordered and am happy to see that it's back. This niacinamide is under $10 for an ounce. This has 2,500 ratings, 4.4 stars and a B on Fakespot. It works to both clear skin and smooth fine lines and wrinkles. Reviewers write "This product really works wonders for trouble skin. I tried it hoping it would even out my skin tone from scarring and it did. It also clears up any active blemishes that I had when I started." "It actually works better than the more expensive lines." "My pores are clear, no breakouts and it pairs easily with all my other skincare products."
A rechargeable portable massage gun to aid muscle recovery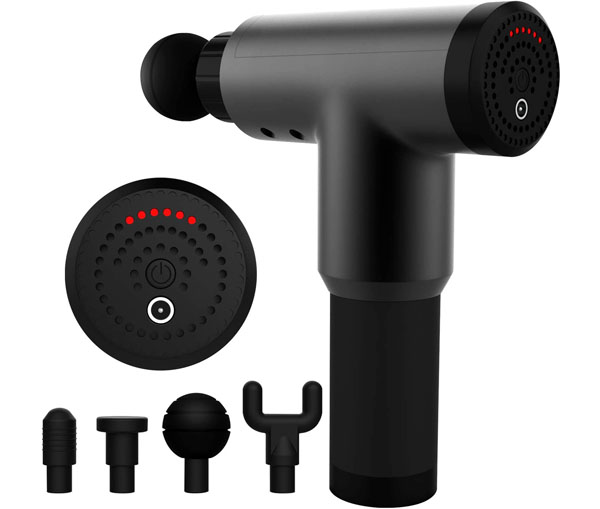 I'm trying to stretch and use my foam roller but I'm still getting knots in my muscles. It occurred to me to get a massage gun after Paula Abdul mentioned it in an interview. This six speed percussive portable massage gun has 764 ratings, 4.3 stars and an A on Fakespot. It comes with four different massage heads and is about half the cost of comparable models at under $50. It also has a $3 off coupon you can check. People say it it's quiet and that it's just as good as the massage guns at the gym. "Surprisingly powerful for being a cordless rechargeable device. Feels amazing and is a wonderful quarantine replacement for a professional spa massage." "This massager is amazing. I love that it has different speeds and massage heads to use for different muscles. The case makes it extremely easy to store and keep all the parts & charger together. It competes with higher-priced massagers that we have had in the past."
A creamy highlighter that's so versatile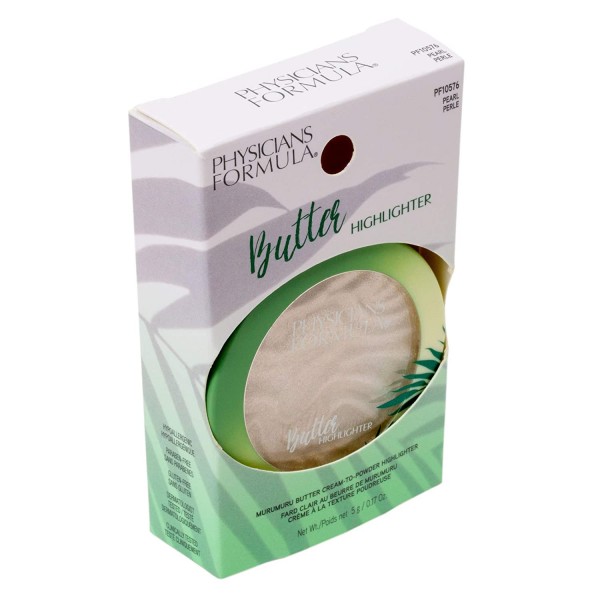 Butter highlighter by Physician's Formula comes in six colors for all different skin tones. It has 4.6 stars, over 4,400 ratings and a B on Fakespot. Women say it works great as eyeshadow and highlighter and some use it as bronzer and blush. It's also said to work well on older skin unlike other brands. "I love this highlighter. I use it for multiple uses, cheekbones, eye shadow and for my brows. I have extremely fair skin so this product works well for me." " It creates a flawless sheen that is visible without being obviously heavy and cakey. Oh, and it smells like a very light fresh coconut, which makes me so happy!"
A pizza stone and wooden paddle for crispier pizza in the oven or on the grill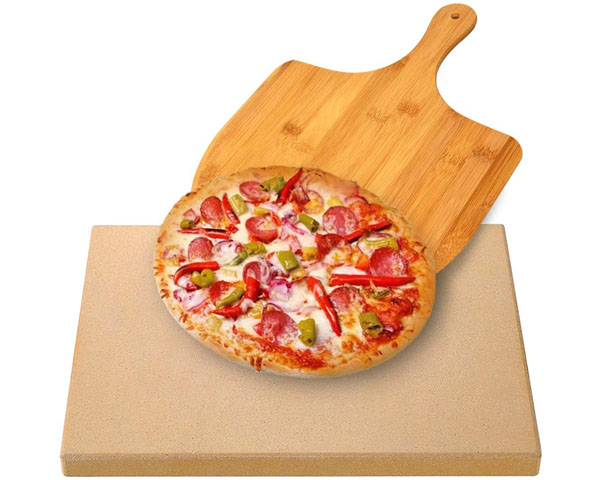 This 12" by 15" pizza stone by Augusta is $40 and comes with a wooden pizza peel, which I think you can also use as a server. A typical large pizza is about 12 inches, so if you're cooking a frozen pizza this would work great. It would also be great for homemade pizza and it works well to bake bread too. This has almost 800 ratings, 4.4 stars and an A on Fakespot. Reviewers really like it and say it works with all types of crusts. "This is an excellent value and product. I have used it in my BBQ with a metal woodstove thermometer to bake pizza. I've given these as gifts and everyone appreciates the pizza peel." "When heated to 500 degrees F, the pizza stone can double as a tandoor oven. I made great garlic naans."
A comfy two piece tracksuit that you'll want to wear every day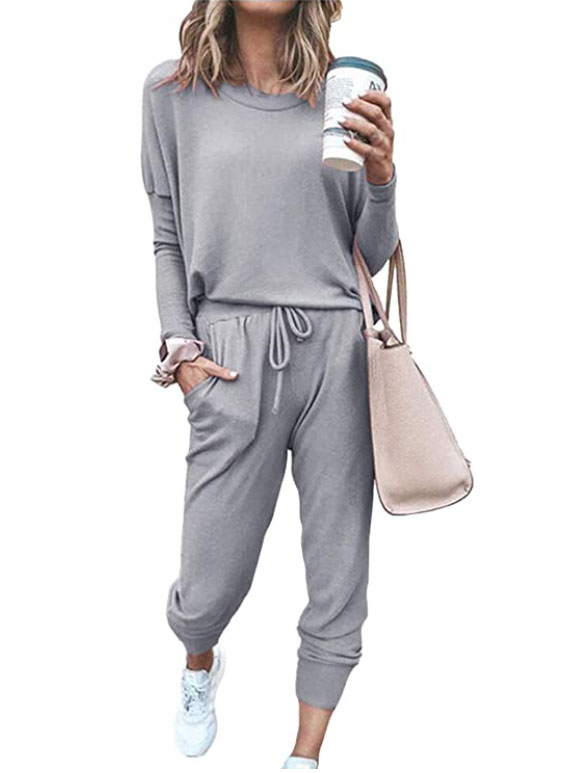 This two piece tracksuit comes in 31 different colors, some with tie dye and others with the saying "be kind." It has 4.1 stars, over 6,700 ratings and a B on Fakespot, which is much better than the other tracksuits I looked up. It comes in sizes small to 3x and is said to run small in the arms so you may want to size up. Women say it's comfortable, stretchy and flattering. "I've bought seven of these two piece sets. I wear them out and about to a casual restaurant, to the gym, shopping and walking dogs. The material is soft and also great for lounging in." " Perfect for working remote, running errands or just lounging around. Love the fit of the pants. Just an easy way to be comfy but pulled together."
A butane torch for fancy desserts and easy broiling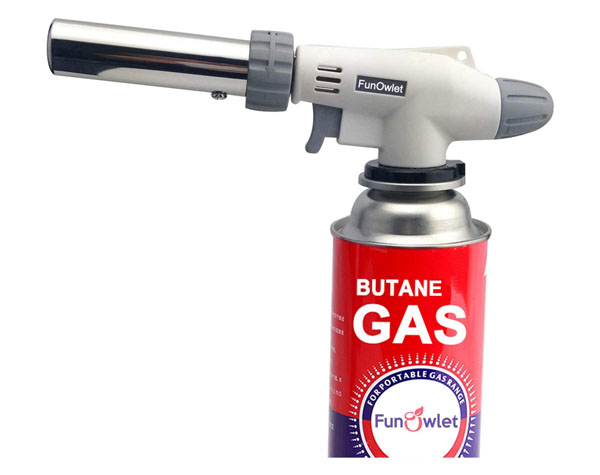 Update: This is backordered to April! Here is a link to a comparable model.
I keep seeing recipes that call for broiling and whenever I try to do it in the oven I end up leaving it in too long. A butane torch can have the same effect with less time and effort. Here's more on how to use a torch. You can brown toppings, roast peppers, make a tuna melt, broil fish and meats and of course make creme brulee and brown meringues. Plus you can use it for household repairs. It sounds pretty easy to use, as long as you point it away from the food until the flame is blue and then use a sweeping motion. This torch is under $15. It has 4.5 stars, almost 3,000 ratings and a B on Fakespot. You will need to get the butane separately and you have to attach it to the canister to use it. Many people like this better than the kind you have to refill and say it's easier to use with peace of mind. "It's an easy twist-on to the gas, pull the trigger, and a twist knob to turn up the intensity of the gas. I've read so many reviews of other products leaking after refilling or forgetting to put the safety on and worrying. When I'm done, I twist the torch off and put it away, in a separate drawer than the gas. No worries, no hassle."
Thanks for reading and commenting on our affiliate post! If you make any purchases through these links we get a small percentage and appreciate it.