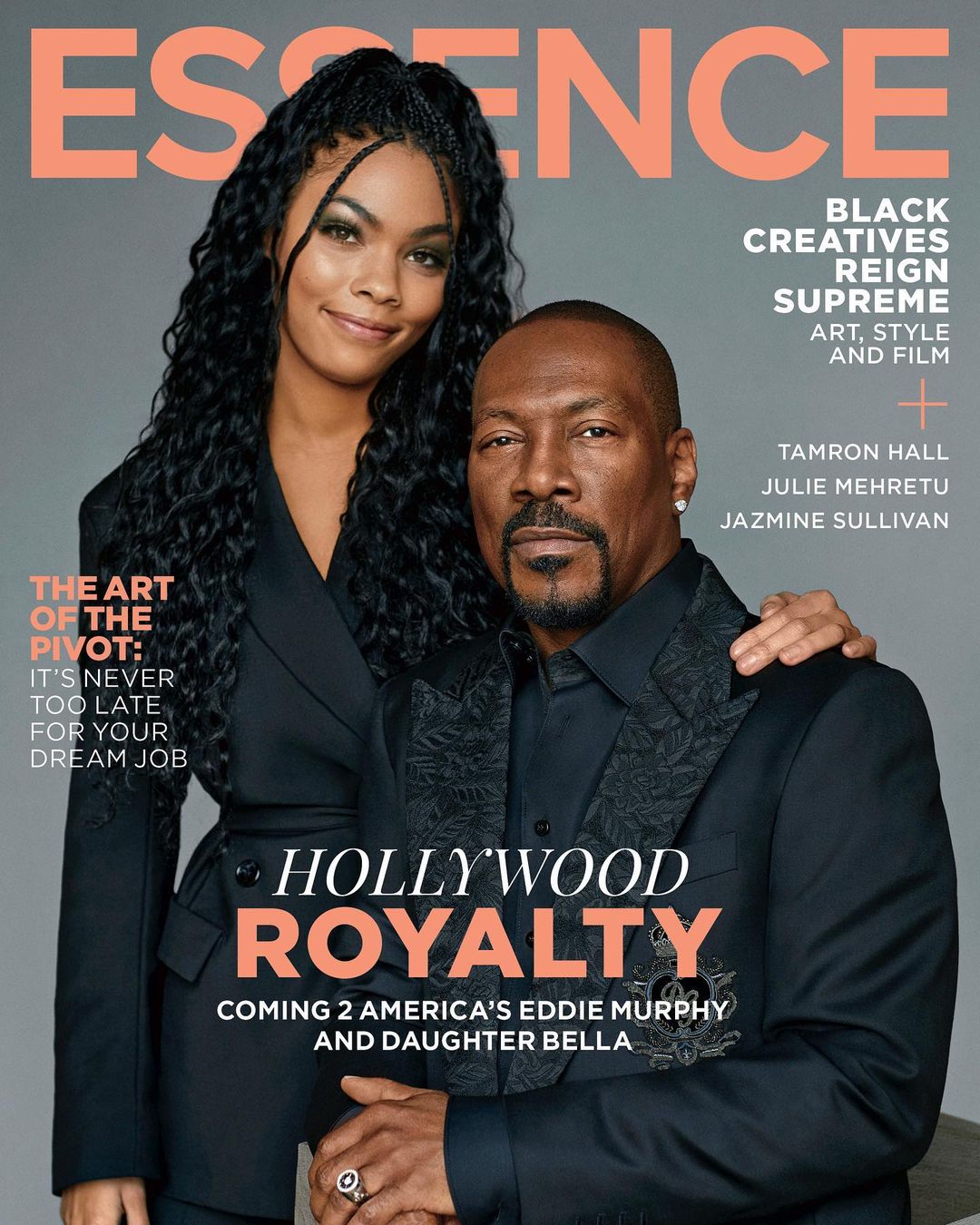 The sequel that I have been waiting over 30 years for will finally drop on Amazon Prime on March 5. Coming to America was one of my favorite movies as a kid. From Sexual Chocolate to Soul Glow, what is there not to love about that movie? I have been stoked since the sequel was announced last year and have been impatiently awaiting it. Of course this is from someone who is hating all of the reboots and sequels. As an 80s kid, Coming to America is so significant to me. The fact that the "mic drop" was culturally solidified by Randy "Sexual Chocolate" Watson says so much about Coming to America's cultural influence.
Eddie Murphy was profiled in Essence's March issue. He said that he didn't want to "make a bad sequel," for such a cult classic. Eddie went on to talk about the impact of Coming to America on American culture. Below are a few excerpts:
One of the greatest cultural moments of Barack Obama's presidency was when he hit guests at the annual White House Correspondents Dinner with a mic drop in 2016. Twenty-eight years earlier, however, one of the most memorable mic drops to ever be performed on screen happed in the cult classic Coming to America, and we have Randy Watson, aka, Eddie Murphy, to thank for it.

"Coming to America is one of my films that has really worked its way into the culture," Murphy tells ESSENCE in the cover story for the March/April issue. "People get dressed up as the characters for Halloween, and they still walk around saying catch phrases like 'Sexual Chocolate.' All of that stuff just kind of stayed around—like Randy Watson doing the very first mic drop!"

"The one thing that I didn't want to do was a bad sequel to a movie that a lot of people have a lot invested," he says. "A lot of people grew up watching Coming to America. It's special to them. So, you don't want to taint that."

And it's not just the comedy that makes the film special, Murphy adds, reflecting on the movie's longevity in Black American culture and abroad.

"The legacy of Coming to America is that it is unique, it's rare. Black people, we don't get a lot of movies like this one. Coming to America is a romantic fantasy comedy. Usually, when we see ourselves on the screen, it's heavy things…Rarely do we get just to go see some escapism. Just to go see a movie and not have to think about any of that stuff," Murphy says to writer and longtime west coast editor Regina R. Robertson.

He continues: "Coming to America is an all-Black cast, but the movie's not about race. It's not about, having a foot in your ass or 'Wake up' or 'Keep hope alive.' It's none of those things that you can just go and sit back and watch the movie. And it's about these people and it's about somebody that's trying to find true love," says Murphy. " It's like a fantasy, like a fairy tale. And that's the legacy of the movie that it's one of the few romantic fairy tales with Black people. I think that's why we love it. That's why 30 years later, we still watch it and they show it on Christmas and all that. Cause it's this sweet thing."
I have loved Eddie for like ever and I am loving seeing him and Arsenio Hall bring Coming to America 2 to life. I feel it is something that we need right now. The last year has been so traumatic for many if not all of us. It should do all of our hearts some good. Especially if it brings laughter and nostalgia in a way that builds on the magic it created instead of trying to recreate that.
I agree with Eddie that it would be a tragedy if Coming to America was tainted by a badly written and executed sequel. I also agree with him when he said that the film was the black equivalent of a fairytale and that everyone regardless of race or ethnicity can enjoy it. Coming to America is a classic right up there with Harlem Nights, Pretty in Pink, and Ferris Bueller's Day Off. I am looking forward to seeing some of the actresses from the original movie like Shari Headley and Vanessa Bell Calloway. I am also excited about seeing what the hell Teyana Taylor and Wesley Snipes are doing because the trailer had me laughing hard. Anyways, the first week of March is going to be lit. I get The Flash AND Coming To America 2. A girl can't ask for anything more.