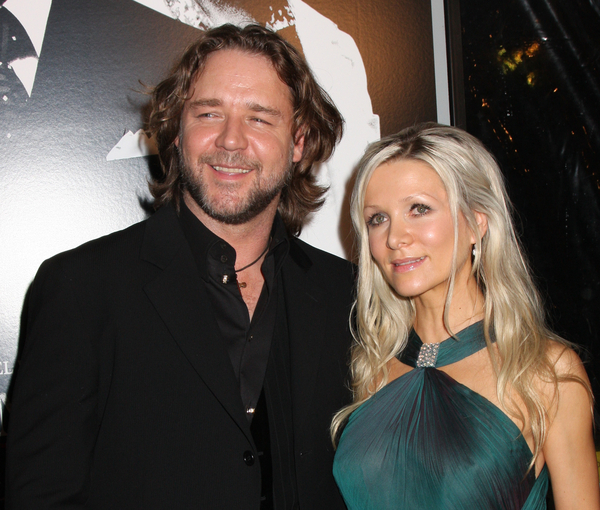 Russell Crowe sure has a mouth on him – but at least semi-interesting things pop out of it once in a while. Crowe recently gave an interview to Entertainment Weekly in which he was more than willing to chat about several of his famous co-stars – including some pretty personal stuff. He revealed that Leonardo DiCaprio was a virgin when Crowe first met the then-17-year-old. And apparently DiCaprio wouldn't shut up about it.
"You know, I worked with Leonardo [DiCaprio] when he was 17," Crowe recalls. "He was a virgin and he'd talk about that constantly."

Of course, Leo has made up for lost time – what with his conquests of supermodels Gisele Bundchen and Bar Rafaeli, among others. So Crowe is looking forward to debriefing the lothario on their upcoming "Body of Lies."

"I'm hoping … he can fill [me] in on what's happened in between, maybe show some photos," Crowe laughs in Entertainment Weekly. "I'm sure life's different now."
[From the New York Daily News]
Maybe I'm old fashioned, but I don't consider being a virgin at 17 to be anything bad. But then again I collect vintage candles and yell at my mom for listening to the television too loudly, so there you go. Crowe also talks about spitting on Denzel Washington. Because that's always a good career move.
The Oscar winner, who talks to EW with Denzel Washington, remembers meeting his "American Gangster" co-star 12 years ago, on the set of "Virtuosity."

"We had to do a scene where there's a piece of cyclone wire fencing between us," says Crowe. "I had to be really rabid and weird, and … a bit of spit comes out of my mouth … and it weaves itself neatly through the fencing and lands right on Denzel's lip. … And I'm going, Oh man … I'm doing my audition, and I spit on Denzel Washington. I might as well just go home and hang myself right now. … He just kept on doing the scene, and at the end, they said 'cut,' and he's looking at me and the spit's still sitting there and he goes, 'I love the taste of warm saliva in the morning.'?"
[From the New York Daily News]
That Denzel Washington is a good guy. If Russell Crowe spit within ten feet of me I'd launch a pack of rabid, wild dogs on him. You know he's been around the block with some unsavory women. It's a wonder Denzel didn't get Chlamydia from the guy. Yes I know you can't transmit it through spit. But I'm pretty sure Russell Crowe has so many other STDs that there's nowhere left for the Chlamydia to go, and they get forced upwards. I'm joking, I'm joking. Mostly.
Picture note by Jaybird: Here's Russell Crowe with wife Danielle Spencer at the American Gangster New York Premiere on October 19th. Images thanks to PR Photos.