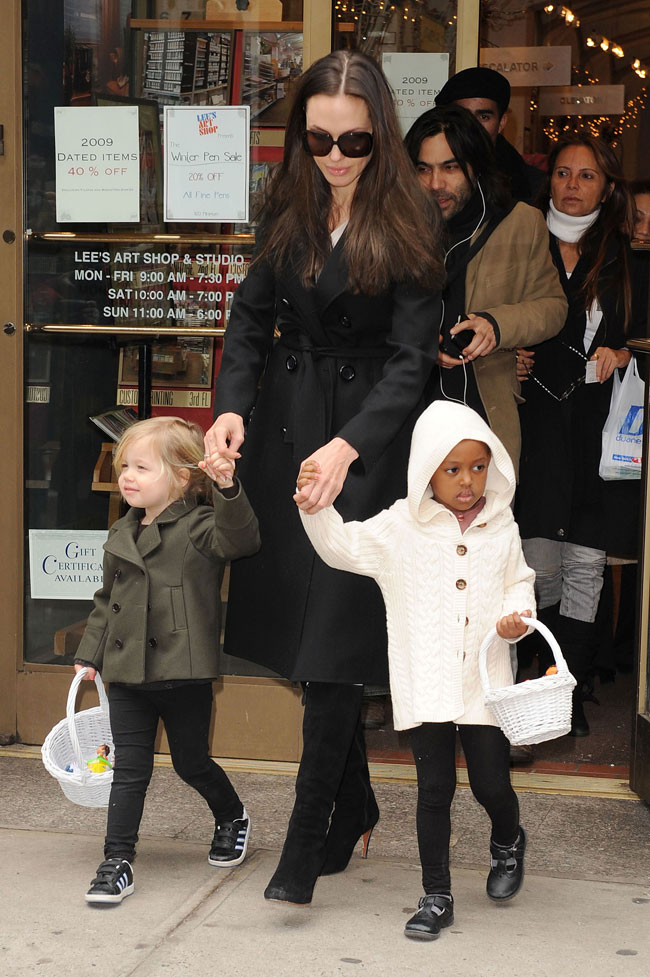 Yesterday we reported on Angelina Jolie's trip to the largest refugee camp in the world, on the Kenyan border with Somalia. Angelina made the trip in her capacity as the goodwill ambassador for the United Nations High Commission on Refugees, and her official comments (as noted by UN press releases) were about the underfunded camp and the truly horrific sanitation, water and disease issues. What I didn't realize at the time was that Angelina had made this trip as she and her family were vacationing in Kenya. I thought they were still in France (with the gerbils), but according to People, the Jolie-Pitts are on holiday in Kenya.
When Angelina returned to wherever her family is staying (probably a beach resort), she didn't even have time to unpack. She grabbed her two oldest girls (Shiloh and Zahara) and took them on a special girls' trip to Ethiopia, Zahara's birthplace. This is apparently Zahara's first trip back to her birthplace since Angelina adopted her in 2005. The trip, according to a source, was about keeping Zahara's cultural heritage alive, and to scout locations for a tuberculosis and AIDS clinic in Ethiopia. This clinic project was announced last year, and I hope they're doing more than just scouting locations on this trip.
It turns out that Angelina Jolie's recent goodwill mission in Kenya was also a homecoming for one member of the Jolie-Pitt family.

While Jolie, 34, and Brad Pitt, 45, were "on a trip to Kenya with their children, Angelina stopped in Dabaab Refugee Camp, and also flew to Ethiopia with Zahara and Shiloh for two days," a close family friend tells PEOPLE.

The girls' trip was "the first time Zahara had been back home since her adoption," according to the friend. Zahara, 4, was adopted from Ethiopia in 2005. "The trip was about keeping up that culture for her."

One priority for them on the trip was looking for a place to build a TB and AIDS clinic in Zahara's name, which would be similar to the Maddox Jolie-Pitt Project in Cambodia, an organization that helps impoverished and ill children.

While the girls were away, Pitt and the rest of the family – Madddox, 8, Pax, 5, and 1-year-old twins Knox and Vivienne – stayed behind in Kenya. "The family has been having a wonderful time," on this trip," says a pal. "The children are having so much fun."

Earlier in the trip, Jolie visited Dabaab Refugee Camp, home to nearly 300,000 Somali refugees, with nearly 7,000 more arriving every month due to the food crisis in Somalia where nearly 3.6 million people are starving.
[From People]
In sub-Saharan Africa, there are hundreds of thousands of people infected with both HIV and TB. I believe the dual diagnosis is so common, it's become known as "the terrible two" or "the terrible twins". Generally, TB rates are drastically increasing amongst HIV positive groups/communities. It's smart for Angelina to focus on these "terrible twins" in the form of a clinic, named after Zahara.
I'm sure there will be some general criticisms of Angelina, and some more specific criticisms of the weird timing on this – after all, this clinic was a project they announced last year, and they're just now getting started on scouting locations? But here's the thing – once it gets going, I imagine the Zahara Jolie-Pitt Project will be a lot like her brother Maddox's project in Cambodia. The Maddox Jolie-Project formed over years, starting from a simple wildlife conservation and de-mining initiative, then adding on the Maddox Chivan Children's Center for TB and AIDS in 2006. After that, the MJPP became part of Asia's first Millenium Village, an economic-development program overseen by Dr. Jeffrey Sachs. MJPP hired 70 people to "work with Sachs's group on activities – including rice planting, distribution of bed nets to fight malaria, school meal programs and providing medicines for clinics." I would imagine that once Zahara's project gets off the ground, it will grow over the years as well.
Angelina, Zahara and Shiloh are shown out in NY on 2/18/09. Credit: WENN.com