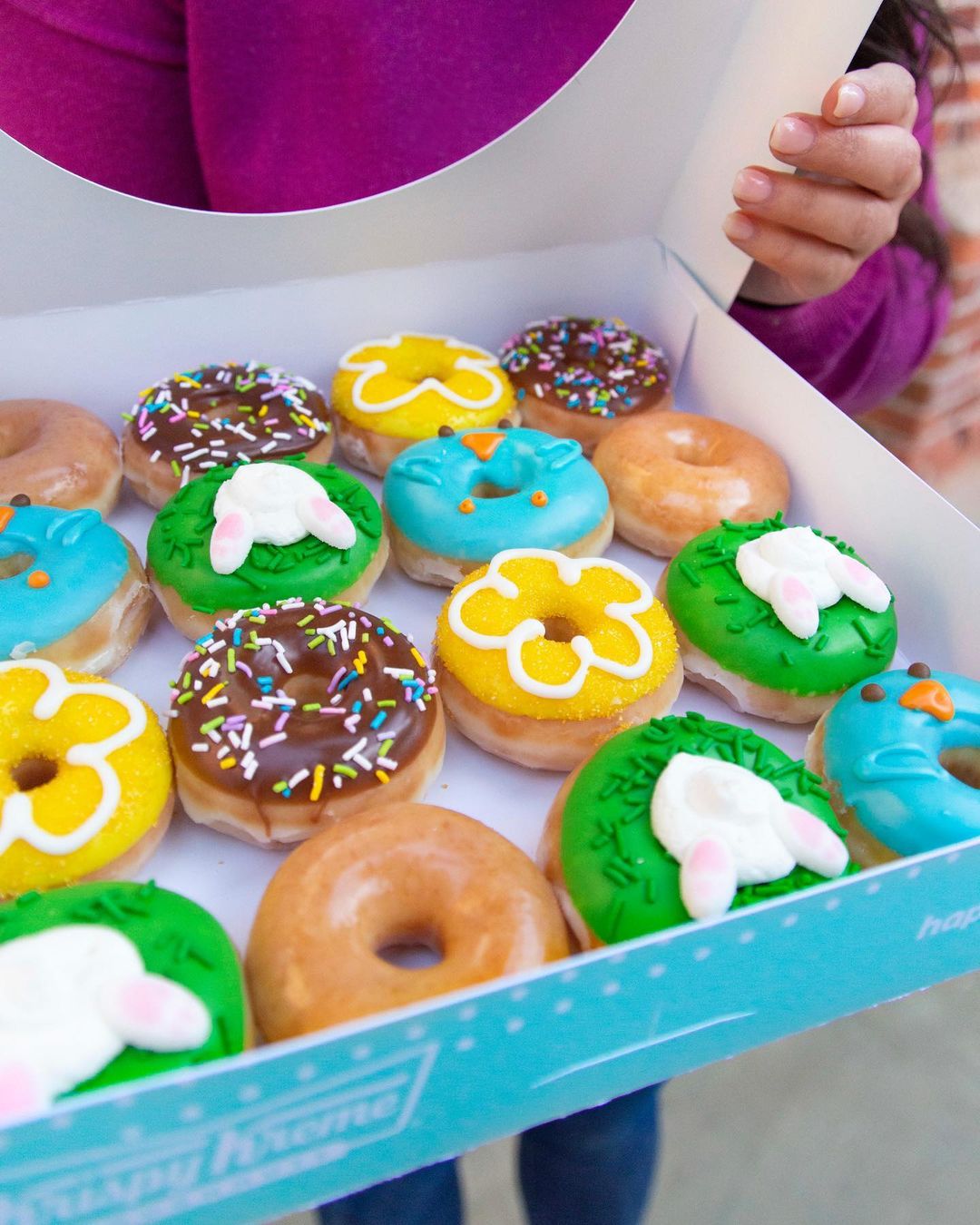 Last week Krispy Kreme announced that they were giving away one free donut every day to people who came in with their covid vaccination card. It was a kind gesture and a nice way to help encourage and reward people for getting vaccinated. Only everyone didn't agree. Of course idiot anti-vaxxers complained about not getting a free donut. In response Krispy Kreme said they would give away a free donut and a coffee to everyone on Mondays. Then there were the fat shamers and donut haters who said donuts are bad for you. Their CEO responded that they're in the donut business and they were just trying to be nice, essentially. I really like the thoughtful way they responded to this and wanted to talk about it.
[Krispy Kreme's] well-meaning (and literally sweet) incentive sparked some backlash on social media, with everyone from doctors to comedians pointing out that obesity — which is rampant in the U.S.— is also a prime risk category for the coronavirus. Additionally, there's a history of big brands offering generous specials that end up becoming costly mistakes.

However, CEO Mike Tattersfield defended his company's intentions in an interview with Yahoo Finance Live on Friday. "We're a sweet treat company, [and] if folks don't want to visit a donut shop, they don't have to."

Rebutting the growing critique, Tattersfield added that if "folks that want to get a vaccine, if they decide to combine a Krispy Kreme pickup [for] a doughnut, they can. That's how we look at it…. generosity."

Last March, Krispy Kreme launched a similar initiative in response to the pandemic. It allowed all healthcare workers to receive a free dozen of its original glazed donut. Tattersfield says the initiatives have been well received by the community.

"I drop off a lot of doughnuts to the healthcare system. They're very appreciative, given the days that they have to work…people are always looking for a little sweet treat break. It's okay," he said.
The article goes on to say that although the Krispy Kremes are franchises, the corporate headquarters picks up the tab for these giveaways. That's excellent and I appreciate how they responded to the naysayers in a matter-of-fact and non-defensive way. I don't particularly like donuts, I'm more into candy and ice cream and prefer my baked goods savory. This is great though and it's also a nice way to celebrate getting vaccinated. Plus it's excellent free publicity for Krispy Kreme. I got such a great impression of them after reading this and seeing their marketing head, Dave Skena, on The Today show. He said "Every single person who goes out and gets that vaccine brings us that much closer to a post-COVID America, which we're really excited about. And so, if we can show our support with a little tasty treat, then that's what we want to do."
They seem like they're a good company trying to thank people for getting the shot. They're a donut company giving away their product. How is this a bad thing? It's a freaking free donut, if you don't like donuts don't get one. I'm going to get a Krispy Kreme and tip damn generously once I have my double stamped card!
Here's one of the ridiculous fat shaming tweets. There's a whole thread, but I'll spare you. A glazed Krispy Kreme donut has 190 calories. That's like eating one regular Greek yogurt. You can have a damn treat when you want! It's not hard to balance 200 extra calories. This is rude and judgey and I can't believe she left this up. This is the doctor who was president of Planned Parenthood for less than a year and I'm beginning to understand why.
First, if someone indeed eats an Original Glazed #KrispyKreme donut every day as your offer provides, and changed no other aspects of their diet/exercise, they'd gain approximately 15 pounds by the end of 2021.

I'm sure that's not your intention. (2/4)https://t.co/220RPIkL2V

— Leana Wen, M.D. (@DrLeanaWen) March 24, 2021
The Today Show's report on this story ended with the line "in a nation so often split these days, even a donut can cause a divide." This is so true!