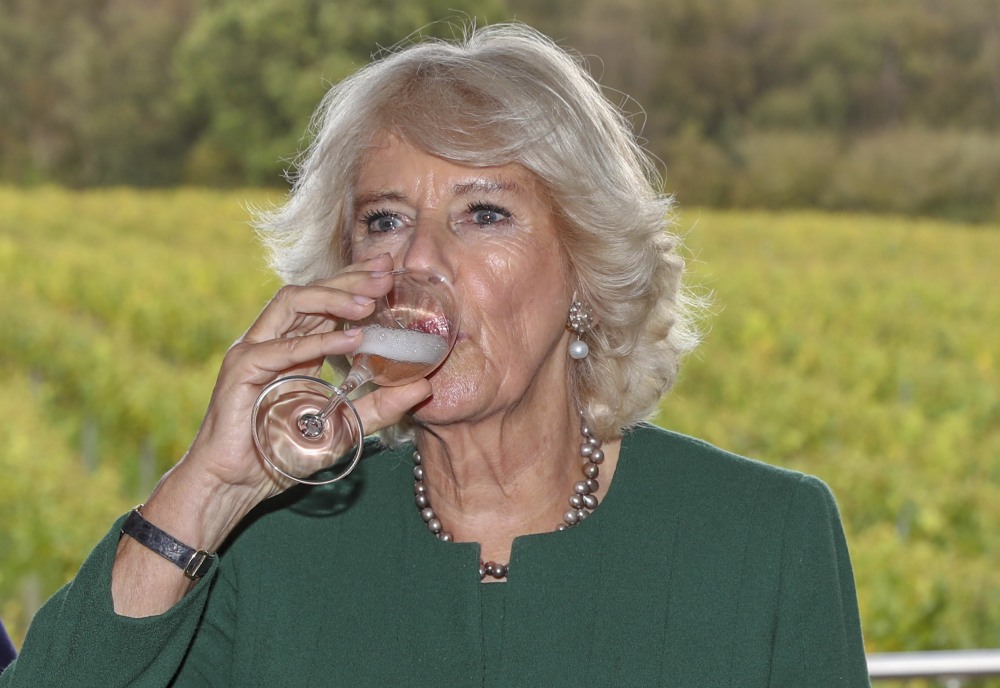 We've talked a lot about how the Duke and Duchess of Cambridge are copycats who are blatantly attempting to steal everything Meghan and Harry do. But we should also point out that Meghan and Harry seem to have inspired some of the other royals. The Prince of Wales and Duchess of Cornwall have been doing some inspired-by-Sussex stuff too. Like, you know how Meghan is very focused on food, hunger, food insecurity, cooking, etc? Well, suddenly the other royals care about that. This has not been the case historically. The other royals do not make regular visits at food banks. "Food insecurity" and "hunger" have never been on their list of signature issues. And yet, in recent months, Will & Kate have done two appearances/events around food banks. Then Camilla did a stop by a food bank this week. And she expressed surprise that people would need access to a food bank in such a wealthy area:
The Duchess of Cornwall expressed her surprise that an affluent town needed a food bank service while visiting a church in Lewes, East Sussex, today, just miles away from her £2.3million childhood home. Camilla, 73, who is back in the UK after a whirlwind trip to Greece last week, visited Lewes Open Door charity and Fitzjohn's Food Bank at Christ's Church in Lewes.

While greeting volunteers, Camilla admitted that she was 'surprised' that the town needed a food bank service after spending her own childhood living just six miles away in the village of Plumpton. While visiting the food bank, Camilla expressed her surprise at the town needing a food bank, after growing up in a nearby seven-bedroom Georgian-style estate called The Laines, which is estimated to cost £2.3million.

'Goodness, I'm very surprised, having lived here all my young life,' she said. 'I thought Lewes sounded an unusual place for a food bank, but it just goes to show.'

The Duchess also thanked the two charities based in the church for the 'brilliant job' they were doing during the Covid-19 pandemic and said it was a 'treat' for her to return to Sussex. Neil Fisher, the church secretary, gave the Duchess a church leaflet as a memento and told her that the work undertaken by the volunteers was 'so necessary, especially in these times and even in an apparently prosperous town such as Lewes'.

The Duchess thanked the food bank volunteers for providing vital help to the community while meeting Tracy Cheeseman, who volunteers for the food bank but has also used the service herself on and off for several years. Ms Cheeseman, one of the Lewes Mayor's Covid Heroes, told Camilla which ingredients go into the bags each week, adding that for Easter, some extra vouchers were being added, which the Duchess said was 'wonderful, a lovely idea'.
I mean… I don't think Camilla meant any harm, really, but it did come across as tone-deaf, and like she was unprepared? Did she not realize she was stopping by a food bank? Does she know what food banks are? Did she think it was just going to be a posh secondary market where one could buy some discount chardonnay? "All of this food, and you just hand it out to the poors? Gosh, how odd." And good for the church secretary for giving Camilla a pamphlet on their work. Maybe next time she'll read her briefing papers.
Here are some pics of her stop on Tuesday. Um, hardly any photo agencies sent photographers for this.
Photos courtesy of WENN, Avalon Red, Getty.