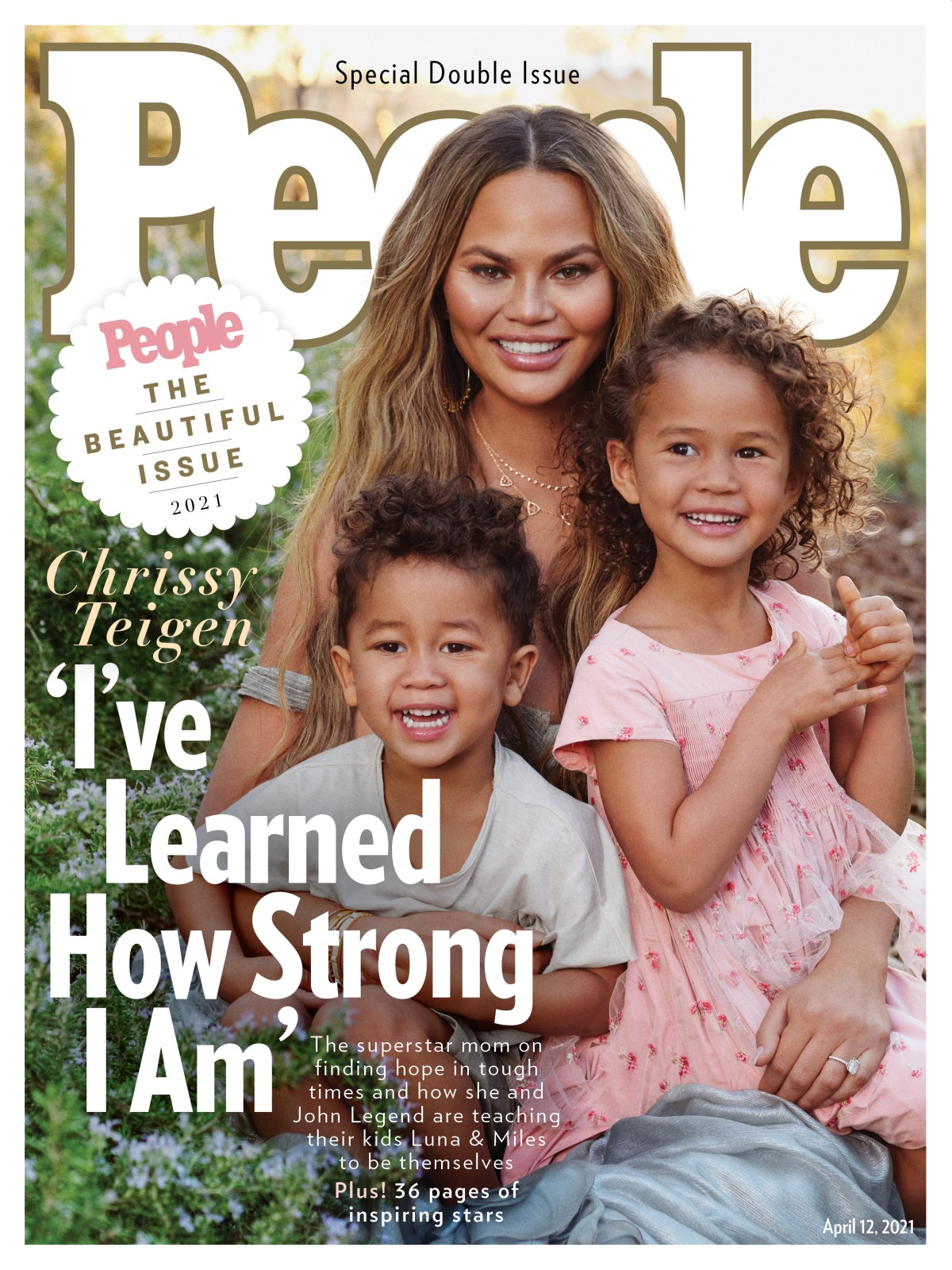 People Magazine has released the cover for their annual "Most Beautiful" issue. Their most beautiful person/woman of the year is… Chrissy Teigen. I agree, Chrissy is beautiful, and I always love to see a woman of color get selected for the Most Beautiful issue. But is it just me or did People do Chrissy dirty with this cover shot? They did a whole photoshoot with Chrissy and her kids and there were much better photos. They used this pic on purpose because (I think) they were trying to be shady! You can see Chrissy's whole cover story here. Some highlights:
How she raises her kids: "I'm an open, free spirit and I love kids to be kids. For us, kindness is such a big thing. When you meet our kids, they're very warm and friendly. You instill those things in them, but for the most part let them be creative and wondrous and spirited and curious beings."

Her Thai mom, Vilailuck "Pepper" Teigen. "My mom was never once like, 'You probably shouldn't use Sharpie on your eyebrows.' She just let me do it — and I learned! With kids, you let them figure out what they love. John and I are both very relaxed and willing to learn together."

Whether she still diets: "It's more important for me to enjoy things as they come. I put my mind and spirit over body. If it's going to make me happy and make me feel good, then I indulge in it. I've spent too many years counting calories and scheduling way too many workouts and trying to figure out what my term for wellness was for myself. Now I know it's on the ground playing with my kids or going to a park or an aquarium."

Her growing business: "I always knew I wanted to be a mom and a wife, but work-wise I never knew exactly where I fit in or what I could do. I'm very proud for bringing together all these talented people, and the amount of love and feedback [we've gotten] with Cravings makes me so happy."

Losing her son Jack at 20-weeks in her pregnancy: "I've learned how strong physically and mentally a body can be. I've learned how strong I am. This year has been a roller coaster for everybody in the world, including our little family. Seeing people rally around us has been really beautiful. There have been things in the past year that I never thought John would have to see, but it's also been so wonderful that we have prevailed and still see each other with so much more love than we could have ever, ever imagined ever in our lives. Whatever love we put out into the world 10 years ago, we're getting it back tenfold. I feel every piece of love from everybody around the world."
There are more quotes in the piece about how much she loves John and how she can't wait to grow old with him. The more I learn about Chrissy and the more I pay attention to her various controversies and such, the more I find them to be such an odd couple. He's so lowkey and peaceful, and she's all melodrama and excess. I don't know – maybe opposites attract and they're fine. But I had a little premonition/twinge there. Anyway, everything seems to be fine now and whatever.
Cover & IG courtesy of People.