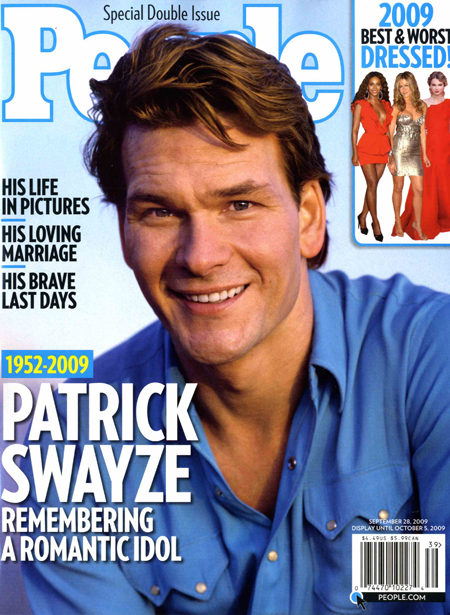 Both People and Us Weekly have put tributes to Patrick Swayze on their covers this week. Sometimes I dislike the media raking over of some celebrities after their deaths, but I'm finding the coverage of Patrick's passing to be very respectful. Everyone really seemed to love the man. Among the tributes for Patrick is a planned honor on Dancing With The Stars, which, Patrick was a huge fan of, and came and helped out the first season for his friend John O'Hurley. DWTS executive producer Conrad Green told People, "We have some very fond memories of [the late actor] coming to help us our when we were a tiny little show way back when…He was one of the few people to integrate dance with being an A-list actor," Green says. "He inspired many people and many of our pros to dance. We want to honor the great moments he's brought to film by getting our dancers to do their interpretation to some music from his films."
On yesterday's The View, Patrick's Ghost costar Whoopi Goldberg cried when talking about Patrick. She said: "This was a well fought battle. Patrick fought like the Dickens to survive it – or to get through it. He never thought of himself as someone who was dying. His attitude was, 'Until it kills me I am going to keep doing what I am doing.' He worked until the last minute … He just was a cat that never gave up." About their time on the set of Ghost, Whoopi said, "He'd moon me…He was the greatest. Because of Patrick Swayze, I got that movie Ghost and because of Patrick Swayze, I have an Oscar," Whoopi also talked about Patrick's relationship with his wife of 34 years, Lisa Niemi: "The two of them were in love. they were also together…I can't explain it any other way."
Patrick wrote about his relationship with his wife in a soon-to-be-released memoir The Time of My Life. It was the book he was working on the last year, and it's co-written by his wife. ABC News (via Us Weekly) has an early excerpt from the book, and it made me tear up:
"How grateful I am that you chose to love me," he writes, according to ABC's Good Morning America, which featured an exclusive audio clip of Swayze reading from his memoir. "I know that because of you, I've found my spirit. I saw the man I wanted to be. You are my woman, my lover, my mate and my lady. I loved you forever, I love you now and I will love you forever more."
[From Us Weekly]
Sigh. I don't even want to talk about it… so sad. Would anyone like a slightly happier piece of information? Here goes… Keanu Reeves is still pretty dumb. Not to mock him or anything, but his statement on Patrick's passing was slightly incomprehensible. I'm sure Keanu was grieving, and he and Patrick were probably friends and loved working together and everything, but his statement made me chuckle. Keanu said about filming Point Break: "There was some sky diving sequences in this film we did together and as filming was going on it came to be that Patrick was jumping out of airplanes all the time. I think he had over 30 jumps during the course of filming and so the production served him with a cease and desist which he listened to until they got to Hawaii." So… what's that again? No, I joke. I get the story he's trying to tell, I was just trying to lighten the mood. Keanu also called Patrick a " beautiful person, an artist." Then Keanu added, "Patrick, he just wanted to experience life and for his work he wanted to take the opportunity of the film and it gave him that sense." Hm?
Thanks to CoverAwards for these cover photos