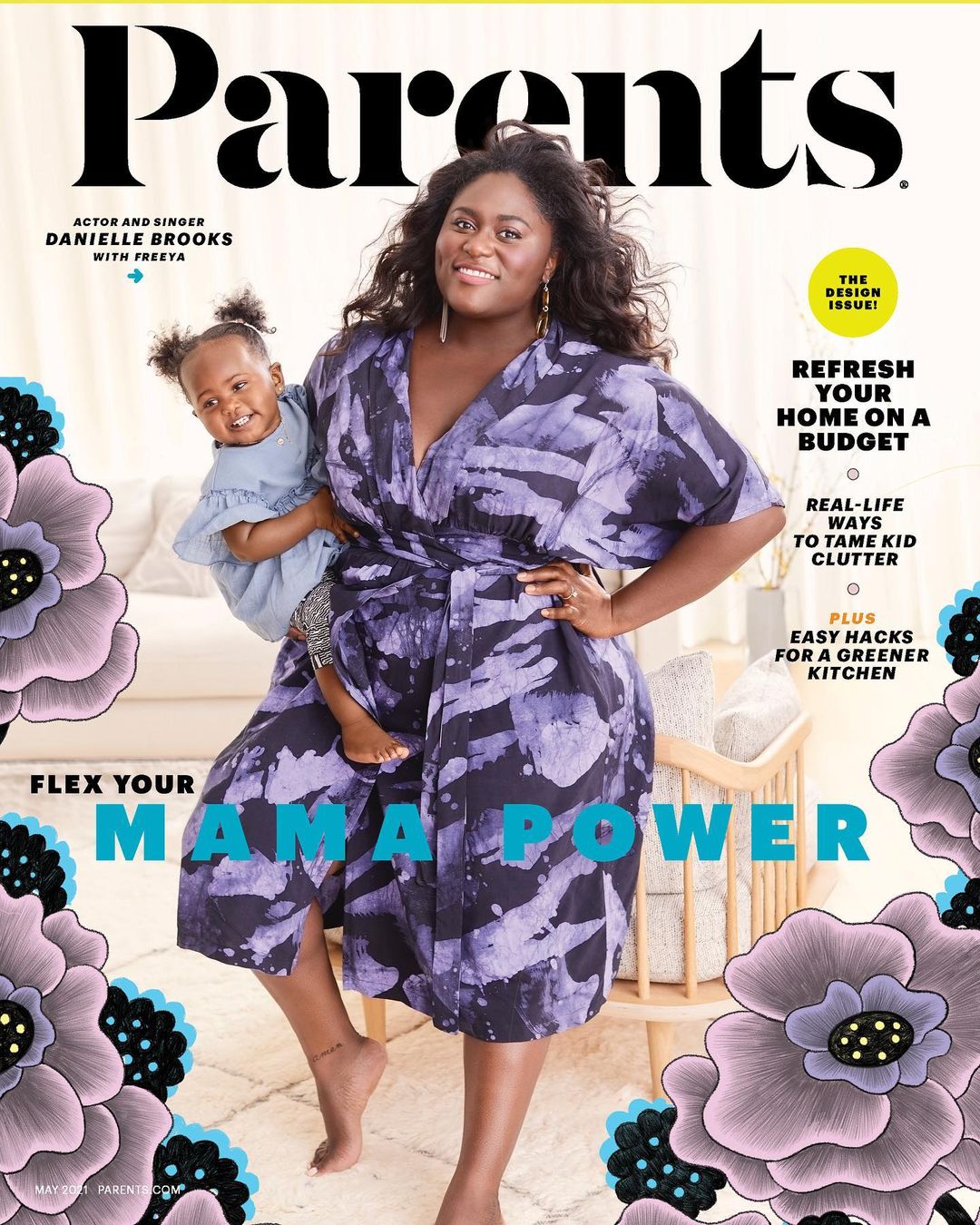 Danielle Brooks has been on the move since wrapping Orange is the New Black two years ago. She performed in Much Ado About Nothing for Shakespeare in the Park when she was pregnant. She also stars in Robin Roberts Presents: Mahalia, about the gospel and blues singer Mahalia Jackson. The movie will be released on Lifetime on April 3. Now Danielle is in Vancouver with her one year old daughter, Freeya, filming HBO Max's DC Comic series Peacemaker. In a new profile for Parents, Danielle has a very honest conversation about being a new mom whose career has not slowed down. Danielle also talks about what she does to feel healthy and how the racial justice movement has shaped how she feels about raising a young Black woman. Below are a few excerpts from Parents:
What aspects have been harder than you anticipated?
The balance and how to say no to things. When you have a child, you really have to decide what's important. There are times when I feel guilty for not being with Freeya, but having downtime in my dressing room has given me moments to rediscover myself. I put goals and quotes on the wall that say things like, "I am pure magic" or "I am safe to be my true, authentic self."

What helps you feel best?
I'm working on eating well, not just to keep losing weight but to stay healthy. If I want to continue to live a life full of abundance, I have to plant those seeds now. I bought roller skates and a personal trampoline. Freeya will jump up and down, imitating me. I find peace by taking walks with Freeya too. I try to incorporate her into things that bring me joy and calmness. And I really like the advice to "talk to yourself as if you are your best friend."

Is there a difference between how you actually parent and how you thought you'd parent?
I'm way more lenient than I thought I'd be. This past winter, my mom had Christmas cards on her table, and I was like, "Take them off so Freeya doesn't get to them." Grandma's like, "No, leave them and teach her not to touch them." I'm like, "Adjust for the child," and old-school is, "No, the child needs to adjust to you." But her name's Freeya. Part of me is like, "Just let that baby be free."

Did the racial injustice and unrest of this past year make you feel any different about raising a young Black woman?
Yes. It was hard to have a child in the first place, because I knew that my child was going to be brought up in this very hateful, racist, sexist world. I feel like I've gone through different phases since she's been here. At first, when everything happened—the obvious pandemic, but then there's a racial pandemic as well—I felt defeated. I felt like, "How is this child going to survive in this world?" which is the fear of a lot of parents of color. Now I feel hopeful because I know how I'm going to raise my child. There's one better human being in this world. It's work on the parents' part to show our kids love. I pray I raise my daughter to be street smart and be able to tackle the world and not be defeated by it. Motherhood has been good. It feels good on me.
First of all I didn't know Danielle was so young. She's only 31 and what a life she is living. It is so cute that she brought her daughter with her to film in Vancouver and I love how she talks about getting over the guilt of having to leave Freeya with other people while she works. I am not a mom but all of my friends that are parents seem to suffer from this guilt at one time or another while raising their kids. These are the types of conversations I feel women should be having. The other thing I like is how Danielle is choosing to raise Freeya where she (Freeya) is centered versus the old school way of raising children where they are secondary.
I feel Danielle when she says she felt defeated about raising a young Black woman in a racist, hateful, sexist world. I decided not to have children when I was 21 because I just didn't want any. But I also knew I had a lot of emotional healing to do. I similarly did not want to have a child be subjected to the racist environment that comes with being born Black in the west. I am happy that folks like Danielle are raising beautiful Black children to be well-rounded and confident humans despite the circumstances.
I am looking forward to the Mahalia Jackson Lifetime movie. I grew up listening to Mahalia's amazing voice so I do hope they do good by her. I wish Danielle luck on being a parent. Perhaps she'll add to her family in the future, but I wouldn't blame her if she chooses not to.