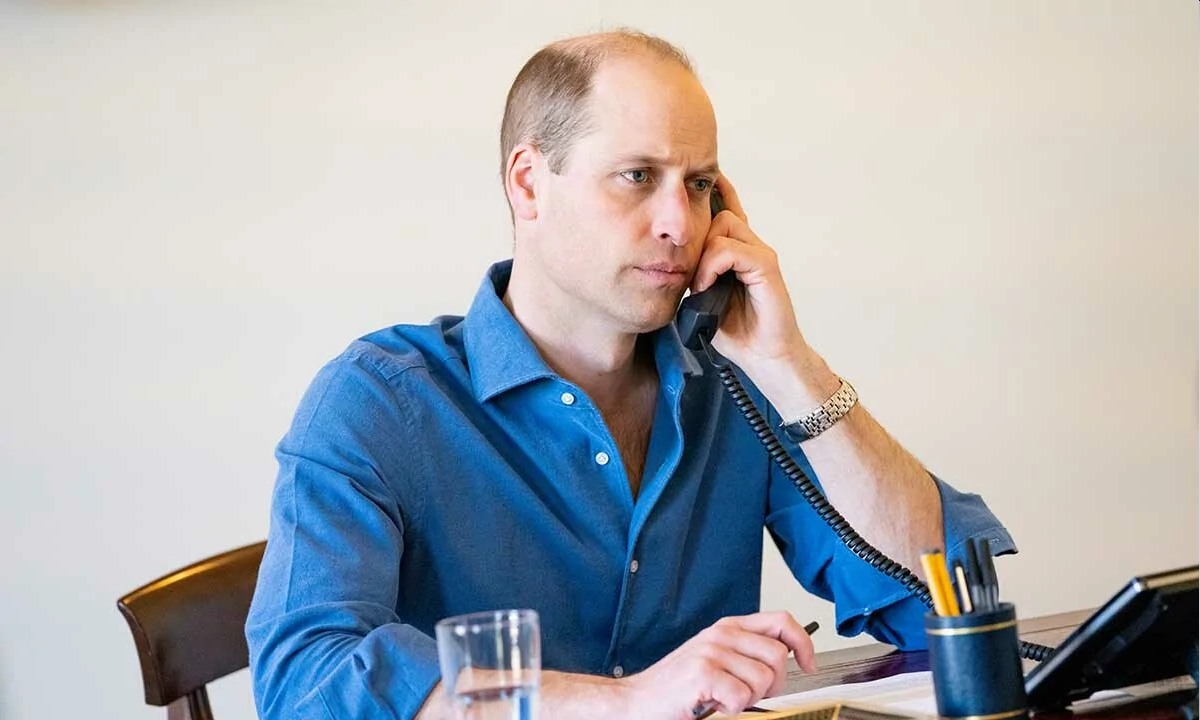 Kensington Palace released these two photos (and some videos) of Prince William yesterday. They could not be any more obvious if they tried. The way William posed is so funny to me. They truly made the Other Brother go into the Palace Costuming and Props Department and had him try on blue shirts and they were like "this shirt is too purple, try this one" and "unbutton one more button so you can show your manly chest fur" and "roll up your sleeves so people know you're keen as you make phone calls." Honestly, William's chest fur is making me physically ill, and I'm someone who LIKES chest hair on a man. But this is gross.
The reason why William posed for these pics was because he was making calls to healthcare workers. Kensington Palace wants us to know that William has spoken to "more than 300 healthcare workers across the UK since the start of 2021." How many NHS workers did he speak to last year, while he and his keen wife were traipsing across the country maskless?
Meanwhile, I ignored this story when it happened over the weekend, but since we're here… William and Harry have apparently signed off on the final design for the much-discussed Diana statue which will go in the Kensington Palace garden. My guess is that Harry and Other Brother didn't actually communicate directly, and it was handled by staff:
Princes William and Harry appear to have put aside their differences to sign off the final design for a statue of their late mother Princess Diana. It is the first indication of a healing of the deep rift which was opened further by Harry and Meghan's explosive Oprah Winfrey TV interview. Concern has remained over whether the brothers will come together at the unveiling of the Diana statue at Kensington Palace on July 1 — on what would have been her 60th birthday. But we can reveal the sculptor has sent it to be cast following feedback from the princes.

The Sun on Sunday previously revealed royal officials thought the chances of William, 38, and Harry, 36, reuniting at the unveiling were unthinkable. But sources said both were determined their project, announced in 2017, would be fulfilled despite their personal conflict. And we can reveal cousin Zara Tindall and her husband Mike have been playing peacemakers between them over the past year.

A source close to sculptor Ian Rank-Broadley said: "It will have been signed off by William and Harry, that much I do know. I know he did work closely with the boys and I think it will be incredible. We're lucky to have him as an artist in the UK."
The obsession in the British press with this statue and statue-unveiling is so dumb. It's just another "thing," like the "one year review" or "Philip's 100th birthday." The press – and the palaces – are just trying to get Harry back in the UK by any means necessary. They don't have much of a plan for what happens once he does visit though.
To everyone working across the NHS — thank you for all that you do 💙

Since January, Prince William has spoken to more than 300 NHS staff, volunteers and leaders throughout the UK, to check in on their welfare and thank them for their exceptional work: https://t.co/00r5UekKv7 pic.twitter.com/BC27b1o2Zs

— The Duke and Duchess of Cambridge (@KensingtonRoyal) April 6, 2021
Photos courtesy of Kensington Palace.