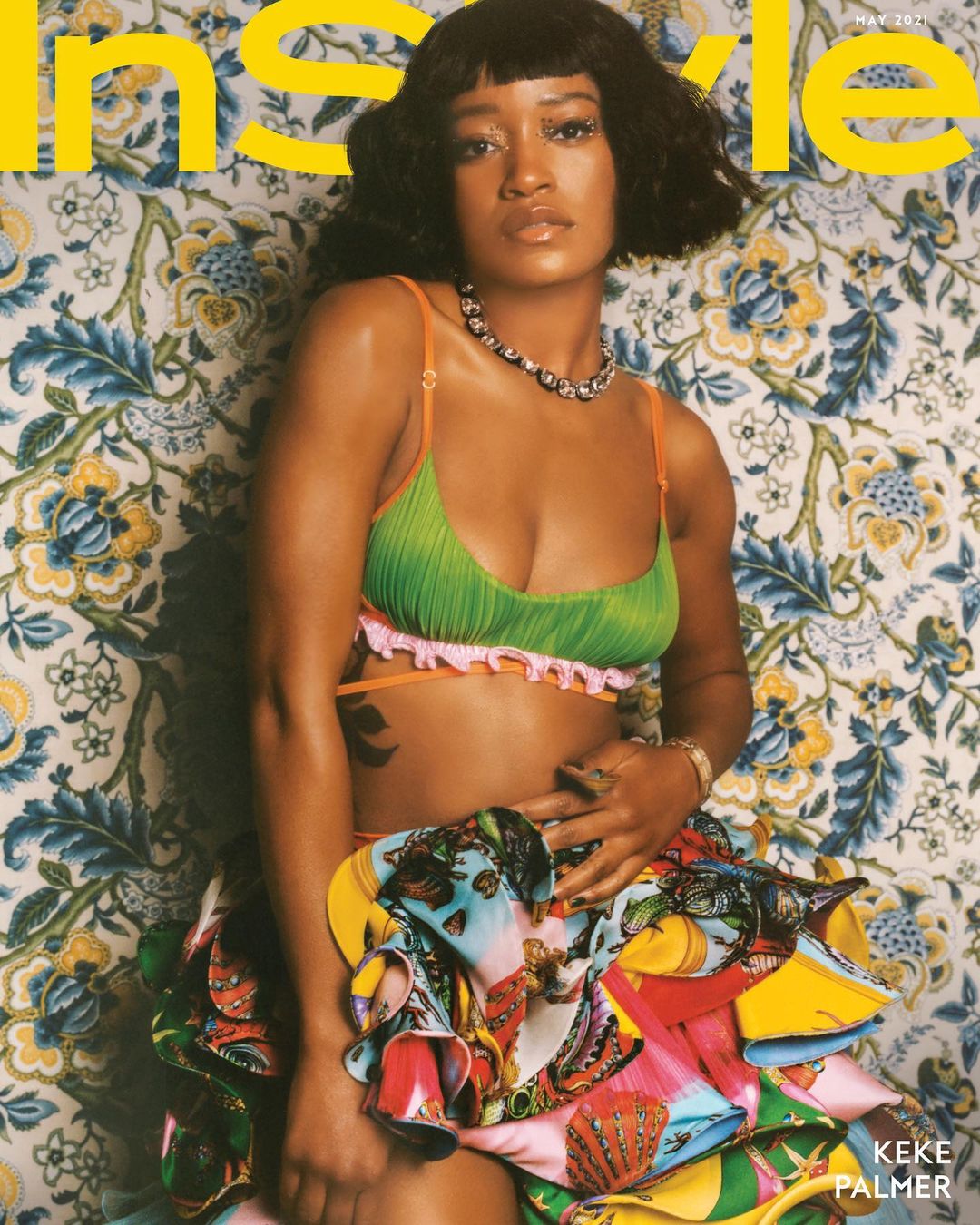 Keke Palmer has really been owning her power of late. In December Keke was lauded for her vulnerability in a makeup tutorial Instagram video. She showed the acne she suffers due to the gynecological disorder PCOS. In the video, Keke used several layers of makeup to cover her acne scars. It would seem that being true to herself is garnering Keke a few rewards. She has been tapped for an unnamed Jordan Peele project and she just completed filming Alice, a story about an antebellum enslaved African who escapes the plantation. In a new profile for Instyle magazine, Keke talked about how she has freed herself from always trying to be perfect. Keke said that she was inspired to stop hiding herself after filming Alice last year. Keke also stated that she has enjoys being alone because "the only person you have is you, so you really have to be kind that person." Below are a few more excerpts from Instyle:
About being true to herself
"I'd rather be loved or hated for being myself than for being somebody I'm not. If people don't like that I tell it like it is, then they should at least be able to respect me for being real."

"I got tired of trying to be who everybody wanted me to be. There's always going to be something that people hate me for, whether it's wanting me to not be Black, or a woman, or tall, or short, or skinny, or thick. Other people might love me for it, but I don't want to constantly change who I am for outside validation. That just sounds like hell."

About embracing her PCOS and acne
"I was constantly hiding myself and felt shame about having acne. Wearing makeup became a chore because I always had to be 'on' wherever I went in case a fan asked me to take a picture; I didn't have the proper boundaries to say no. So instead of getting to the bottom of my acne and trying to understand it, I was covering it up, trying to be perfect. But you're never going to get to the nitty-gritty of something when you do a lot of covering up."

"[Alice] is so much about standing up for your freedom, and that activated something deep in me. I started questioning what I could do for myself instead of just popping a birth-control pill to try to control my acne. I wanted to bring the same energy and confidence to my skin that I had already brought to my natural hair when, after it was changed by weaves and wigs, I learned how to protect it."

About enjoying being alone
"I love going into schools and speaking to my peers and my audience directly, but that's not possible now with COVID. I'm happy to be alone just vibing with myself. The only person you'll always have is you, so you really have to be kind to that person. During a recent Peloton class, I went so hard that by the end I was hugging myself like, 'Girl, you're amazing.' "
Keke has been one of my favorite young millennials. Keke is not only a talented actress, but she is hella funny (see her hilarious impersonations on TikTok). I love how Keke has been advocating for being authentic and loving yourself. I feel this is something that everyone needs to embrace, especially women who are raised to please everyone else and put their wants and needs on the back burner. I believe the more you are true to yourself and treat yourself with kindness the better your life is. Because at the end of the day, like Keke said, you only have you.
I also like how Keke refuses to put her personal life (read romantic relationships) on social media. Keke believes that you should save some things for yourself. The other thing that I enjoyed about this interview is how Keke said she has gone through several stages of freeing herself. First it started off with her wearing her hair natural. Then she began to speak her truth. And finally she is refusing to hide. What an inspiration Keke has become and I am here for the millennial and Gen Z babies. From where I am standing, Keke's career looks very bright. I know I won't watch Alice, not because I don't like Keke but I am over the slave narrative as it concerns Black people. Based on the description of the movie Alice may take a different turn but I am done with the pain porn. With that being said, I do have a weird desire to go watch Scream Queens. Keke did a great job in that show, but she didn't get the props that she deserved from her performance.