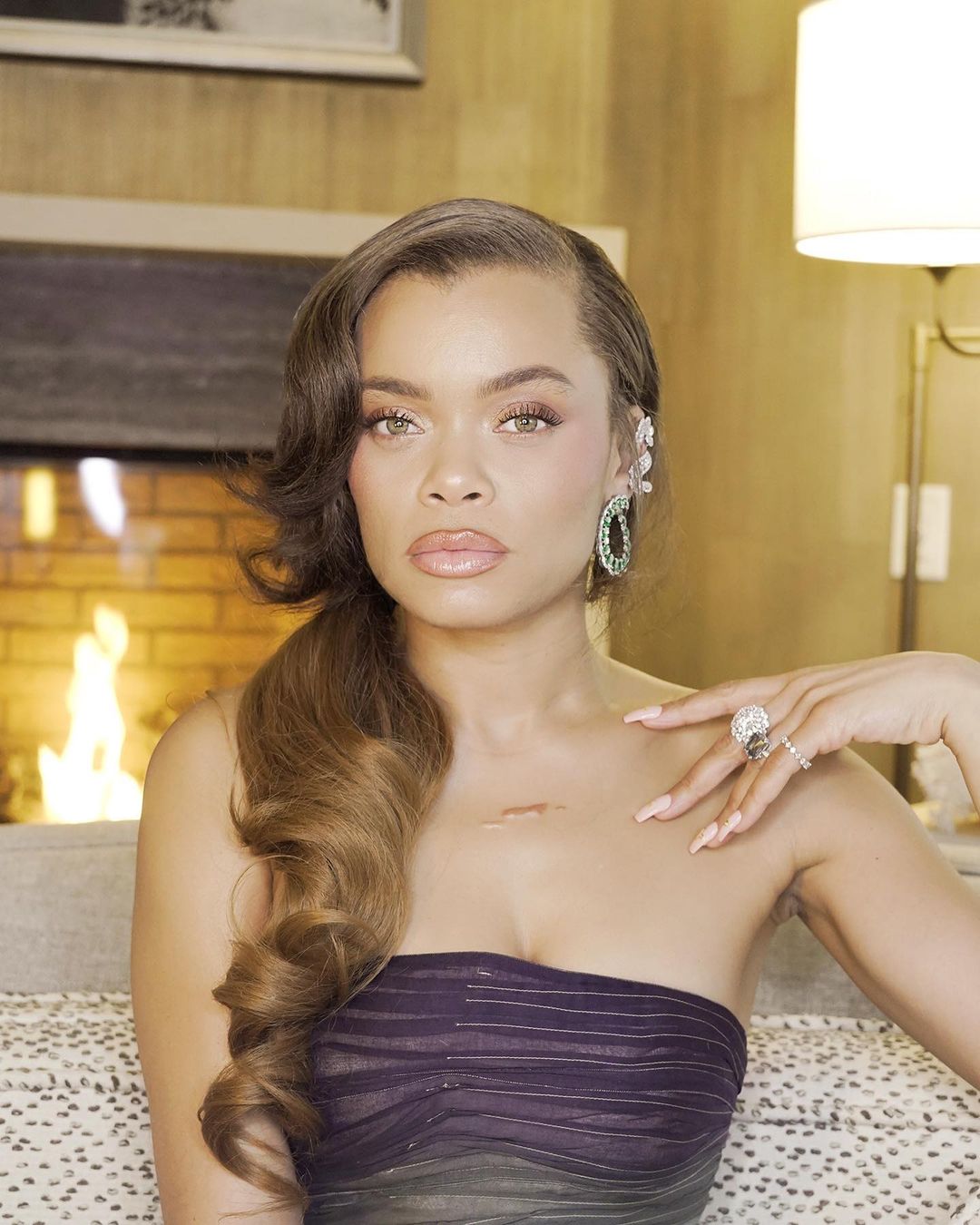 For the first time since 1973, there are two Black women up for the Best Actress category at the Academy Awards. In 1973, Diana Ross was nominated for her role in Lady Sings the Blues as Billie Holiday (I am sure that isn't a coincidence) and Cicely Tyson was nominated for Sounder. This year, Andra Day has been nominated for her role as Billie Holiday in The United States vs Billie Holiday and Viola Davis is up for Ma Rainey's Black Bottom. Andra talked to People's TV Show about her Oscar nomination and how it feels to be nominated in the same category as Viola Davis and Frances McDormand. Andra said that she was never in competition with these fabulous ladies and has been enjoying the girl fest and celebrating each other. Below are more details from her interview including a hint about Andra's red carpet dress:
On playing Holiday, Day said, "This experience, outside of my niece and nephew, was the greatest experience of my life…"

When asked about how she felt being nominated for awards alongside veteran actresses like Davis and McDormand, Day said she wasn't in any sort of competition with the women in her category.

"We're just sharing this space, we are representing multiple stories, and we are loving on each other. I'm celebrating them, rooting for them," the Grammy-nominated star said.

Day also mentioned how special it was to be nominated for Best Actress next to Davis, which is historic in itself.

"Just being with Viola in this space, especially being the first time two Black women have been nominated since Diana Ross and Cicely Tyson, it's amazing," Day said. "It feels a little overwhelming."

Day also gave few details about her dress for the Oscars this year, but said she was going for something "feminine" and inspired by the other women who played Holiday in two other films before her.

"I want it to be something different," Day explained. "I want it to be something that's very sexy, very feminine but also strong and confident at the same time because that's kind of what she brought out of me."

She continued, "I wanted [Holiday] represented in it, I wanted Diana Ross' Billie Holiday from the '70s… I wanted sort of the strength and focus of Audra McDonald's Billie Holiday," the star said, "and then me, 2021, my Billie."
I am so excited about the love Andra is getting right now. Like I said in my previous post, I truly enjoyed Andra's performance as Billie Holiday. However, I didn't like Lee Daniels's interpretation of Billie's life. His portrayal of Billie was too shallow and too Lee Daniels-ish (read dramatic and over the top). Andra was definitely a heavy weight and a scene stealer in USvsBH and she held her own throughout the movie. Viola may have an edge over Andra as Viola has RANGE that Andra is still developing. But Andra is definitely the must-see ingenue. I have not seen the movies that the other three nominees performed in but I am sure Frances was amazing. I am also sure that the Academy will give the award to Andra because the Academy loves awarding Black people for trauma porn roles.
I love how Andra celebrates the other women instead of competing with them. Andra is in it for the art and it shows. I have truly enjoyed watching Viola Davis and Regina King bring Andra into their girl circle. It is beautiful to see all of that Black girl magic. I look forward to seeing Andra's dress. She is being extremely coy about it but I get it. Wanting to see Andra's dress gives me an incentive to watch the red carpet.
photos credit: Getty and via Instagram