Rob McElhenney who created and stars in both Always Sunny in Philadelphia and Apple TV+'s Mythic Quest, covers the May issue of Men's Health. Rob is not your typical gym rat and like some of his famous friends like Kumail Nanjiani, he came to body building later in his career. Obviously, the interview is mostly about fitness, given it's in Men's Health. But it's not your standard interview because Rob's whole physical transformation has been more of an educational journey for him. He said when he first decided to get ripped, it was so he could properly make fun of people who do so on Always Sunny. Since then, his physical goals change according to how he wants to challenge himself. But when he goes too hard, his wife and Sunny co-star, Kaitlin Olson, calls him out on it.
Rob McElhenney says that men seem to care more than women do about his physique.

"[The] people who were most fascinated by my body when I was in great shape were dudes. Women could give two s—-," McElhenney told interviewer Ryan Reynolds for the May issue of Men's Health. "In fact, my wife really was displeased with the way I looked, because she felt like I was trying too hard, and I was."

McElhenney, 44, who is married to Always Sunny costar Kaitlin Olson, continued, "There's this fascination that men want to look like that and men want to be that aesthetically pleasing to other men. I'm actually talking about straight men as much as men in the gay community. It's interesting that it's not based in sexuality or sex appeal and more about this body image that we've sort of grown accustomed to. It's the thing people find fascinating, because it relates to their lives."

"So much of it is wrapped up in health," he added, "but also aesthetics and sex and all sorts of things that make us human, and it's something we're all grappling with in different ways every day."

"I don't want to cry foul too much, because women have been held to a very difficult and specific standard for so long and continue to be, and men have had the benefit of not being held to such a stringent standard, aesthetically at least," he said.

"However, I will say — and I hear this from a lot of men, and I think it's a little bit less taboo to talk about — that men, too, are held to a standard of masculinity that's impossible to live up to or is probably essentially unethical to live up to: that sort of quiet, masculine tough guy who's both jacked and ready to throw down at any moment but also sensitive — but not too sensitive."

McElhenney, who is expanding his comedic talents with the Apple TV+ series Mythic Quest, which he created and stars in, said that he feels the pressure in Hollywood to have a fit physique.

"And aesthetically, the superhero stuff hasn't helped," McElhenney said. "We now have this ideal of being the biggest dude or the most ripped guy in the room."
Rob's full interview is quite interesting, particularly because I haven't heard such an intellectually curious approach to fitness. I used the People except because they pulled the parts I wanted to discuss in a nice excerpt, but you can read his full interview here. What's not mentioned above is the interview is Rob and Ryan Reynolds own the Welsh football team, Wrexham A.F.C., together. I understand what Rob's saying about the masculine ideal. Once a man gets ripped, he is expected to stay that way. He said that he doesn't keep his peak physique because it's not sustainable for him. He doesn't like depriving himself and he doesn't want to have to work that hard to maintain his form. Rob also brings up being heavier and losing a bunch of weight quickly. I was confused because I'd never seen him as anything but fit but apparently he put on 50 pounds about ten years ago to write about it for Sunny.
I have tried to watch Sunny a few times and cannot seem to get into it. I do, however, love every member of the cast and I have gotten into all their other shows. I guess I'll have to try it once more. We talk a lot about Ted Lasso here (rightly so, it's wonderful) but, if you haven't seen Mythic Quest, do yourself a favor and watch it. Honestly, Mythic and Ted were the best shows I watched last year. I talked about it in a post early in quarantine about TV shows to binge. My husband, who worked in the video game industry, found it such an accurate portrayal that it gives him flashbacks. Season two starts May 7.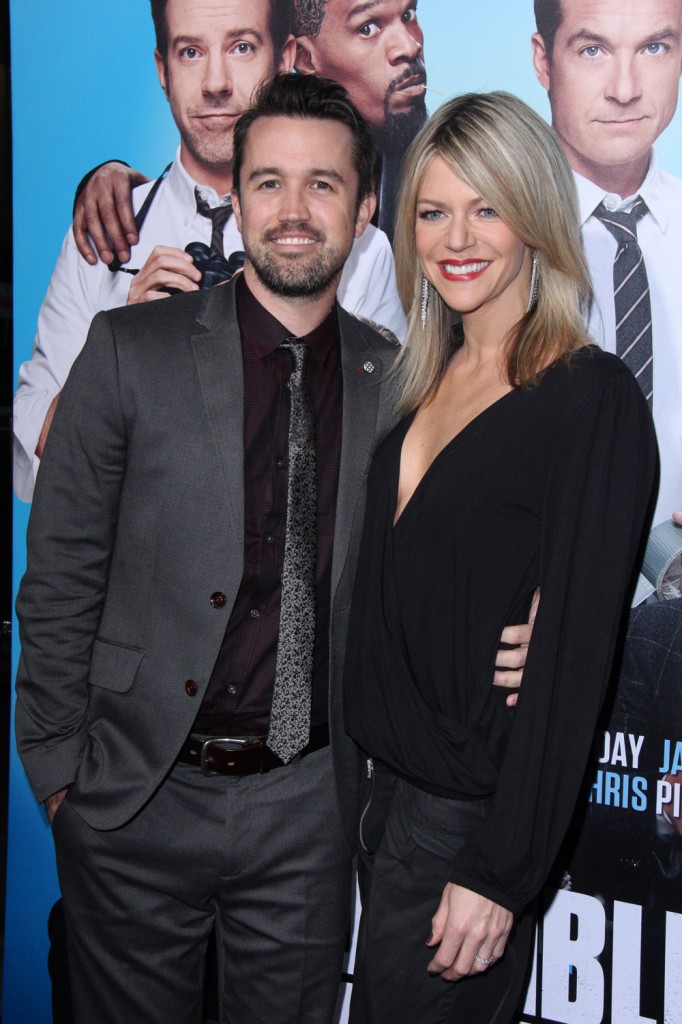 Photo credit: Instagram and Avalon