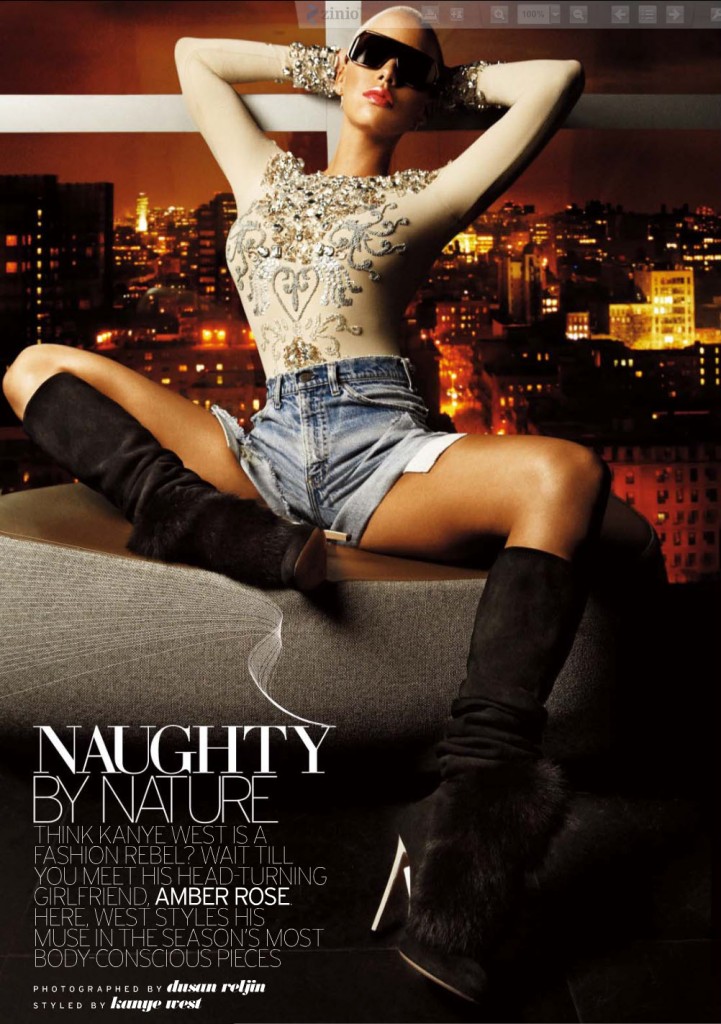 Kanye West's girlfriend Amber Rose is working hard on her modeling career, in large part to Kanye. She's splayed about in all sorts of trashy poses in October's Elle. The best part is the spread (so to speak) is that it's credited as "styled by Kanye West." I laughed and laughed when I saw that. It explains a lot, considering Elle normally isn't as tacky as these photos. And these outfits. Just everything about it screams "Kanye wants to put his woman on display." We're very impressed.
The interview talked a lot about style and how Amber burst onto the scene last year in all sorts of lycra spandex and giant glasses. Oh, and the cue ball look. Never forget the cue ball. Anyway, Amber says she and Kanye have really different senses of style, and while he might "style" her now and then, she's not his Barbie and has ultimate say. Which might not be a good thing, because it turns out she's not too smart. She didn't know what the Met was.
When asked about the collaborative process with West on their inaugural shoot for ELLE, Rose laughs. "We're like total opposites," she says. "he'll pick out something and I'll be like, 'Oh, God, I don't like that at all.' And then I'll pick out something and he'll be like, 'Babe, just… no.' I'm more electric pink and bright yellow. And Kanye's more like nude and bone. Like, bone is his favorite color. I'm like, whose favorite color is bone?"

Rose, a video vixen who's appeared in music videos including Ludacris' "What Them Girls Like," Young Jeezy's "Vacation," and West's "Robocop," recently signed a contract with Ford Models and is planning to study acting a possibly launch her own line of sunglasses. She admits that she and West "are dating and enjoying each other's company," but is adamant that her personal style is just that, personal. "I'm not like his Barbie," says Rose about West, who wanted her to try on a gown for the Metropolitan Opera's 125th Anniversary Gala at Lincoln Center in March. Instead, Rose chose an all-white cocktail wrap-dress by Alexander Wang, complete with a thigh-flashing slit.

"I didn't want to wear a long gown," Rose says. "So then we get to the Met and everybody has a long gown. I was like, great. I didn't know what the Met was!"
[From Elle, Oct. 2009, print ed.]
I don't know why but Amber actually came across as fairly endearing to me. Normally I'd find that last comment dumb, but I like that she admitted it. It's a funny little story. I mean she is dumb, but at least she's not so full of herself that she won't admit it. How stupid is it to go to a big event – where your fashion-knowledgeable boyfriend is trying to get you to wear a formal gown – and not do a little basic research first? Like, "Should I show up in jeans or a ball gown?" It's good to know the basics. But really her job is just to be Kanye's arm candy. And because it's very important for Kanye to believe that we're impressed and envious, she obviously needs to wear ridiculously form-fitting attire that's so tight you can practically see her freckles through them. Yeah, that tight. Remember, lyrcra spandex.
Regardless of all this, I know I'm supposed to hate Amber and find her really annoying, because everyone else seems to. But for some reason I don't. I don't care for her sense of style whatsoever, and I'm not impressed by her. But she's basically inoffensive and a little dull and that's it. And that's not really enough for me to hate her. I think most people dislike her because of her look (voluntarily bald) and they think she's just with Kanye for attention, which she probably is. She'll pass in a year at most, but I don't really find anything about her personality to be so provocative one way or the other. Just her clothes.