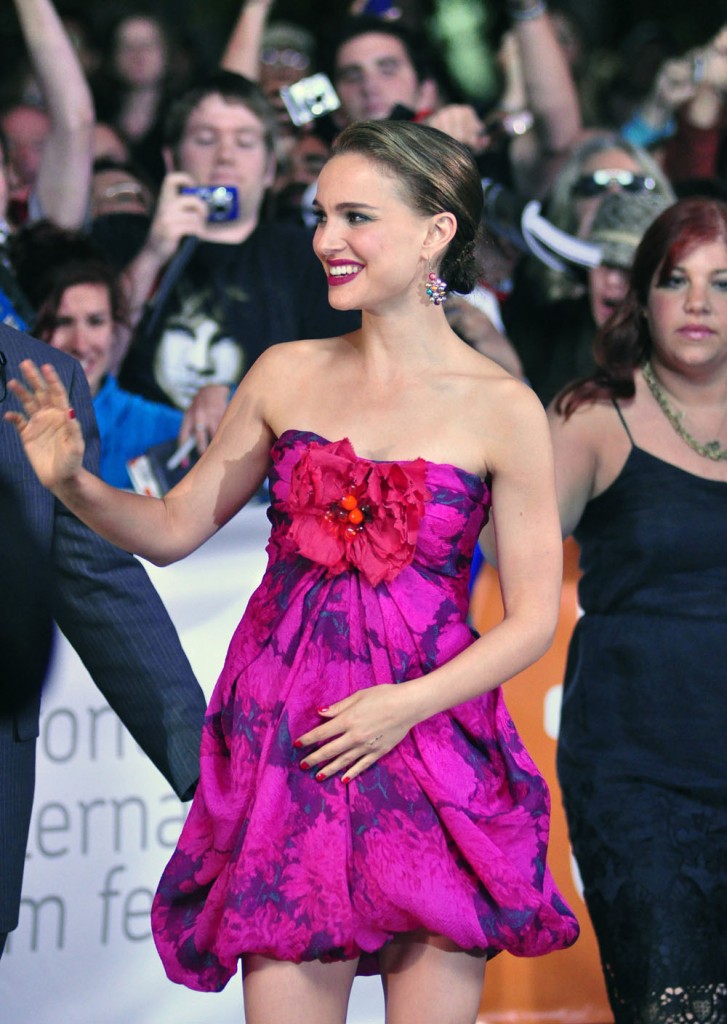 Natalie Portman arrived in Toronto on Wednesday to support her lead role in the film Love and Other Impossible Pursuits. It's a dramedy about "a woman's difficult relationship with her stepson". I think it must be a really, really low-budget film, and it might not even have a distributor yet. In any case, Natalie walked the red carpet in this fuchsia-pinkish dress for the screening of the film. While I always think Natalie is one of the most beautiful women on any given red carpet, this dress… is not one of her best. I'd like to see the dress without that papery-looking flower on her boobs. But isn't it remarkable that even in a less-than-average dress, she's still stunning?
During the press conference for the film, Natalie was asked, as a dual Israeli citizen, how she felt about the Toronto International Film Festival's inclusion of Tel Aviv in the "City to City" program. Background: Before TIFF was even underway, the host committee announced a 10-film spotlight on Tel Aviv, using predominantly Israeli artists. Every year TIFF chooses one city, but with the selection of Tel Aviv as the city, many high-profile artists protested, calling it a way to spotlight ""the Israeli propaganda machine". Several artists pulled out of TIFF, complaining of Israel's politics and the lack of corresponding Palestinian spotlight, and suggesting that including this spotlight would be, in effect, the artistic community's endorsement of those Israeli policies.
When asked about the controversy, Natalie showed off her intelligence and class, I think:
In a roundtable interview yesterday morning for her new film Love and Other Impossible Pursuits, Natalie Portman explained why she signed a letter in support of Tel Aviv's inclusion in TIFF's City to City program – a choice that sparked a protest from other filmmakers.

"I just think the protest was very poorly considered," the Jerusalem-born actress said.

"I'm not saying Israel is beyond criticism, because there's plenty in Israel's politics that you can criticize. It's just, why boycott artists? It's ridiculous. If you want to talk about applauding places that are built on suffering, the United States was built on the genocide of 40 million native Americans. Are we going to boycott American films?"

"How about those slavery years?" Don Roos, the film's writer-director, piped in.

"Yeah, that slavery was awesome too," Portman said.

"Also there's so much dissent in Israeli and Palestinian art, and that's part of the spotlight. I wonder – because those people [who signed the protest letter], I respect their work – I wonder if they hastily signed that, because it seems not well thought through."
[From The Canadian Globe & Mail]
I think Natalie's best argument is "Why punish the artists?" If you don't like a particular country's politics or policies, fine. But don't try to censor or protest the artists from that country. As far as Natalie argument about America and genocide… well… I just hope the Fox News people don't get ahold of this transcript. Some people could really twist her words.
Here's Natalie at TIFF last night. Images thanks to WENN.com .