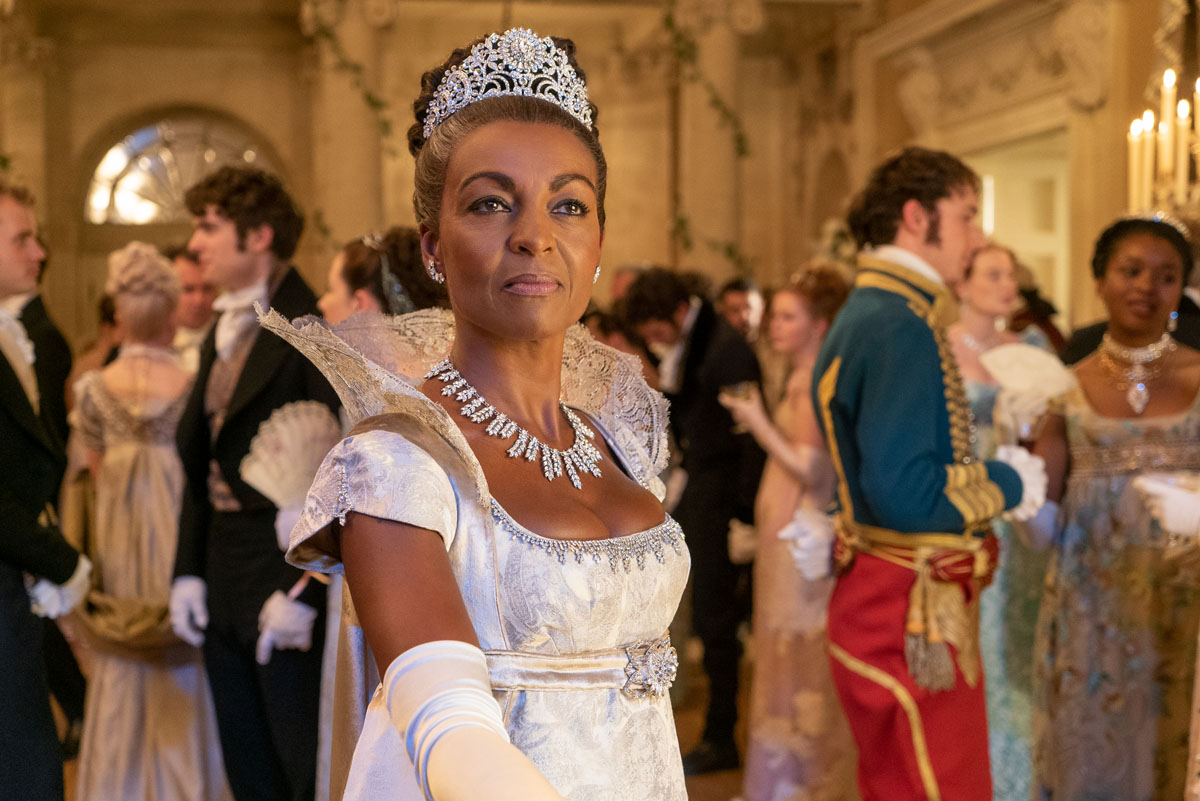 Many Bridgerton fans are still upset that Rege-Jean Page is not returning for season two. Several sites equated Rege's refusal to return as getting too "big for his britches." Shonda Rhimes came out last week to say that Rege only signed on for one season and inferred that he turned down doing cameos for season two because of COVID travel restrictions. Now Lady Danbury is stepping in and standing up for her "charge." In an interview with E!'s Daily Pop, Adjoa Andoh stated that the Netflix series will be following the books closely. That means that each season will focus on a different Bridgerton sibling, just like in the books. Therefore, the Duke of Hastings and Daphne Bridgerton's story is over and the series will be focusing on Anthony's story. Below are a few more details via Digital Spy:
Speaking to E!'s Daily Pop, the Lady Danbury actress explained: "We're following the overriding framework of Julia Quinn's beautiful novels.

"There are eight Bridgerton children: one down, seven to go."

She continued: "Season two it's Anthony Bridgerton [who is the focus] so there you are. That's the arc of the show.

"We all love Regé and we're all going to miss Regé but it's not a huge surprise."

Praising the actor, she continued that she loves "the way he loves to have a good argument [and] discuss and ruminate about things. We both share a love of punk. He's a lovely man and he'll be my friend for life."

"That was the plan: come and do one season as the duke. Anything else that was extra and wasn't really the plan when we started wasn't the plan when we finished," she said in a Vanity Fair interview.

"So there's a lot of fantastically interesting talk that's been going on, mainly cause I think people are having a hard time letting go."

It was recently confirmed the record-breaking Netflix series has already been renewed for another two seasons. If the show continues to follow the books, then viewers will be seeing both Benedict and Colin's stories play out.
Lady Danbury coming in to set the record straight is a whole ass mood for me. Adjoa was seeing how folks were trying to mischaracterize Rege and was like nope. Adjoa set the record straight like Lady Danbury would have in Bridgerton. Rege stans (like me) who are suffering from the vapors because they won't get to see Rege in season two need to chill. Rege is doing some major films and we will get to see way more of him. The fact that some publications have been trying to take down Rege as his star is rising is not new. Black artists who know their worth or who are seen as getting too much attention often have to fight rumors of being difficult. I am happy to see Rege's cast members standing up for him.
I love how Adjoa went on to say that it wasn't a surprise that Rege wasn't returning for season two. Adjoa also refuted the "diva" rumors by making Rege seem extremely level headed. Adjoa even said that they will be life-long friends. Adjoa is the new GOAT of misinformation take downs and she is letting everyone know that if they come for Rege they are coming for her.
To Rege's fans, I'd like to encourage you to give season two a chance without Rege. I know they didn't make Anthony's character compelling but maybe Jonathan Bailey will surprise us. Also, let's look forward to all the scene stealing Rege will do in his upcoming projects. Especially Dungeons and Dragons, with dreamy eyed Chris Pine, and The Gray Man, with Ryan Gosling's pecs and Chris Evan's all around hotness. I am not mad that I won't see Rege in Bridgerton because I get to witness his brilliance on an even bigger screen. With that being said, I look forward to more Lady Danbury and her antics. Adjoa was definitely my second favorite thing about season one of Bridgerton.
Photos via Instagram and credit Liam Daniel/Netflix