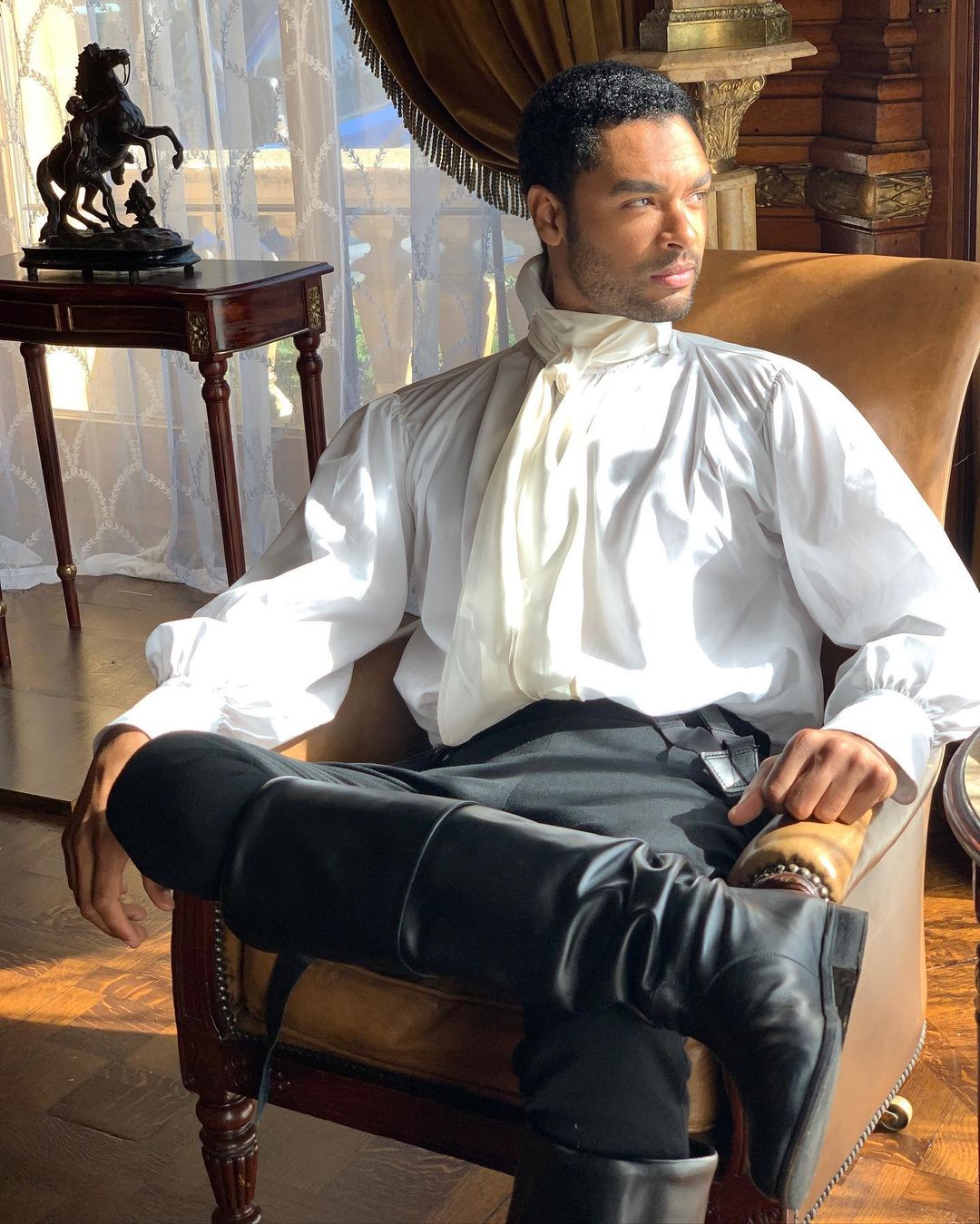 Dear Reader, we have heard so much news about the future of Bridgerton. Last week it was announced that season one stud, Rege-Jean Page, wasn't returning for season two. This didn't come as a surprise to those who have read the books but the rest of us threw ourselves onto our sofas and mourned. We recently found out that Netflix has ordered two more seasons of Bridgerton, extending the show for a total of four seasons. At the same time we heard that Rege left for creative differences. In a new profile for Vanity Fair, Shonda Rhimes and her co-producer, Betsey Beers, cleared up some of the rumors. Shonda and Beers have been working together for 19 years. They reminisced over the first show they produced together (which bombed) and how Grey's Anatomy made them a household name. On the Bridgerton front, Shonda said that she was shocked at the reaction from fans when it was announced that Rege-Jean wasn't returning. Shonda said it wasn't like they had "killed off" the Duke of Hastings and that Rege-Jean had only signed on for one season. Below are a few excerpts from their conversation with Vanity Fair:
Vanity Fair: Were you expecting Bridgerton to be this huge?

Shonda Rhimes: With the pandemic and all the stuff that got postponed, I honestly don't know that I was thinking about how it was going to do. We were more truly focused on wanting the show to be really good.

Betsy Beers: The hard thing over the pandemic was actually really understanding the number of people who were watching. It felt very abstract to me.

Rhimes: Because we were trapped in our houses! I also think for us, we don't focus on the things that we can't control. We could drive people crazy in marketing, but we couldn't have any control over who watched.

Speaking of fans getting attached, there's been so much shock about Regé-Jean Page not returning. Were you surprised by the outpouring of grief?

Rhimes: I was really shocked, because usually that happens when I've killed off somebody that's been around for a while. Like, we didn't kill him, he's still alive! [Regé-Jean] is a powerful, amazing actor and that meant we did our job—every season, our job is finding the right people and putting together this incredible, world-shifting romance. I don't know that I expected this much of an explosion, given that every book [in the Bridgerton series] is a different romance. What would be the ever-after of this combo? I mean, really: What would Regé-Jean do, you know what I mean? We gave them their happily ever after! And now we have this next couple coming. And so yeah, I was like, whoa!

Beers: It's delightful that fans were so invested in his character, and he's a wonderful actor and a terrific guy. I just want to say that. Okay? He is.

Rhimes: [Laughing.] He's amazing, but that's our job and something that Betsy and I have been doing since—well, God, has it been 20 years now?—is finding guys. I mean, hopefully ladies too, but finding men that our audiences find devastatingly attractive and they become incredibly overly attached to, and they get enraged about when we move them about in any way.

I've seen reports that you offered him a deal to return to do some cameos for season two and he turned it down. Is that correct?
Rhimes: We made a one-season deal with him at the beginning of season one. That was the plan: come and do one season as the duke. Anything else that was extra and wasn't really the plan when we started wasn't the plan when we finished. [Rhimes later clarified that Page was invited to return for season two cameos, along with a few other season one characters outside the Bridgerton family.] So there's a lot of fantastically interesting talk that's been going on, mainly cause I think people are having a hard time letting go.
I am so excited that Shonda Rhimes cleared up the insidious speculation that Rege was behaving like a diva. I am tired of people constantly trying to malign Black actors and artists that gain some fame by labeling them difficult, like they did with Nicole Beharie, Gabrielle Union, and Ray Fisher, effectively sidelining their careers. I am sure that Rege could not fly back and forth to set under COVID protocol for cameo roles. But like many of you have said on Twitter, when things go back to normal Rege could make a cameo in season three or four.
It was wonderful reading about how Shonda and Betsey produce shows and how excited they get when a show does well. I also thought it was adorbs when Shonda said she and Betsey have spent the last twenty years finding great guys for their shows. Of course that is why everyone responded to Rege-Jean Page enthusiastically.
I liked how pragmatic Shonda and Betsey were about Bridgerton. They did not know how well it would do, they just loved the source material. To me that is real art. Do your very best to create something you love with no expectation of the outcome and you end up with a hit. And my god Shonda and Betsey have been making hit after hit the last two decades. Hitmaking with hot men is Shonda and Betsey's personal brand of magic and that is why I will always stan Shondaland.
photos via Instagram