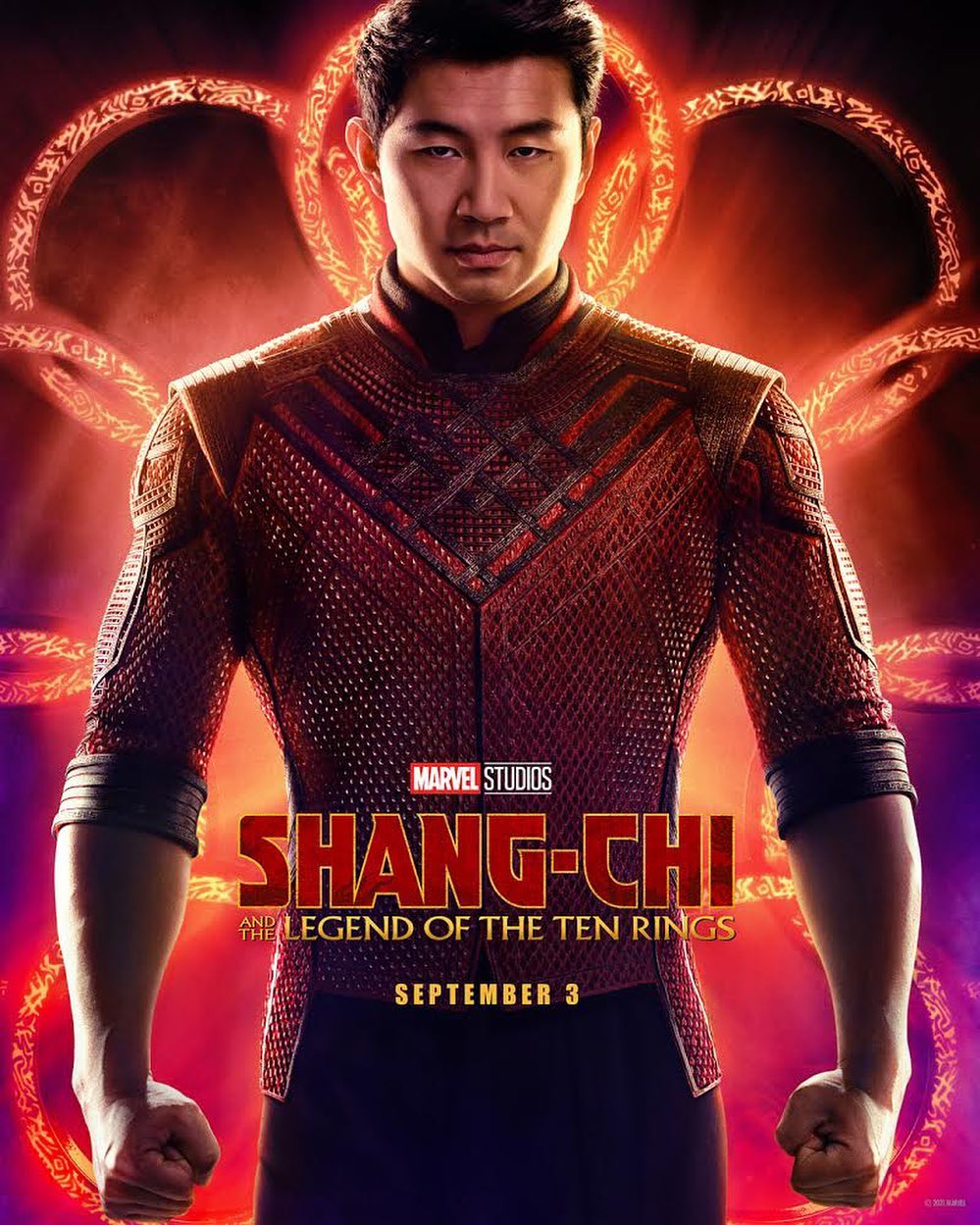 In 2020 I missed going to the cinema to watch Marvel movies. None of the scheduled Marvel movies were released last year so I had to settle for rewatching some of my favorites on Disney+. Getting WandaVision and The Falcon and the Winter Soldier has sort of-made up for my Marvel-less year but it's not quite the same.
I have been enjoying the fact that Marvel has been diversifying by adding BIPOC and women superheroes. Marvel gave us Black Panther and Captain Marvel the last three years. We are finally getting Marvel's first Asian superhero movie in September. When Marvel announced in 2019 that they would be making Shang-Chi and that Simu Liu would be leading the cast, none of us expected the significance of the timing of the release. After spending a year and half battling COVID and Anti-Asian hate, an Asian superhero movie is what we all need right now. Monday, Marvel released the first trailer for Shang-Chi and Marvel fans are stoked. Below is more on the trailer (I also embedded it below) and a bit of background on Shang-Chi from Entertainment Weekly:
"When that announcement came out, I just went instantly back to my childhood," [director Destin Daniel Cretton] explains. "[Growing up] all I had was Spider-Man. Because he had the mask on, I could dress up like Spider-Man for Halloween. I had a handful of other characters that looked like me on screen, but there were maybe two or three that I could choose from, and superheroes were not a part of that."

Cretton — who was born in Hawaii and is of Japanese descent — kept thinking about how his younger self would've reacted to a superhero movie with a predominantly Asian cast. So, he set a meeting with Marvel. "That's usually not the way director meetings start, by saying, 'You know, I was never interested in doing one of these,'" Marvel Studios president Kevin Feige says with a laugh. That Marvel meeting turned into another, then another, until before long, Cretton was standing in front of thousands of fans at 2019's San Diego Comic-Con, introducing the world to the kind of hero his childhood self had only dreamed of.

He may not be a household name yet like his fellow heroes Iron Man or Captain America, but the idea of making a Shang-Chi movie is older than the Marvel Cinematic Universe itself. Created by Steve Englehart and Jim Starlin, the kung fu master made his comics debut in 1973 as a way for Marvel to capitalize on martial arts stories' popularity with American audiences. Stan Lee reportedly tried to develop a Shang-Chi film starring Brandon Lee as early as the 1980s, but the project never materialized. In the early 2000s, the then-nascent Marvel Studios started to assemble a notebook of comic characters who could potentially headline their own films — a notebook that included Shang-Chi.

"The core of Shang-Chi's arc in the comics is really a family drama," says producer Jonathan Schwartz. "That was something that Destin keyed into really early on in our conversations, the idea of taking this broken family and this really dark, even abusive family background and seeing what that does to a child over time."

Bringing Shang-Chi into the MCU also meant updating some of his dated origins. The character's comic backstory has shifted through the years, and Cretton and writer Dave Callaham were eager to dispense with some of the early issues' racially insensitive cliches.

"When you look at the character of Shang-Chi through the comic books going back to the '70s and '80s, the fact that he existed and the fact that he was an Asian character was amazing," Liu says. "But at the same time, there are aspects of that portrayal of him that maybe could feel a little stereotypical. So when we first started to map out who this character was and what his journey was going to be over the course of this film, we were all very sensitive to not have it go into stereotypical territory."
I am so excited for this Marvel movie, you have no idea. I do not know the origin story of Shang-Chi and I don't remember the actual comic but the trailer has me hooked. Plus I am excited to see all people represented in these hero movies and not just as villains. Now all we need are South Asian, Latinx, Pacific Island and Native American super hero movies and we will be straight. I will definitely go watch several of the reaction videos on YouTube to get more information on Shang-Chi before the movie is released in September. Hopefully we will have COVID under control world wide and mostly everyone will be vaccinated so we can all enjoy the show. I am also excited about seeing Michelle Yeoh in this film. I feel like it has been forever since the last time I saw her in a movie. I know she's going to bring it. I also like that Cretton removed some of the dated and racially insensitive narratives from the original comics. It is time for the world to move forward while understanding the way we did things in the past is no longer acceptable. I hope that movies like Shang-Chi are not one offs for Marvel. I am sure, like Black Panther and Captain Marvel, that Shang Chi will already have a sequel lined up in the next few Marvel phase roll outs. In the mean time, I am going to go back to watch the trailer. Not only are the fighting sequences brilliant, Simu Liu is hot and I am here for it.
The Trailer: