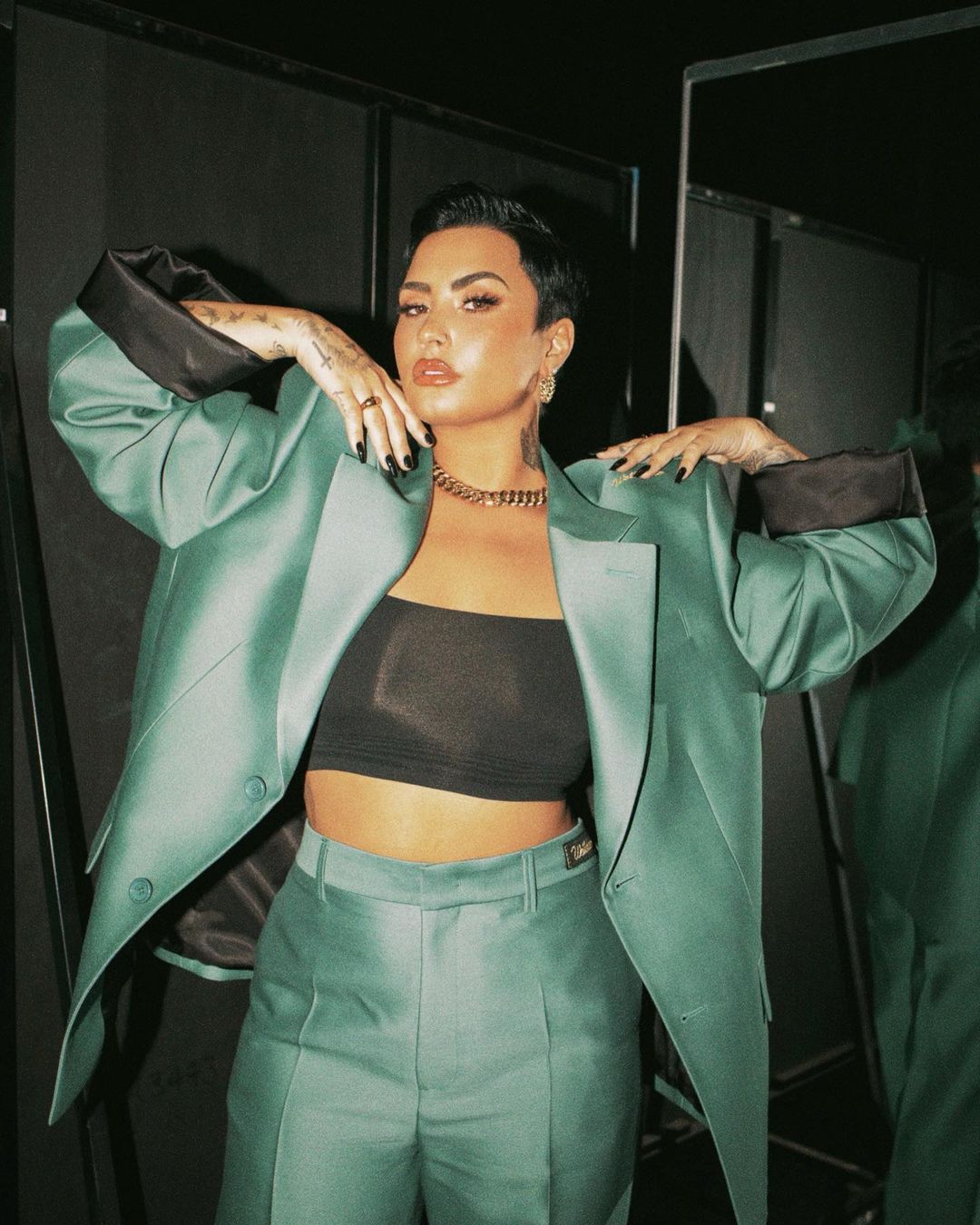 Diet culture is a real thing and it sucks. It sucks when men and women engage in Diet Culture and it sucks when companies and corporations actively engage in Diet Culture too. Case in point: most frozen yogurt is already low-fat, low-calorie. Walking into a yogurt shop which labels everything "diet" is a shop engaging in Diet Culture. So it was for Demi Lovato, who has suffered from eating disorders in the past and still has some disordered eating habits. She went to a yogurt shop and she was disgusted by how many signs were proclaiming such-and-such snacks were "diet" and "guilt-free."
Demi Lovato is speaking out about her negative experience with a Los Angeles-based frozen yogurt store. Over the weekend, the "I Love Me" singer, 28, wrote on her Instagram Story that she was "finding it extremely hard to order froyo from" The Bigg Chill due to all the "diet foods" they offer.

"You have to walk past tons of sugar free cookies/other diet foods before you get to the counter. Do better please," wrote Lovato — who has long been open about her struggles with an eating disorder and body image. Alongside the message she also included the hashtag "diet culture vultures."

The shop went on to respond to Lovato on their official Instagram account writing, "We carry items for Diabetics, Celiac disease, Vegan and of course have many indulgent items as well."

Over on her own Instagram Story, Lovato went on to post screenshots that appeared to show a private message exchange between her and the shop. "We are not diet vultures. We cater to all of our customers needs for the past 36 years. We are sorry you found this offensive," the frozen yogurt store appeared to write in the message. In response, Lovato wrote that she found her "whole experience" with the store "triggering and awful."

"You can carry things for other people while also caring for another percentage of your customers who struggle DAILY just to even step foot in your store," she wrote. "You can find a way to provide an inviting environment for all people with different needs. Including eating disorders. Don't make excuses, just do better," she added.

Real Housewives of New York City star Leah McSweeney went on to address Lovato's comments in a series of Instagram Stories, noting that sugar-free options can be important for a variety of people, including diabetics. Later that day, Lovato posted another response with some suggestions on how to make the store feel more inclusive. "I was thinking, maybe it would help if you made it more clear that the sugar free options and vegan options are for [health needs]. Labeling the snacks for celiac or diabetes or vegans," she wrote.
Yeah, things are labeled "diet" when they should be labeled "vegan" or "diabetic/sugar-free" or "gluten-free/celiac-friendly." I trust that Demi was genuinely triggered stepping into that shop because there are so many trendy little restaurants where the terminology makes no sense, or they just label everything "diet." That being said, Demi really went over-the-top in her targeting of one independently-owned yogurt shop, and she actively used her celebrity and her social media platform to harass this shop because they… offer food for diabetics, vegans and people who are gluten-free. Several things can exist all at once: it's a good conversation to have, and Demi way overreacted. She knows that too. She offered this apology last night:
"I am very outspoken about the things that I believe in. I understand that sometimes my messaging can lose it's meaning when I get emotional," she says. "I am somebody who is just very passionate about what I believe in and I've lived through enough to know when to speak up for people who don't have a voice."

Demi mentioned that going into the yogurt shop was hard for her, as someone who is recovering from an eating disorder, and that the signs and labels of different products weren't clear to her as to what they were for. If you missed it, the yogurt shop has said that they "carry items for Diabetics, Celiac disease, Vegan and of course have many indulgent items as well."

"Because it wasn't clear, I definitely jumped to conclusions and probably shouldn't have gone about this the way that I have," she said. "I'm willing to talk to this froyo shop to help get this messaging right… I'm human and I talk about my struggles. I'm passionate, so I'm sorry that I got the messaging wrong. I'm sorry that I may have disappointed some people."

"I'm not coming after a small business as someone with a lot of followers. That's not what I'm doing here. I walked into a situation that didn't sit right with me, my intuition said speak up about this, so I did," Demi continued. "And I feel good about that. What I don't feel good about, is some of the way that it's been interpreted and how the message has gotten misconstrued over all of it. I will do whatever I can to work with this froyo shop if they want to, to help align the messaging."

"I'm genuinely sorry that people took it the wrong way. I just get really passionate," she concluded.
This really made me want some fancy yogurt. Mmm. I think I'm going to get some French vanilla with chocolate chips.
Demi Lovato calls out a Los Angeles frozen yogurt shop for its "harmful messaging" regarding their sugar free cookies and other diet foods. pic.twitter.com/6teLtOaITH

— Pop Crave (@PopCrave) April 18, 2021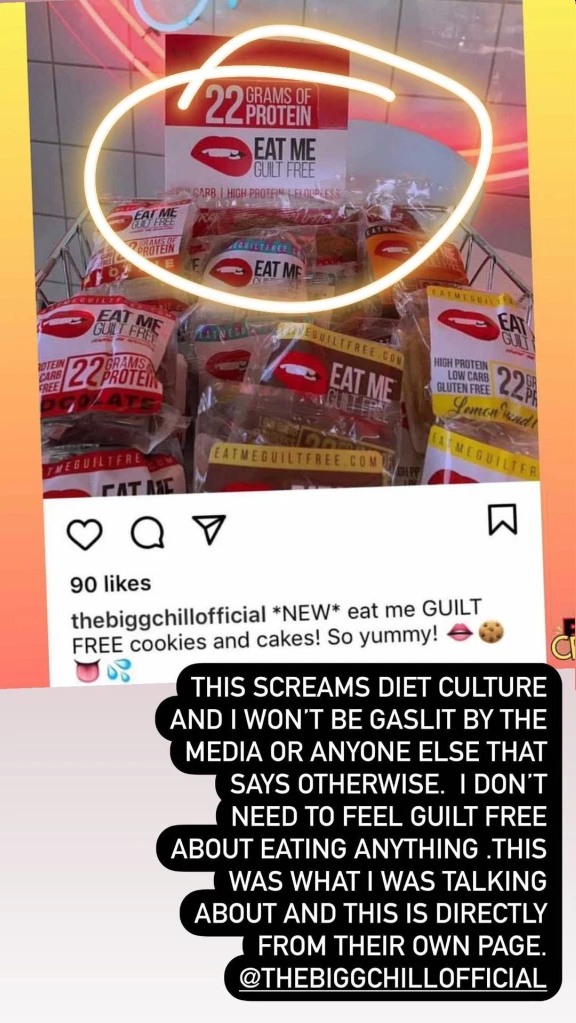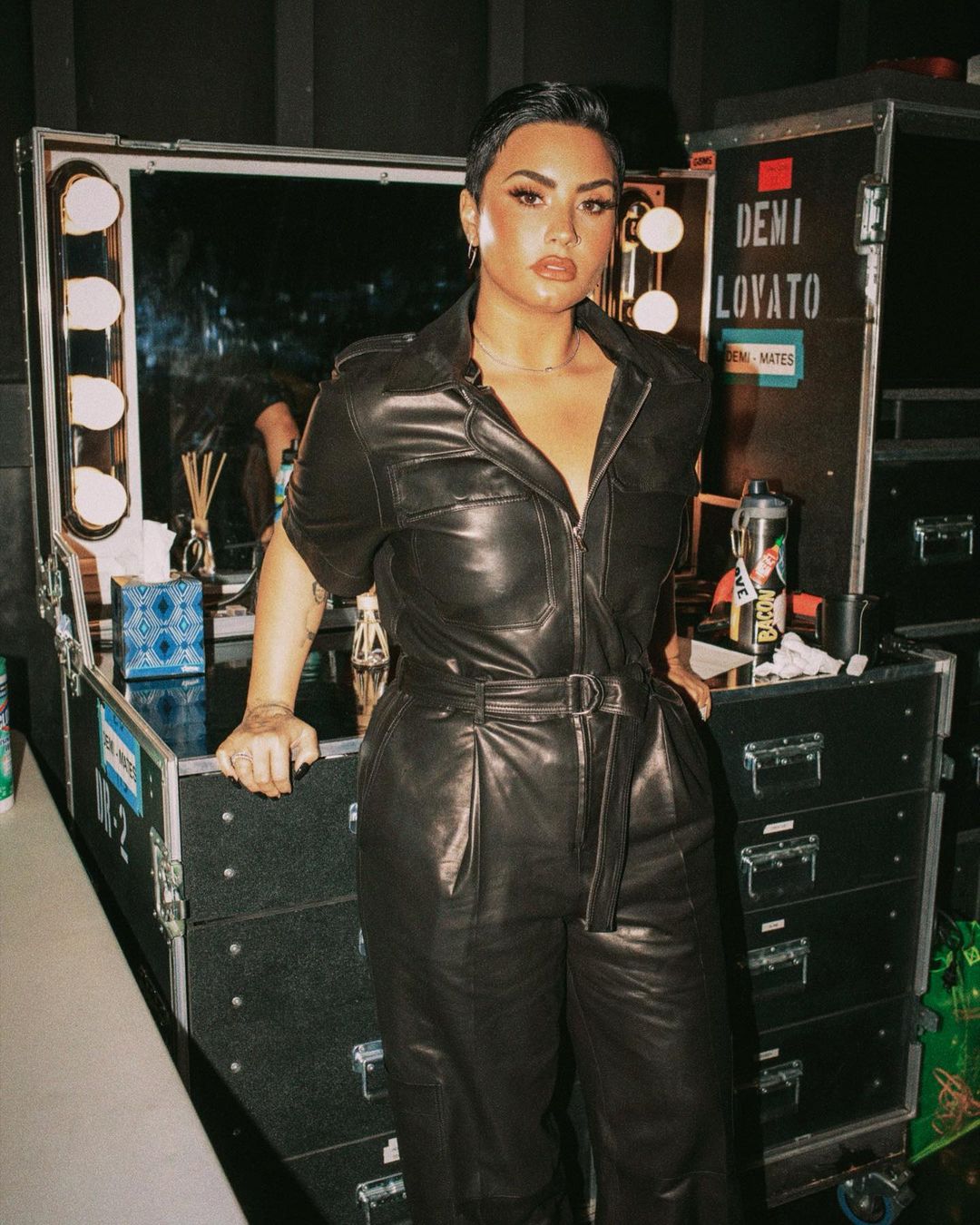 Photos courtesy of Demi's Instagram.