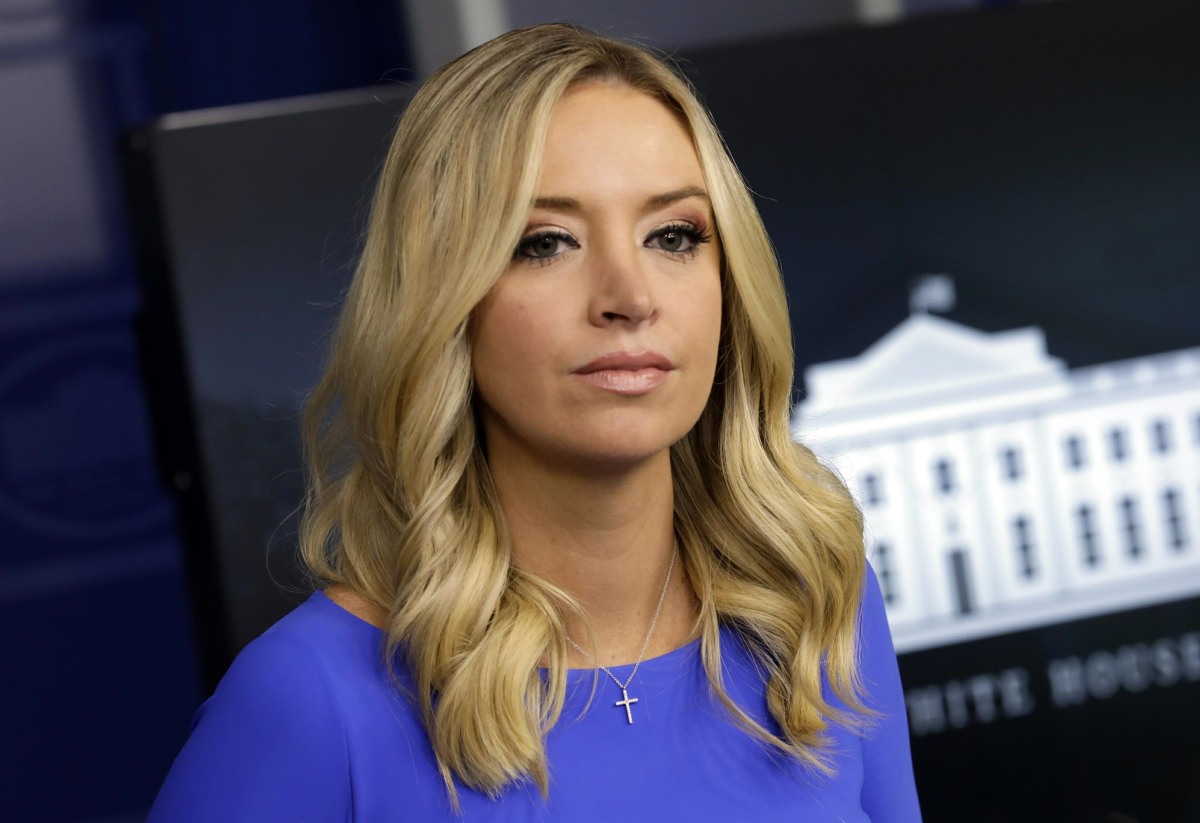 Derek Chauvin, a degenerate psychopath murderer, was found guilty of all charges yesterday. It seemed like almost everyone felt relief at the verdict, and despite police forces across the country amping themselves up to bash BLM, there weren't people protesting on the streets or anything like that. All of that was disappointing for the regular suspects, the white supremacists who are struggling to find a way to blame Democrats for *something*. It can't just be that an unarmed man was murdered and his murderer was found guilty. It has to be us-versus-them, white aggrievement, racist something or other. Donald Trump's former press secretary Kayleigh McEnany chose to nitpick Joe Biden:
Donald Trump's former Press Secretary Kayleigh McEnany scolded President Joe Biden Tuesday for weighing in on the trial of former Minneapolis police officer Derek Chauvin. She said to Fox News host Harris Faulkner, "There's so much hurt, so much pain. And I think it's the role of the president of the United States to stay back, to not inflame the tensions. I think he should have just reserved comment and said he's praying for the family as we all are."

Biden has called family members of George Floyd, Chauvin's alleged victim, to tell them he was praying for them, and he said he hopes jurors reach the "right verdict."

Trump often exhibited the kind of behavior McEnany claimed she abhors. The former president defended the actions of Kyle Rittenhouse, accused of killing two protesters in Kenosha, Wisconsin, last summer, and sent his well-wishes to Ghislaine Maxwell, accused of sex trafficking in service of Jeffrey Epstein from the White House briefing room, among other controversial remarks on legal matters.
Biden didn't "inflame the tensions," he spoke to the Floyd family, showed compassion, urged calm and healing and argued for more proactive police reform. But Kayleigh wasn't the only MAGA blonde with a clenched a–hole yesterday. No, Tonka Lampshade also decided to tweet:
You got your justice so I'd assume there will be peace in Minneapolis tonight? No rioting? No looting? No harassing officers?

— Tomi Lahren (@TomiLahren) April 20, 2021
And when I say "your" justice I am referring to the groups who have been loudly declaring "no justice, no peace" as an excuse to ravage communities. Never said I disagreed with the verdict. Never said Chauvin wasn't wrong. Simply said you don't get a pass to anarchy because of it

— Tomi Lahren (@TomiLahren) April 20, 2021
The less said to and about Tampon Leak, the better. She was tweeting out a lot of sh-t because she was feeding on the negativity. Just keep in mind with all of these a–holes: their reaction to the white terrorism of the January 8th insurrection was markedly different. But it's not about race, you guys.
And finally, Tucker Carlson's White Supremacist Hour on Fox News was pretty bonkers last night.
Tucker Carlson had a complete meltdown tonight in response to a former New York corrections officer who criticized Derek Chauvin for using excessive force on George Floyd. Here's how the interview (abruptly) ended. pic.twitter.com/mBOxrsbhaJ

— Aaron Rupar (@atrupar) April 21, 2021
Photos courtesy of Getty, Backgrid.