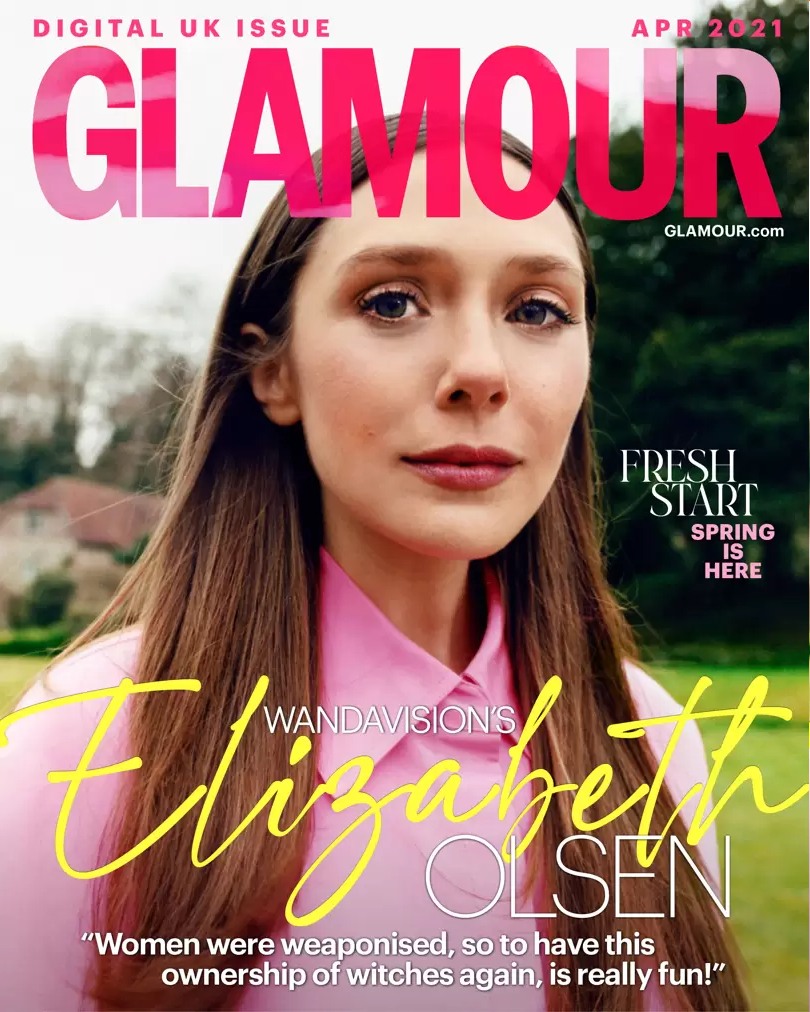 Elizabeth Olsen covered a recent issue of Glamour UK, which is entirely digital now. This was released a full month after WandaVision completed its run, so it's not technically WandaVision promotion or anything, but I really don't know what it's for. Elizabeth chats with the magazine about feminism, the power of "no," panic attacks and more. She's in England right now because she's working on Doctor Strange 2, which is apparently VERY witchy and, according to her, going for that "horror show vibe." Some highlights:
She used to have panic attacks: "I had major panic attacks for a long time. It was totally debilitating. I was living in New York on my own and I was 22….I didn't realise it was something that you could not control. And the issue is the control part. Then I just learnt a bunch of brain tricks from friends who actually went to a neuropsychiatrist – and instead of medicating, I decided to do it that way. With panic attacks, you have to put your attention off 'whatever's making you spin' onto something else. It was [about] being present in the moment and identifying all the things around you in order to not spin."

Growing up, she didn't think she would be an actor: "I thought I was going to be on Wall Street. I don't know what I wanted, I was just good at math. And I'm good at sciences so [I thought] maybe I should do something like that. But at the end of the day, I really love acting."

On nepotism: "I was 10 and I was curious about auditioning… and I realised very quickly it wasn't for me because I was missing my sports teams, my dance class and all the extracurricular activities at school. But during that time, I thought 'I don't want to be associated with [Mary-Kate and Ashley]', for some reason. I guess I understood what nepotism was like inherently as a 10-year-old. I don't know if I knew the word, but there is some sort of association of not earning something that I think bothered me at a very young age. It had to do with my own insecurities, but I was 10. So I don't know how much I processed, but I did think, 'I'm going to be Elizabeth Chase [her middle name] when I become an actress.'"

Her sisters taught her "No is a full sentence". "The word 'No' specifically was something that I remember my sisters isolating and it becoming really empowering. And for women, it's a really empowering word. People say 'Just say no to drugs', but truly, you can just say no whenever the hell you want! It's really a powerful thing. I always felt like I could say 'No' in any work situation – if someone was making me feel uncomfortable – and I just feel like that's what we need. We don't have to follow suit if it doesn't feel right. We need to be listening to our gut. There was a time where women were competing with one another and now we're at a time where women are holding each other up."

She deleted her Instagram last year & she's never going back: "I'm never going back to social media. And it's not even like I was bullied. [I thought] Wait, why am I even trying to create a character version of myself and put it out in the world? And the whole thing just made me uncomfortable and it's not even like I was really paying attention to comments or anything. I just felt weird how it organised my brain… I'm not someone who's obsessed with using a platform in any way. I work for nonprofits that I'm really proud of and I do love talking about them, but I don't feel the need to champion or denounce every single thing that happens in the world. It feels like a lot of strange noise that doesn't feel substantial. And so during the pandemic I was like, Oh this is just not for me. And I just got rid of it."

So much of social-media activism is narcissism: "It's dangerous to think, Oh something just happened in the world, I am an entitled person whose voice must be heard on this issue. It's such a narcissistic viewpoint. It's important for people who want to be voices and have platforms and who care deeply about issues. But I am terrified of that pressure."
I really love what she says about Instagram? Especially the part about the performative "activism" which is basically like "look at me, I care about this issue too!" Still, it's weird to think of how many celebrities have just opted out of social media completely. I have to think that many studio executives and studio publicists would prefer if all of their stars are on social. As for her understanding nepotism at a young age… it's funny because even though she uses "Olsen" professionally and she looks so much like her sisters, people still don't realize that Elizabeth is related to Mary-Kate and Ashley.
Cover and IG courtesy of Glamour UK.