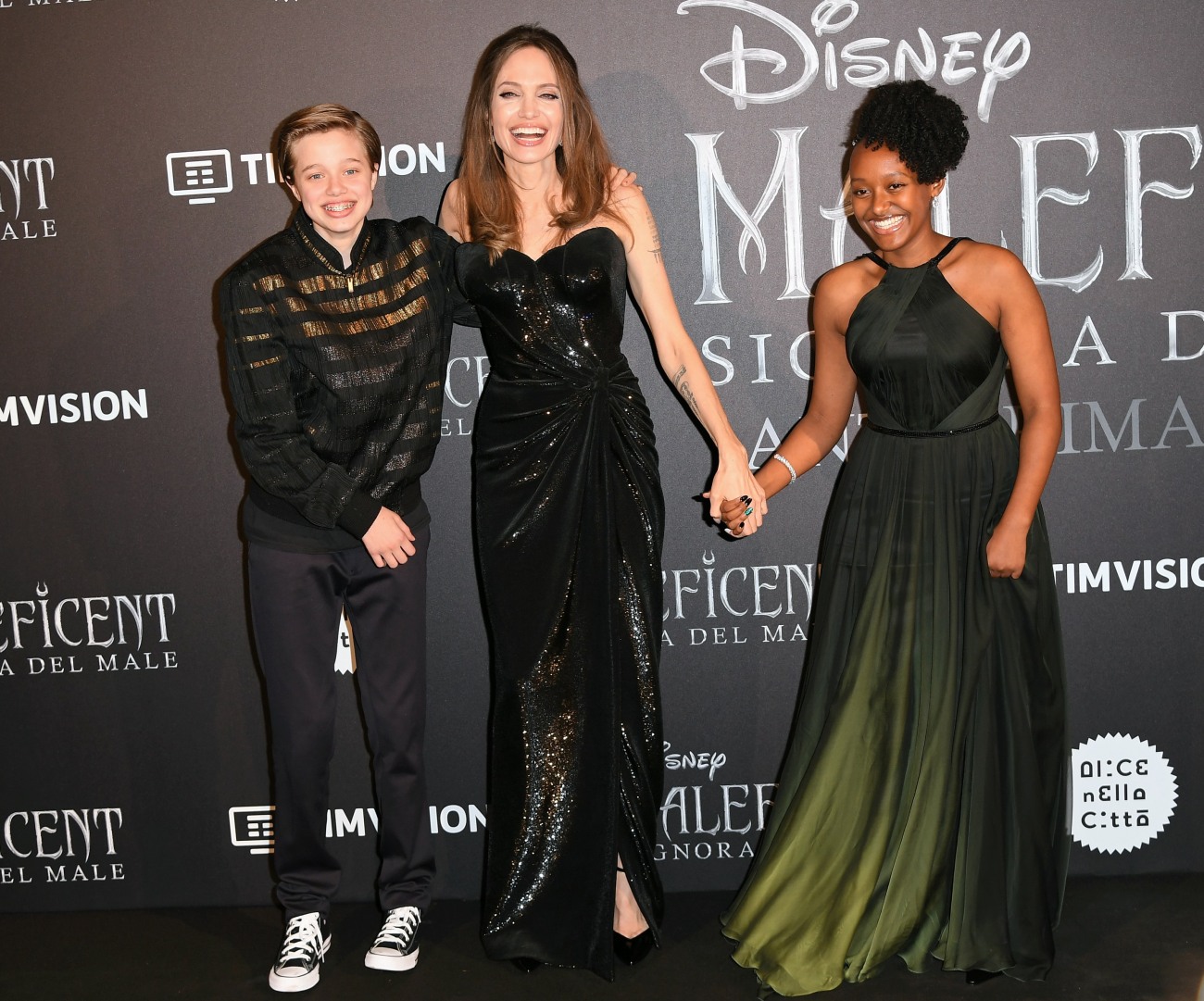 Angelina Jolie is promoting Those Who Wish Me Dead, a film which looks like a somewhat straight-forward action vehicle for Jolie. Like, if they switched the gender of the lead character, I could easily see Liam Neeson or Bruce Willis playing a "fire jumper" and protecting a traumatized kid. To promote the movie, Jolie recently chatted with Sydney Morning Herald's Sunday Life magazine. She worked with an Aussie child actor in the film, and she's very complimentary of him (and he adored her too). She also chats about her mom, representation on film and a lot more. Some highlights:
On playing badass women on screen: "There are times when it's the first time somebody takes a step and shows that – whether it be a woman, a man, somebody – they can do something different. Somebody pushes the boundary, then says this can also be done this way, or this gender can also do this. Then you push those boundaries and tell those stories, and you look for other stories to tell – you don't want to just repeat the same message."

On the need for wider representation of badass women: "It's an interesting question. It's a deep question. Particularly for women: what is the representation that's not yet been shown on screen? Who is a woman and what is a woman capable of? There's a lot to discover, there's a lot that's yet to be represented, and there's a space being created right now that is not yet there. There's a lot of trauma behind the strong women in a lot of these roles, and it will be nice to get to a place where we're also in our maternity, in our femininity, strong and intelligent and not fighting to survive."

Her late mother Marcheline Bertrand: "My mother was very gentle. I can be many things in my work and in life, but I am very warm and gentle with my children. That kindness and warmth is a foundation that's unbelievably important. She gave me many other things and taught me many lessons. But if you don't have that base, to feel valued and safe, then it's hard for any of the other messages or lessons to land. I hope that I've been able to be that [for my own children], that I'm that warm, safe place. Because – and it's maybe a funny thing to say – but considering what my different jobs are, or what people think they know of you, or what you feel you have to be in the world, in truth none of those things are what you really are. Who you are to the children is everything."

Her character in Those Who Wish Me Dead: "She's intentionally reckless and clearly is not functioning well. If the path this film takes her on didn't happen, I'm not sure she would have recovered from what she's carrying. And that is a lot. Not to get heavy, but I've been to places where there are different groups of people being treated … those who had physical injuries or were harmed, and this other group, those who had to participate in harming others as part of their torture. The damage was so clear, but the mental-health trauma, you can't see it. Those who do those types of jobs, anybody on the front line, you just never know what they're going through when you look at them. So in this story, which is not as heavy and depressing as I'm making it sound, these people, you throw them together and you light a fire and you see who makes it through."

Working with Aussie child actor Finn Little: "We'd both be very serious actors on set, but also have play dates on the weekends with my kids and go hang out all the time. So part of our work, if you will, was just playing paintball or swimming. So our professional bonding was just a lot of fun, being friends."

Respect frontline workers all the time: "When there are fires, we seem to honour the firemen, and during the pandemic we've been very supportive and focused on those in the hospitals and on that front line. You'd hope these things continue regardless of what is happening in the world. It shouldn't have to take a large fire to respect a fireman, or a pandemic to respect a nurse."

She doesn't mind a dangerous situation: "I'm a bad person to ask. Maybe it's something that's off about me, but I tend to walk into slightly dangerous situations and be the last to panic. So I didn't feel like I was in danger during filming. I didn't feel like it was too much. There were certainly times when it got really hot, very fast, and we had to all move to the other side. Again, being with Finn, it did something different, because when you're next to a child, you're so hyper-focused. So when the bullets and shrapnel were flying, all I could think about was his eyes and keeping them covered. When we're in situations near the fire, or in the river surrounded by fire, I had my eye on him. But I will say that he's an Aussie, and tough, so there was no real need for me to be concerned for him. He wasn't afraid of anything."
She's dead-on about Aussies being tough as hell. I've seen the spiders, snakes and Aussie creatures y'all seem to live with on a daily basis. Finn was probably like "whatever, it's fine, I see more danger from the spiders in my house." I also enjoy the fact that Jolie is working with more child actors as she gets older, and she seems so maternal with them. She's practically ready to adopt all of those kids. As for what she says about her mom and hoping she provides the kind of safe space to her children which her mom provided her… I think she's absolutely like that. It's a little bit weird to think about who she was, like, 22 years ago? The goth girl who didn't give a f–k, the rebel without a cause. And now she's so much like her mom.
Here are some pics of Angelina & Vivienne out in April.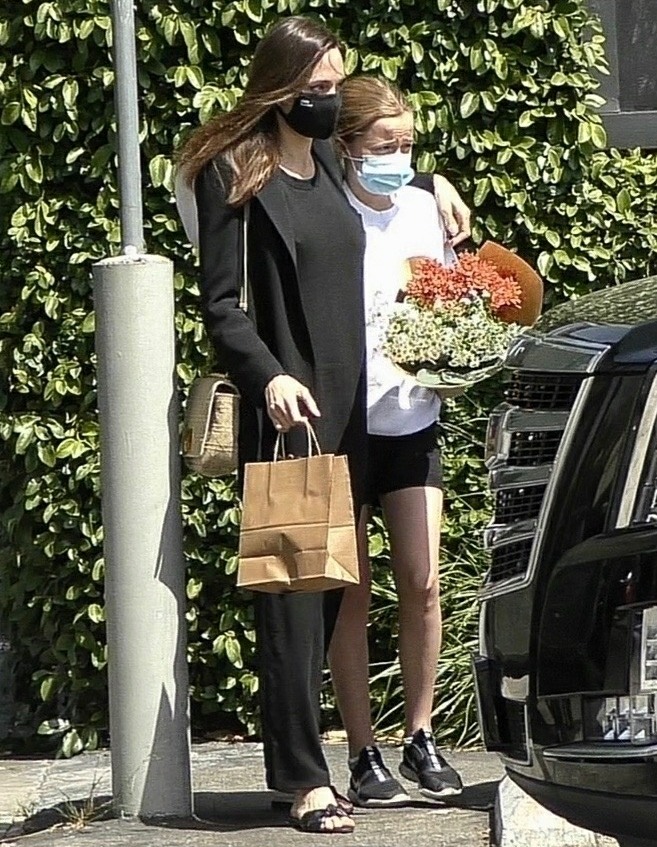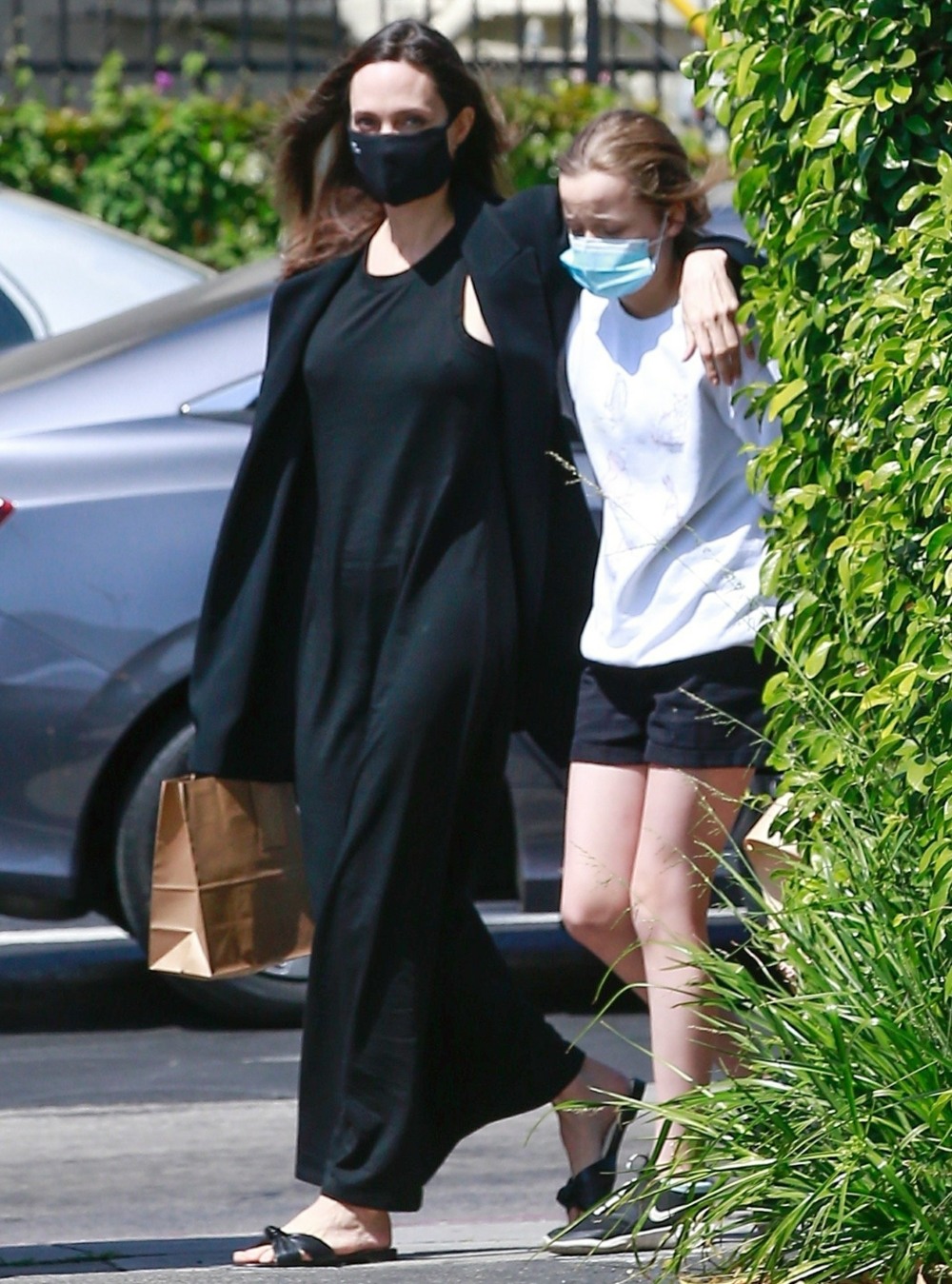 Photos courtesy of Backgrid, Avalon Red.