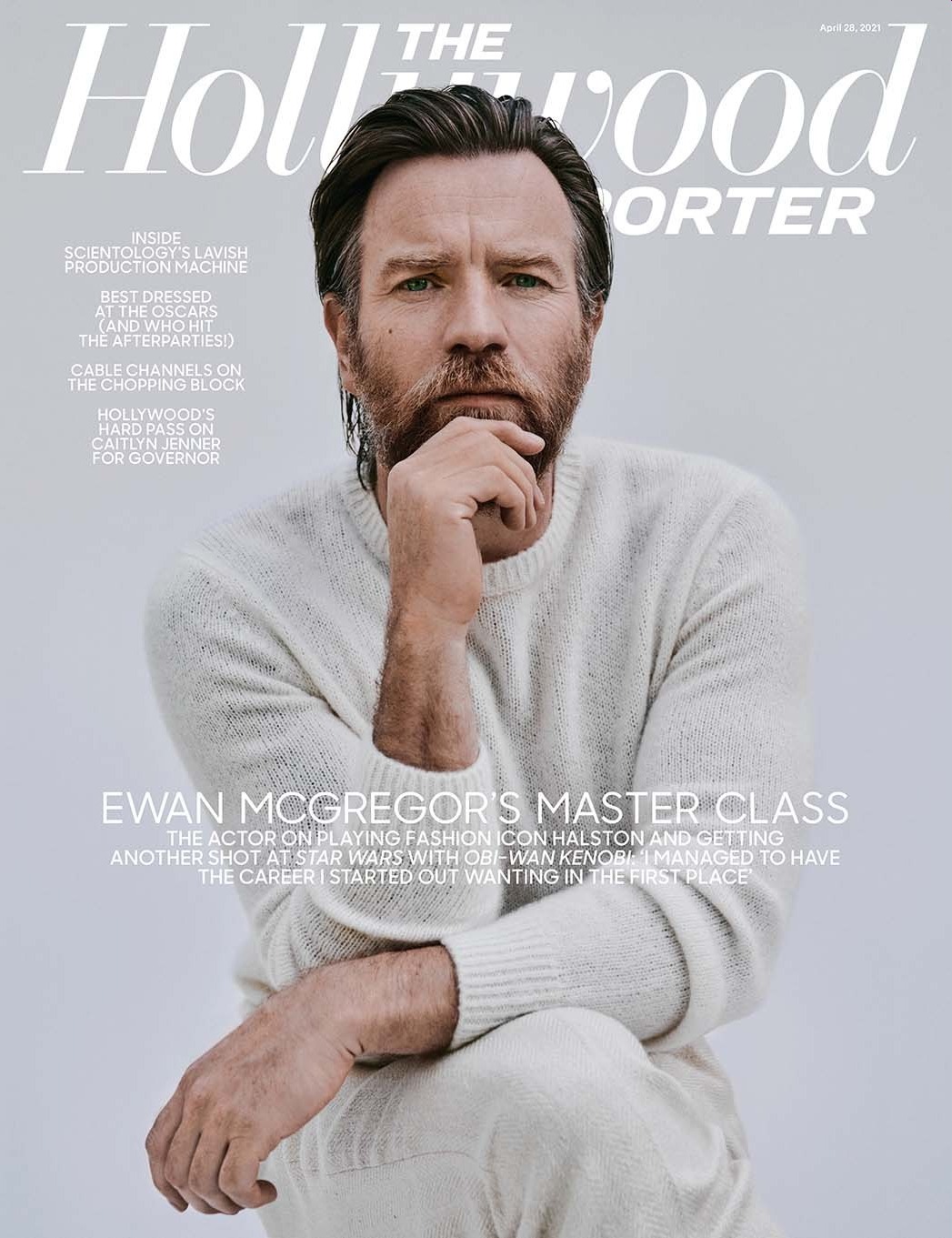 On May 14th, Ewan McGregor's turn as fashion designer and icon Halston begins on Netflix. Netflix did a miniseries on the life and times of Halston, with Ewan as the designer, and a cast which includes Bill Pullman (!), Rory Culkin and Vera Farmiga. It should be epic and a lot of fun. To promote the new series, Ewan appears on the latest cover of the Hollywood Reporter. Can I just say? The photos are INCREDIBLE. His beard, the perfect sweater (which I want, desperately), his beautiful face. I had to remind myself that Ewan dumped his wife for his younger costar Mary Elizabeth Winstead in what was one of the messier splits in recent gossip history. Anyway, I enjoyed this interview. Some highlights:
His second Moderna vaccine: "It really kicked my ass. It really did. For months, we've been doing these monster, two-and-a-half-hour sessions of sword fights and hand-to-hand stuff. But there was no way it was happening this week. Not with a 100.7 fever." (The disturbance in the Force did not last long: McGregor was back to normal in 48 hours.)

On Star Wars Episodes I-III: "[It] was hard they didn't get well received. That was quite difficult. They were universally not very much liked."

The Obi-Wan Kenobi series on Disney+: "I'm really excited about it. Maybe more so than the first ones, because I'm older — I just turned 50 — and I'm just in a much better place."

He has the career he always wanted: "I would say I managed to have the career I started out wanting in the first place. I've been involved in some big, silly stuff; but also lots of important stuff; and some little, silly stuff; and big, important stuff. I've been very lucky."

He's always been game for any kind of love scene: "This [Halston] was the first thing I've ever done where we had an intimacy coordinator. It was such a relief. It's about f–king time. The temptation in my experience is just for the director to go, 'Just do whatever.' It's embarrassing. That's not fair on either actor to do that."

On his (now healed) beef with Danny Boyle: The two didn't speak for "a long time," McGregor says, even once sharing a first-class cabin flying across the Atlantic without exchanging a single word. They've since patched things up and collaborated on the 2017 sequel T2 Trainspotting. "It wasn't handled very well. There was probably both sides to it. I was upset. But at the same time, it's part of life, it's just part of growing up."

He wanted to be a badass: "I was lucky because Trainspotting became the movie of an era. And while I always wanted to be a worthy actor, at the same time, there was a part of me that wanted to be a rock star. And I think the lines got slightly blurred. The Oasis brothers [Liam and Noel Gallagher] had that sort of swagger I loved: 'F–k it and f–k everyone.' I sort of got swept up in that, I suppose."

His family: "I had Clara in my lap as a baby doing press at Cannes for Trainspotting. Ultimately, through all of that craziness and that time, I had that sort of safety line through my life, which was my work and family, that I could latch onto."

On a straight man playing a gay icon like Halston & one-sided sexuality-blind casting: "I hear the discussion and I respect both sides of it, I really do. I haven't walked in Billy Porter's shoes. I don't know what it's like to lose out parts when you might feel it's to do with your sexuality. So I can only respect his point of view." Ultimately he decided that "if it had been a story about Halston's sexuality more, then maybe it's right that gay actors should play that role. But in this case — and I don't want to sound like I'm worming out of this, because it's something I did think a lot about — I suppose ultimately I felt like it was just one part of who he was."
His answer about being a straight man playing a gay icon is not great. I mean… no LGBTQ person is SOLELY about their sexuality or gender identity. "Gay" is not the sum total of anyone's personality, life and career. So Ewan needs to go back to the drawing board on that one – I mean, I think he'll be a good Halston, but that was a sh-tty answer.
What else – he addresses some of the tabloid stuff in the piece. He refers to Mary Elizabeth as his partner, and he shares custody of his youngest daughter with his ex-wife (the rest of his girls are over 18). His oldest daughter Clara is quoted in the piece, admitting that she didn't handle her parents' split very well but now she's "hugely fond" of Mary. This is three years after she referred to Mary Elizabeth as "a piece of trash" on her social media. Growth.
"I didn't know Halston," McGregor says of his upcoming role. After seeing pictures of the fashion designer and the people in his inner circle, the actor knew he wanted to play him: "Just something about the way he holds himself, something in his eyes" https://t.co/z2G2pLh5qe pic.twitter.com/Hurul32QD3

— The Hollywood Reporter (@THR) April 28, 2021
Cover & photo courtesy of THR.