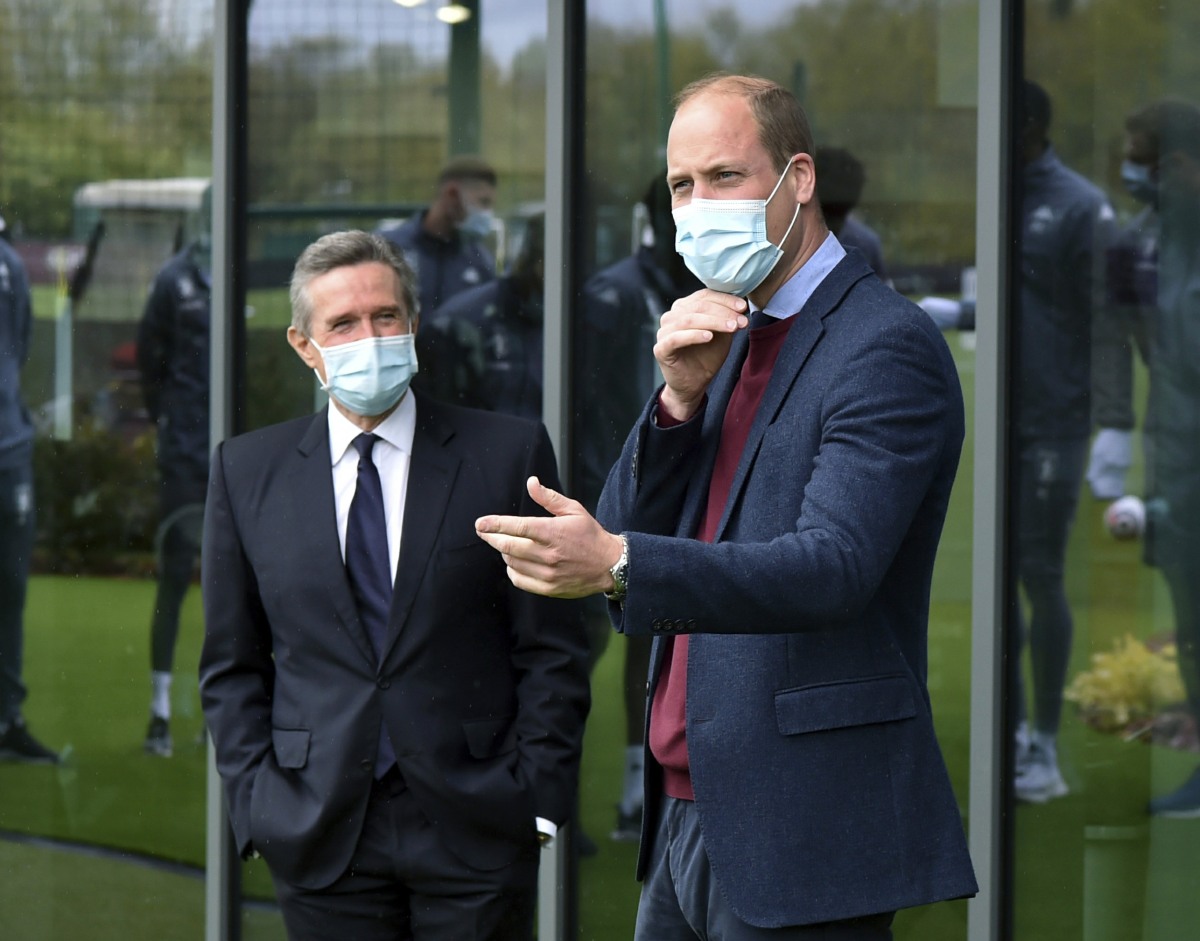 I was surprised to see how much "credit" Prince William got for taking part in the social media boycott started by British footballers this past weekend. William's boycott got widespread coverage in the American and British media. What was weird was that… he didn't even really boycott. He and Kate gave Charlotte's birthday portrait to the Buckingham Palace social media team to post online, which is not adhering to the spirit of a boycott. If it hadn't been Charlotte's birthday, I'm not even sure anyone would have noticed William's boycott anyway – it's not like the Kensington Palace team posts a lot on weekends anyway. In any case, now that the boycott is over, William was ready to work! And by that we mean he visited his favorite football team and "listened" as people explained their charitable efforts. I'm sure William nodded a few times and pointed at things.
Prince William is seeing firsthand how his favorite soccer team is helping their local community amid the coronavirus pandemic. The royal stepped out on Tuesday in the West Midlands, visiting the Aston Villa High Performance Centre to hear about the club's community outreach and support initiatives through the Aston VillaFoundation. Prince William, who is a longtime Aston Villa fan, met a number of the club's players, many of whom have been actively involved in supporting the work of the Aston Villa Foundation's projects.

Over the weekend, Prince William joined a four-day social media boycott organized by England's high-profile soccer clubs and their players. The boycott hoped to encourage social media companies to take stronger action against racist and sexist abuse online.

During his visit, William met representatives from several projects including Villa Kitchen, a project which sees the kitchens at the soccer stadium produce approximately 1,000 hot meals a week which are then donated to local groups in need. He also heard about the clinics that began operating in March 2020 due to the pandemic. The Sandwell and West Birmingham NHS Trust worked with the club to equip six hospitality boxes to provide consultation rooms for local expectant and new mothers, delivered by a team of community midwives. After one year, the midwifery team see up to 60 patients a day at the stadium.

Prince William also formally opened the new High Performance Centre. The Centre has been designed to assist the athletes to become the best they can be, providing access to high quality facilities specifically designed for elite performance.
The Aston Villa organization sounds amazing and like they're doing tons of great work in their community. Meanwhile… did you hear that William boycotted social media? Did you hear that it was his anniversary last week? Did you hear that he's still incandescent with rage at his brother? What I'm saying is that William doesn't have a lot going on and it's becoming more and more noticeable. How many times can they ring the "preparing to be king" bell? Dude is just shy of his 39th birthday and all he's got going on, work-wise, is stuff like this. Where he's opening gyms and listening to people talk about THEIR work.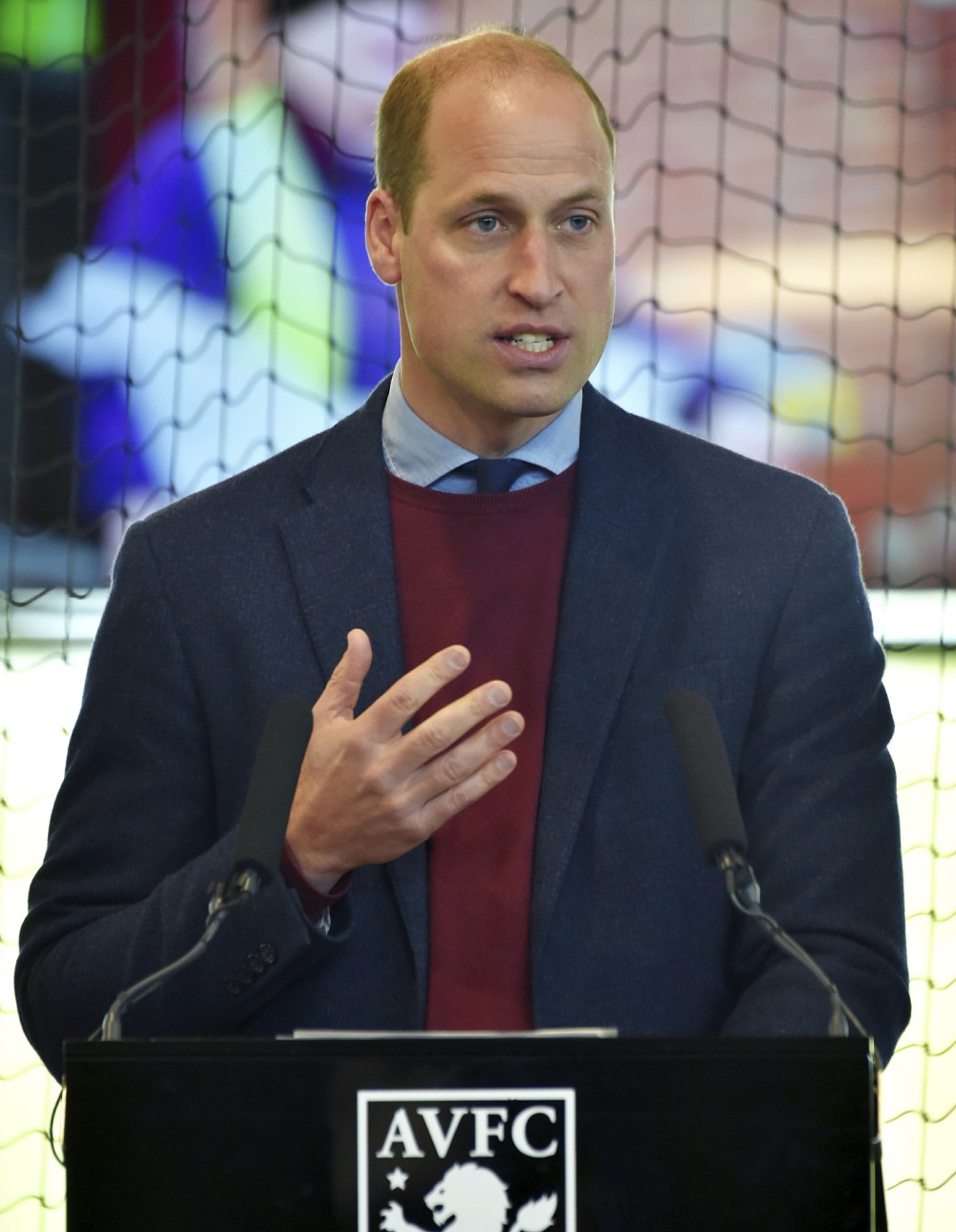 Villa Vision is the Aston Villa Foundation's eye health initiative, aiming to raise awareness of the importance of caring for your eyes.

The Duke met representatives from Villa Vision and heard more about how the programme has had a positive impact on the local community. pic.twitter.com/qW3DXY6Q4c

— Aston Villa Foundation (@AVFCFoundation) May 4, 2021
Photos courtesy of Avalon Red.