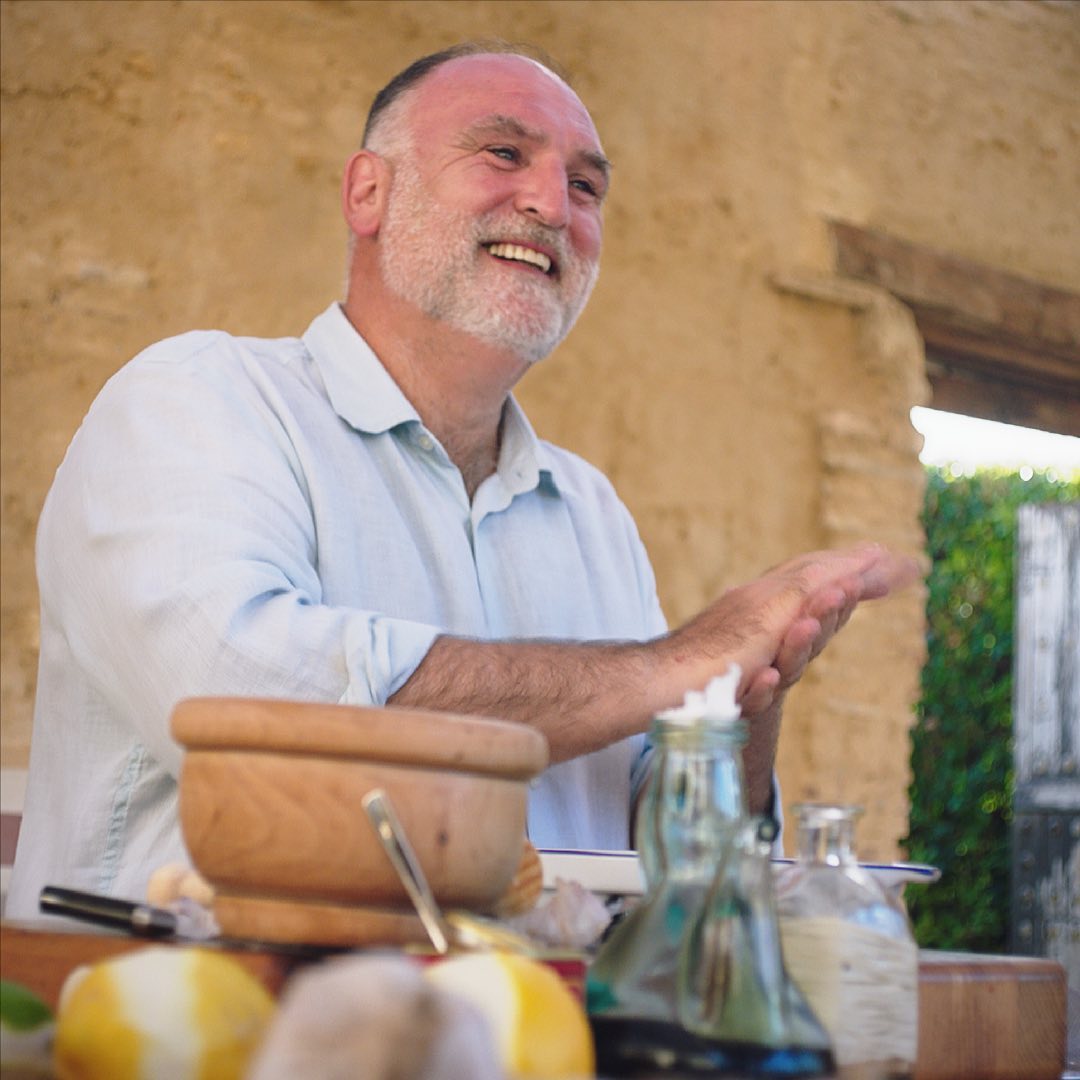 Chef José Andrés has kept himself busy during the pandemic. Chef Andrés's organization, World Central Kitchen, built a kitchen in Dominica along with Prince Harry and Duchess Meghan's organization. He fed the National Guard protecting the Capitol after January 6 and travels to disaster areas to help those suffering from food insecurity. Chef Andrés has become an international treasure. Chef Andrés announced last week that he will be giving vaccinated customers $50 restaurant gift cards to any of the five restaurants in his ThinkFoodGroup restaurant chain around the DC Metro area. He said he wanted to give people an incentive to get vaccinated. Chef Andrés will be giving out the gift cards until the U.S. population is 70% vaccinated. Below is more on the initiative via People:
On Friday, the celebrity chef, 51, announced on Twitter that any customers of his ThinkFoodGroup restaurants that show proof that they've been vaccinated against the coronavirus will receive a $50 gift card. The deal runs only at ThinkFoodGroup establishments in the nation's capital until 70 percent of the U.S. population is vaccinated.

"Ok! We want everyone vaccinated! Starting tomorrow, until we reach 70% of total population anyone that comes with vaccine papers,that proves that has been vaccinated will get $50 gift certificate for any of @thinkfoodgroup restaurants in the @washingtondc area…," Andrés wrote.

In a follow-up tweet, Andrés clarified that the promotion is only open to people who got vaccinated this past Saturday and on.

"And the gift certificate is for people that are vaccinated starting tomorrow, ok?" the chef said.

"I would not say it's a 'plan,' but it's just one more way that a citizen like me can be helping change the minds of people that maybe are not sure yet about getting the vaccine," he said. "If getting a gift card into one of my restaurants so they can bring their families is the way to convince them to get the vaccine, I think this is my little contribution in my community, in Washington, in Maryland, in Virginia, to make sure that at least we reach 70 percent or above."

"To win this battle against COVID-19, where my teams in the restaurants can feel protected, where we can one day all take our mask away because we know we are all going to be safe," added Andrés.
Chef Andrés is one of my favorite humans. His accomplishments these last few years have been nothing short of miraculous. I love that he has become a full fledged humanitarian by providing one of the most basic human needs, food. José could have easily been happy with having successful restaurants but he decided to pay his success forward. I have never been to one of Chef Jose's restaurants, but going by the food he distributes, I am sure folks who get the $50 credit are in a for a treat. This offer is a win win for everyone. Chef Jose gets to introduce new customers to his restaurants while encouraging people to get vaccinated. It seems giving away free food and beer are the only ways some folks will be persuaded to get vaccinated. It sounds ridiculous but whatever works. We are all ready to get back to some sort of normalcy and if we have to bribe people to do so, then so be it. I look forward to seeing how Chef Jose's offer pans out.
And the gift certificate if for people that are vaccinated starting tomorrow, ok?😂 https://t.co/2wCdKpiV8u

— Please wear a mask! Do it for the World please… (@chefjoseandres) May 7, 2021
India still needs our help 🇮🇳@WCKitchen is providing meals to people in hospitals across the country that have been devastated by COVID.

Help feed people who need it here: https://t.co/MNpGvlnblE https://t.co/cWnhDJ0m1Z

— Padma Lakshmi (@PadmaLakshmi) May 13, 2021