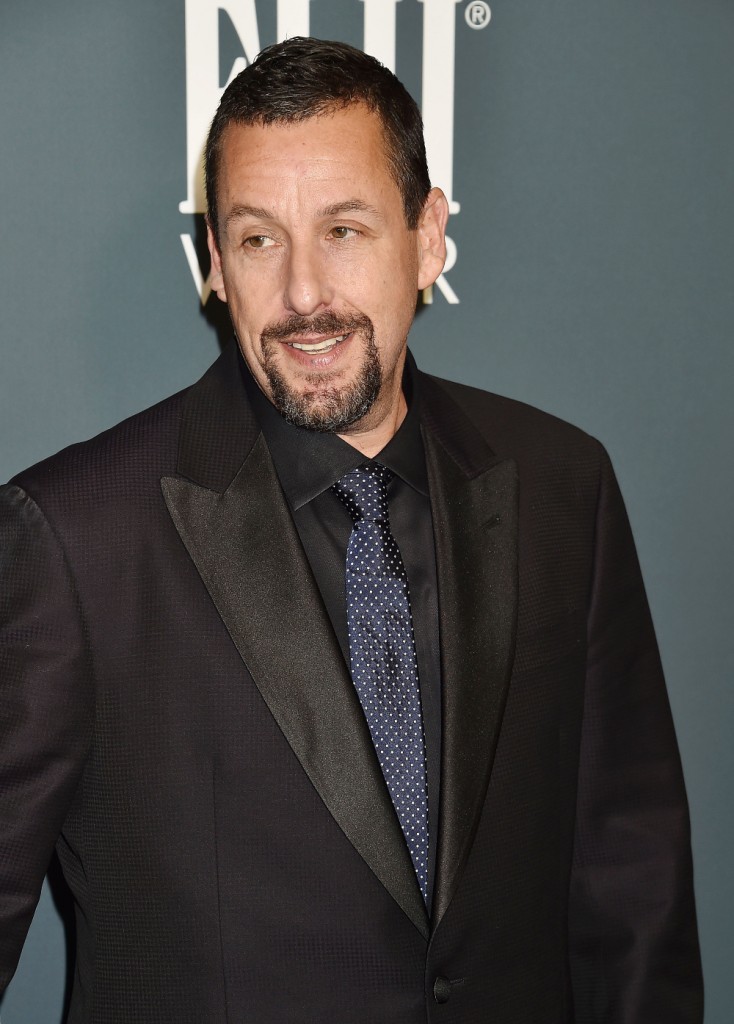 This is a great story for a Friday. A few weeks ago, a hostess from IHOP went viral when she posted a story about denying Adam Sandler a table at her restaurant. In reality, the hostess, Dayanna Rodas, was simply doing her job and informed Adam and his daughter, whom she did not recognize in their facemasks, that there was a long wait for a table. Adam and his daughter opted not to wait and left. No fuss, no "do you know who I am?!" But when Dayanna realized who he was, she posted some security footage snapshots to TikTok and begged Adam to come back. It was cute.
Last week, Adam posted a joke on Twitter responding to the incident:
For the record, I only left the IHOP because the nice woman told me the all-you-can-eat deal didn't apply to the milkshakes.

— Adam Sandler (@AdamSandler) May 4, 2021
IHOP noticed Adam's tweet, and how much publicity this whole story was generating, and announced a "Milkshake Monday" at several Long Island locations, including the one Adam was originally trying to patronize. And thanks to the marketing geniuses at the Maison de Flapjacks, Dayanna finally got her celebrity meet cute.
The latest IHOP chronicle has gotten a sweet ending.

Adam Sandler and the IHOP hostess who recently went viral on TikTok for unknowingly turning him away have reunited at the same Manhasset, New York, restaurant.

The hostess, Dayanna Rodas, shared another TikTok on Tuesday featuring a series of photos of her with the actor on Monday.

"Couldn't have been more excited!! Thank you Adam Sandler!" Rodas captioned her slideshow, set to "Best Day of My Life" by American Authors.

Sandler gladly returned to the popular restaurant for the sweet deal. Monday's milkshake event allowed guests to enjoy bottomless milkshakes from 12 to 8 p.m.

The pancake house also pledged to donate up to $1 per milkshake sold (up to $50,000) to the Comedy Gives Back organization, which Sandler previously supported throughout the COVID-19 pandemic.
[From People via Lainey Gossip]
I'm surprised, sometimes, when a moment goes viral because it seems so mundane. Even the initial incident of Daynna telling Adam there was a wait didn't seem to warrant the attention it got, other than Daynna deserving an Atta girl! for not playing favorites. But when it turned into an on-going, good natured joke, it became fun. It's a happy ending for Dayanna to get her reunion and for it to result in thousands of dollars to Comedy Gives Back. I love all of this, including that Adam is continuing to prove himself to be a really decent guy. Maybe his earlier ways were just that, sins of the youth.
Plus Friday bonus: Matzo Ball! Is that Matzo? Matzo is 17 now, isn't he? He looks so young and handsome! I have to get his routine.
Thank u IHOP for Milkshake Monday pic.twitter.com/SsTEK0W0XK

— Adam Sandler (@AdamSandler) May 11, 2021
Photo credit: TikTok, Twitter and Avalon