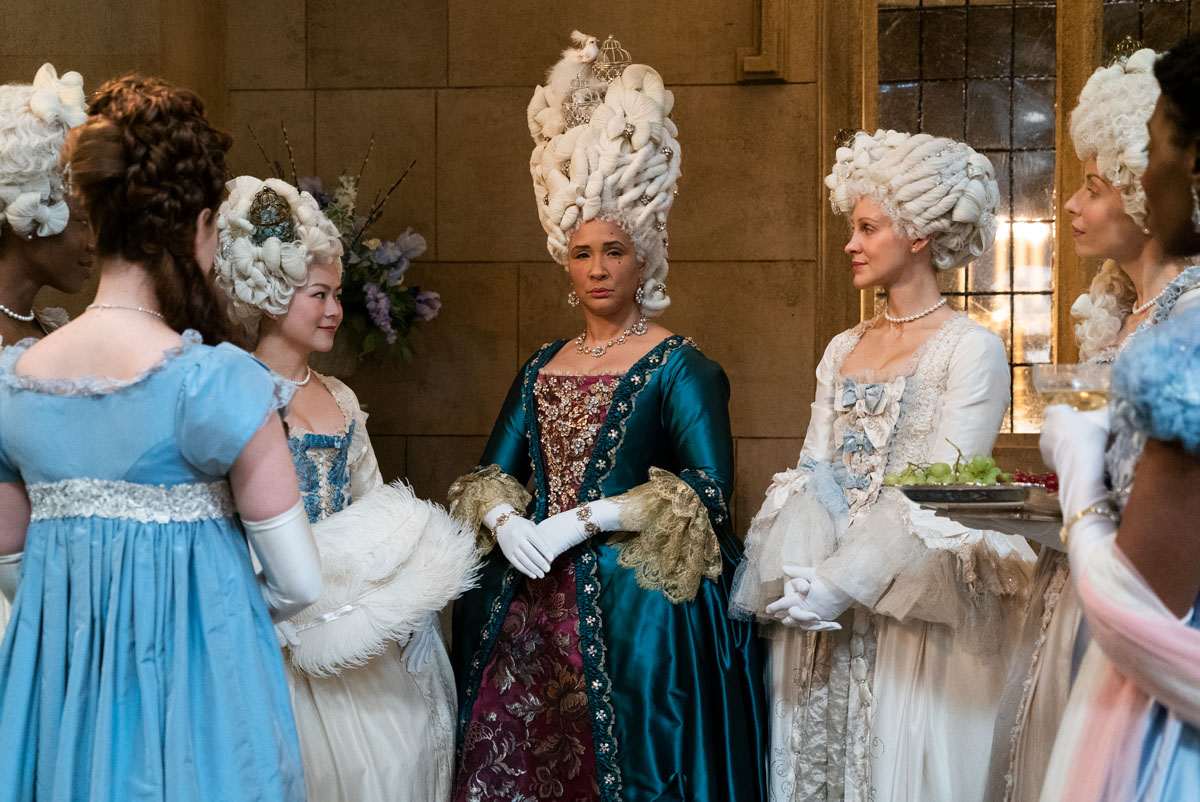 It seems that every week Shondalond is serving up some good food to her Bridgerton fandom. A couple of weeks ago we were gifted with first look photos of Viscount Anthony Bridgerton (Jonathan Bailey) and his soon to be bride Katie Sharma (Simone Ashley) at the Ascot races. Last month, Bridgertonites were in an uproar because we found out that the Duke of Hastings (Rege-Jean Page) will not be returning for season two. Then, this past Friday, Shondaland dropped that they will be expanding the Bridgerton universe with a limited series about the life of THE Queen Charlotte of Mecklenburg (Golda Rusheuvel). The limited series will center on the rise of a young Queen Charlotte. Of course, it wouldn't be Shondaland without amazing sex, so the series will also focus on Queen Charlotte's love life. This will be an original work not included in the Julia Quinn book series. It historically believed that Queen Charlotte was indeed a mixed race woman. Below are a few more details from Deadline:
The Queen Charlotte limited series will center on the rise and love life of a young Queen Charlotte, the reimagined character added to the Bridgerton series that was not in Julia Quinn's novels on which the show is based. Played by Golda Rosheuvel, Queen Charlotte quickly became a fan favorite and one of Bridgerton's breakout characters. The spinoff will also tell the stories of young Violet Bridgerton and Lady Danbury. Rhimes will write the series and serve as executive producer alongside Betsy Beers and Tom Verica.

"Many viewers had never known the story of Queen Charlotte before Bridgerton brought her to the world, and I'm thrilled this new series will further expand her story and the world of Bridgerton," said Netflix head of global TV Bela Bajaria. "Shonda and her team are thoughtfully building out the Bridgerton universe so they can keep delivering for the fans with the same quality and style they love. And by planning and prepping all the upcoming seasons now, we also hope to keep up a pace that will keep even the most insatiable viewers totally fulfilled."

Bringing Brownell on as showrunner for Seasons 3 and 4, and Rhimes herself taking on the Queen Charlotte offshoot, will allow Shondaland to rapidly scale the Bridgerton universe, with Brownell focusing on breaking Seasons 3 and 4 while Van Dusen oversees filming and post-production for Season 2, which chronicles Anthony Bridgerton's quest for love.
Queen Charlotte and Lady Danbury were my other two favorite characters in Bridgerton. And I am excited that this limited series will focus on a young Lady Danbury and Queen Charlotte. I do hope that Shondaland will focus on the historical aspect of Queen Charlotte's heritage. I studied at the University of Bologna with the intent of doing a PhD in the Black African influence in renaissance Europe. I have known about Queen Charlotte and the rumor of her being a mixed race descendant of a Portuguese (Angolan) royal family for more than a decade. I would love to see her story played out on screen without being white washed. Obviously, the series will not be laden with historical facts, but I it will be amazing to see where Shondaland takes the show. I know the new spin-off series will focus on a young Violet Bridgerton as well. I love Violet in the books but didn't take to her as much in the show. I hope that the writers pull more from the books for Violet because she is definitely a compelling character. Her love story with Viscount Bridgerton is very interesting and sweet. I am also looking forward to seeing who gets cast in these roles. I am all about world building when it comes to these series so I am definitely looking forward to this addition. Hell, I am trying to find out how I can get on the research team at Shondaland. In the meantime, let me go eat from the plate that Shondaland and Netflix keeps serving because it is spicy.
https://t.co/1tuy0bIxZf pic.twitter.com/14dxs3353F

— shonda rhimes (@shondarhimes) May 14, 2021
Photos credit: Liam Daniel/Netflix