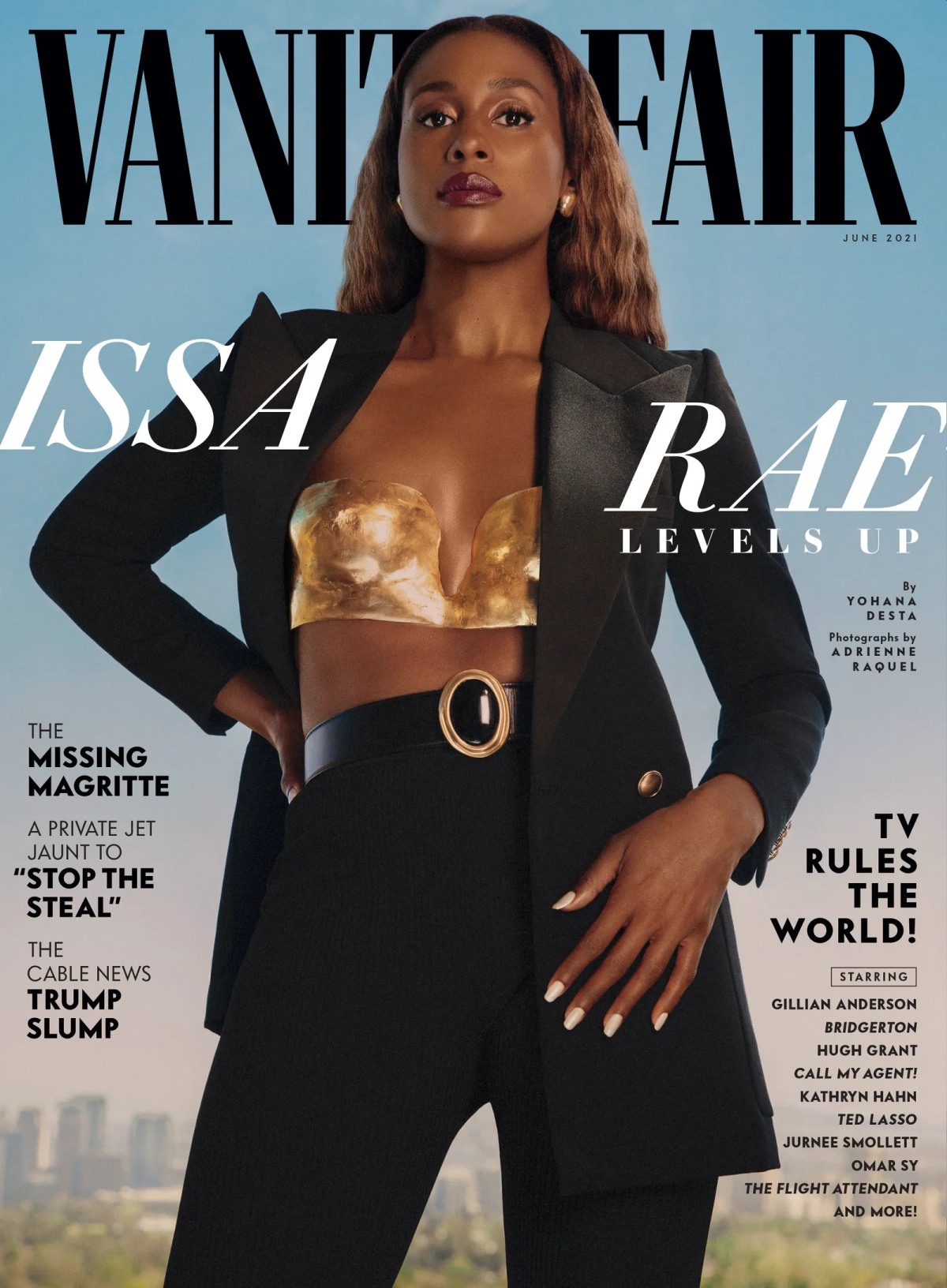 Issa Rae covers the latest issue of Vanity Fair to promote the fifth and final season of Insecure, her wildly popular and beloved HBO comedy. HBO/TimeWarner loves Issa, so as she was putting together the fifth season, they got her to sign a $40 million production deal to create content for them exclusively. She's only 36 and she already bought a building to house her production company and all of her side-projects. As always, I find Issa charming in interviews. She's very real and authentic and as she gets more and more famous, you can tell that she's still insisting on being grounded by family and friends. You can read the full cover profile here. Some highlights:
She wants Insecure to go out strong: "I'm finding myself putting season-one pressure back on the show again." She's even been rewatching Insecure from the beginning, which has been a complicated experience. "All these memories come up, so I can't watch it purely objectively. And then, of course, you look at performance stuff, you look at hair stuff, you look at appearance stuff. You're just like, Okay, wow, I went on TV like that?"

She'll never do an Insecure-like project again: "Girl, no! I'm never doing this again. Before you asked that question, I told myself I would never write and be in a show that I created again. It takes up a lot of your life, and I like to do a lot of things. I love doing this show. I'm so grateful to be able to do this show. But that's just not really for me."

Her first COVID vaccination: She got vaccinated at the Crenshaw Mall with a group of friends. "That sh-t has wiped me out. I'm talking about chills, body aches. It's not great. But yay, it means my immune system is good."

How she relaxes: Even sick, she woke up at 4 a.m.—as she does every morning—to go for a walk and attend to business in the quiet hours. Rae also clears her mind by writing in her journal at least three times a week. She tried therapy in the past but is holding off until she can safely meet someone in person after the pandemic. "I guess work has been my outlet, which is sad. Sometimes I'm like, Oh, I don't have anybody to talk to who understands. [But] I also never want to be in a position to offer up my problems to somebody."

She loves astrology: She's astrological in the sense that she checks out the app The Pattern for her horoscope from time to time and is fully aware of her Capricorn traits. Also, when I inform her that I'm a Scorpio, she has a question locked and loaded: "Do people tell you that you're crazy?"

Wanting to visit Senegal, her dad's birthplace: "I feel disconnected from it. I wanted to go back in 2020. That was going to be the year, and then that got derailed. But so much has changed… I would love to have a house there. I would love to take my future kids there, and maybe give them the same type of childhood and appreciation that my parents gave us."
Capricorn! That makes sense, although she could probably be mistaken for a Virgo or Taurus. I love that she's into astrology and horoscopes, although VF mentions that she took pains to say she's not too into it. Yeah, I'm not so sure! I also love that she talks about getting vaxxed. Here's something I didn't know though: did you know she's engaged? She's engaged to Louis Diame, who is Senegalese and Vietnamese. They met in college. She keeps that info on the DL.
The back end of VF piece hypes Issa's future projects and I was super-interested in what she already has in development. She's producing a docuseries called Sweet Life about the Baldwin Hills neighborhood in LA, aka "the Black Beverly Hills." She's executive-producing A Black Lady Sketch Show (which is one of the funniest things on TV). And VF revealed this exclusive: Issa is rebooting Matt Damon and Ben Affleck's Project Greenlight for HBO. That show ended in 2016 in a disastrous season in which Matt Damon whitesplained diversity to producer Effie Brown. With Rae producing a reboot… I would imagine there will be much less of that kind of mess.
🪞@VanityFair🪞
Photographed by Adrienne Raquel
Interviewed by @yohanadesta https://t.co/lMBqGibyfi pic.twitter.com/uRFJPj5bvH

— Issa Rae (@IssaRae) May 18, 2021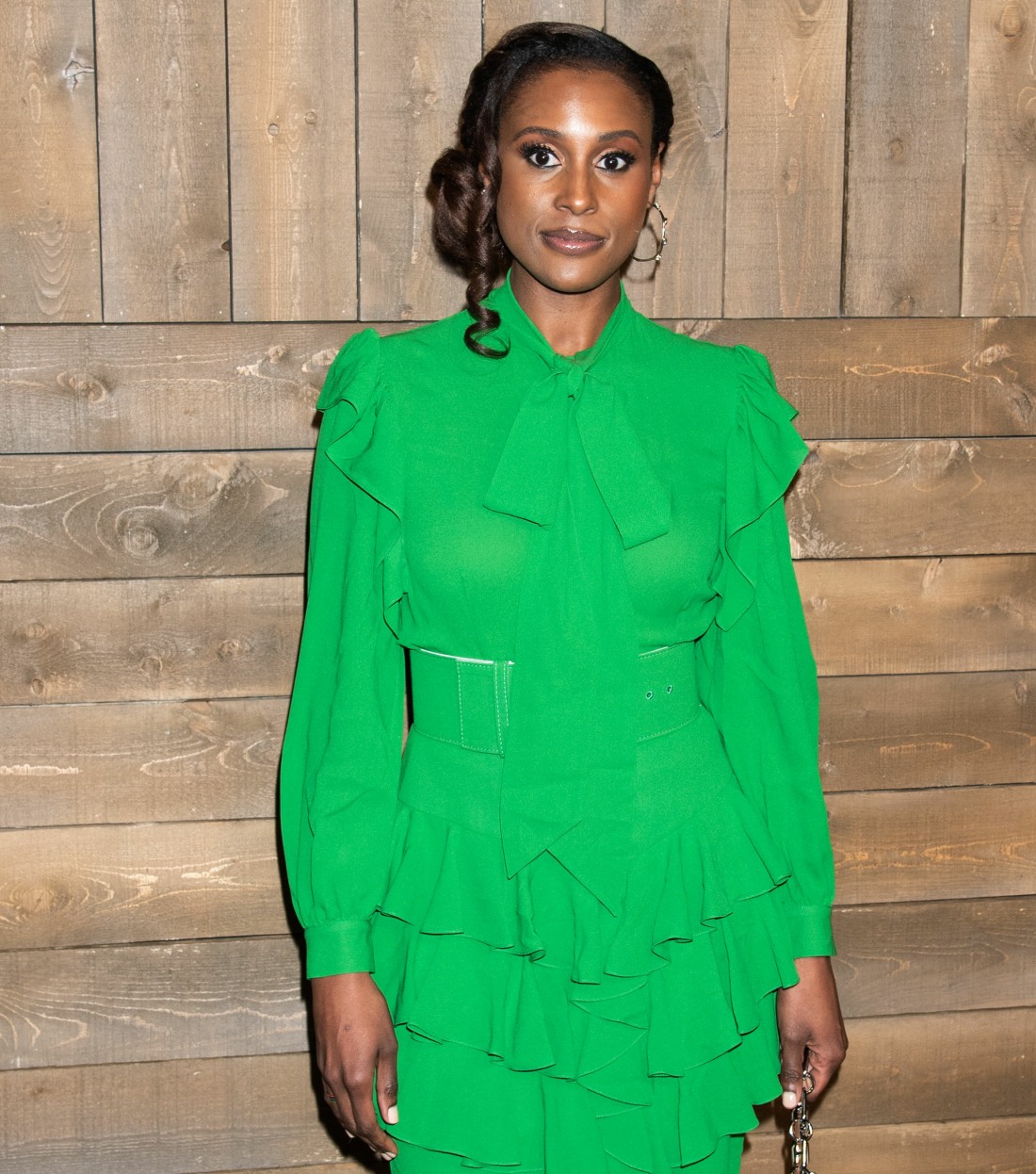 Photos courtesy of Avalon Red, cover courtesy of VF.