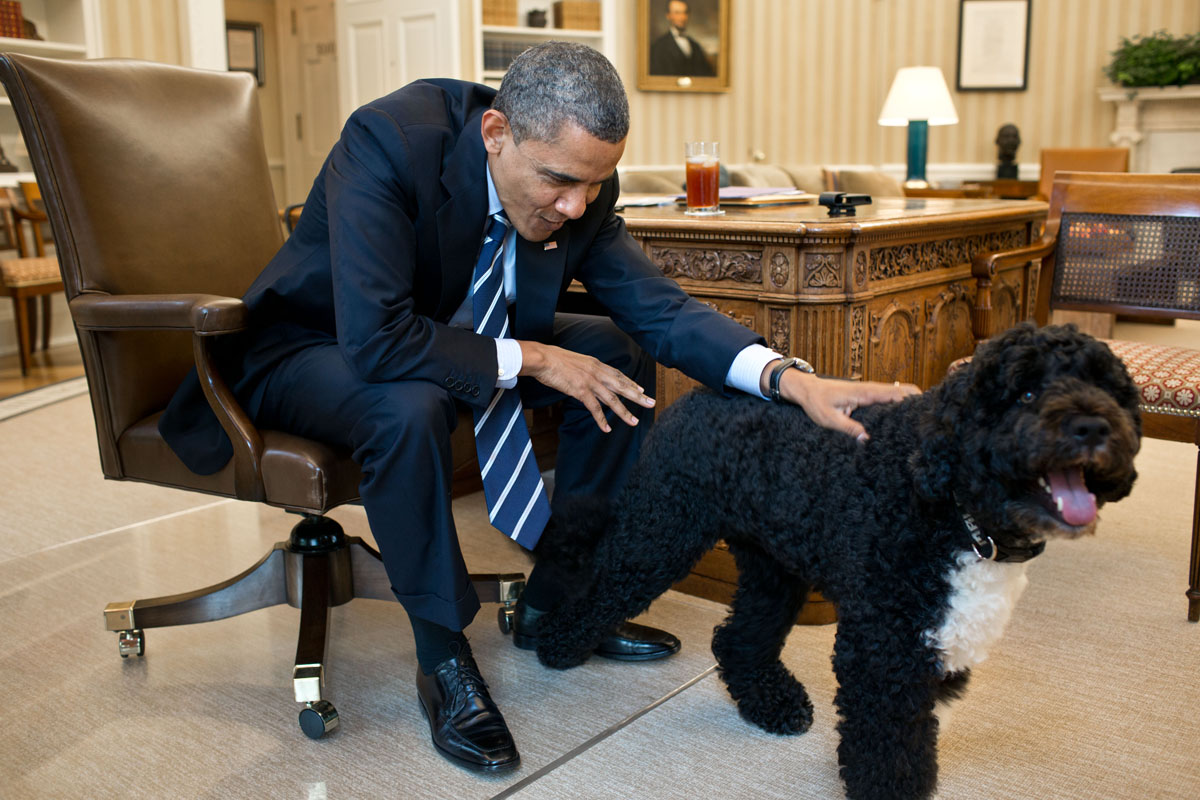 The Obamas' First Dog, Bo, sadly passed away from cancer at the age of 12 earlier this month. Many of us watched Bo grow up and remember when he first came to the White House. Many of us were truly affected at the announcement of his passing. I'm getting a little teary right now writing about it. Pres. Barack Obama called in to The Late Late Show with James Corden and while he was on, they talked about losing Bo. James asked about Bo's effect on Barack in the White House and the former president said Bo was the friend he needed during his hardest hours.
Barack Obama is continuing to mourn the loss of his beloved canine companion, Bo.

While appearing virtually on The Late Late Show Monday, the 59-year-old former president reflected on Bo's legacy at the White House shortly after his death earlier this month.

When asked by host James Corden how Bo's presence affected his time in office, Obama first explained that he made a promise to his two daughters, Malia and Sasha, that they would get a dog whether or not he was elected to serve as president. "So one way Bo changed it was to stop them from harassing me or thinking their dad was a liar," Obama joked.

"The other thing, there's a well-known saying in Washington — if you want a friend, get a dog — well, you know, I got one," he continued. "Because I needed a friend during the presidency who would be nice to me no matter what."

"The third thing, and I think everybody can relate to this, is he ended up being a sort of a bond for the whole family, to give us this fun, furry excuse to go for walks and spend time together and chase after each other … and so it becomes one of the threads that run through your family and all of the memories that you have with each other," he added.

During his late-night guest appearance, Obama also explained how the comments section of his and Mrs. Obama's posts dedicated to Bo differed from that of their other posts, which typically feature "trolls," as Obama referred to them.

"Those are the only posts where everybody posted something nice," he said. "… It actually told you something about how important people's pets are in their families lives."
The headline quote is me being devious because the quote Barack loosely referenced is, "You want a friend in Washington? Get a dog." That quote is erroneously attributed to Harry S. Truman, which is the name of my dog, and I like to work him into any story I can. But Barack's follow up is so true, when you need someone to be nice to you, a dog (and most pets) will be that friend. The third part is also true, people are kinder on pet posts than any other posts. I'm grateful that no one took the opportunity to trash the Obamas while they were mourning Bo. Thank goodness there is still a shred of decency somewhere in this land. As for Barack's promise to Sasha and Malia, I misremembered that. I thought he'd promised them the dog if they had to move to the White House. I didn't know it was regardless of whether he won. He mentioned it in his acceptance speech the night of the election, I remember that.
Before Bo was announced as a Portuguese Water Dog, I'd never heard of that breed. Lord, that puppy was all legs. The Obama girls were young when they first moved to The White House, and it was so refreshing to have this young, vibrant family with this puppy made all of limbs and fur running around the lawn. It was a scene of vitality we desperately needed. I'm grateful the Obamas were willing to share Bo's life with us and to allow us to share in their grief with his passing. RIP Bo.
Here is the part of the interview where Obama talks about Bo: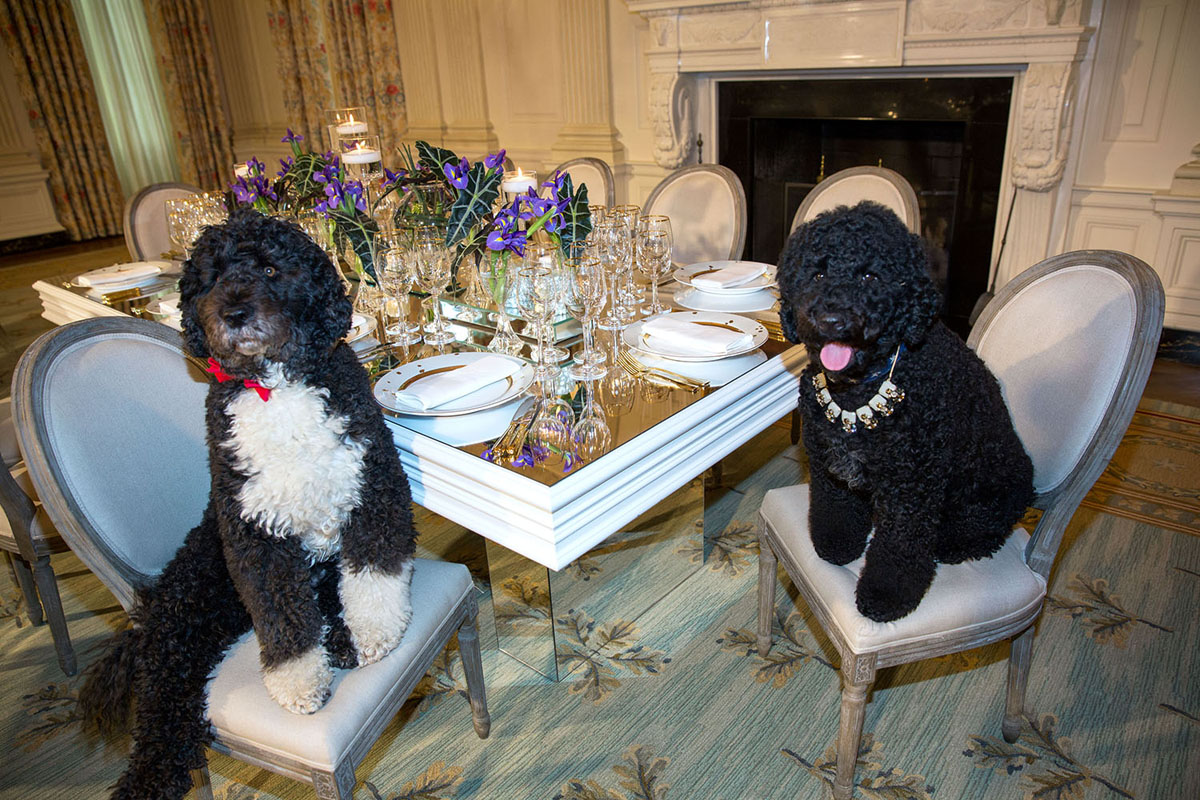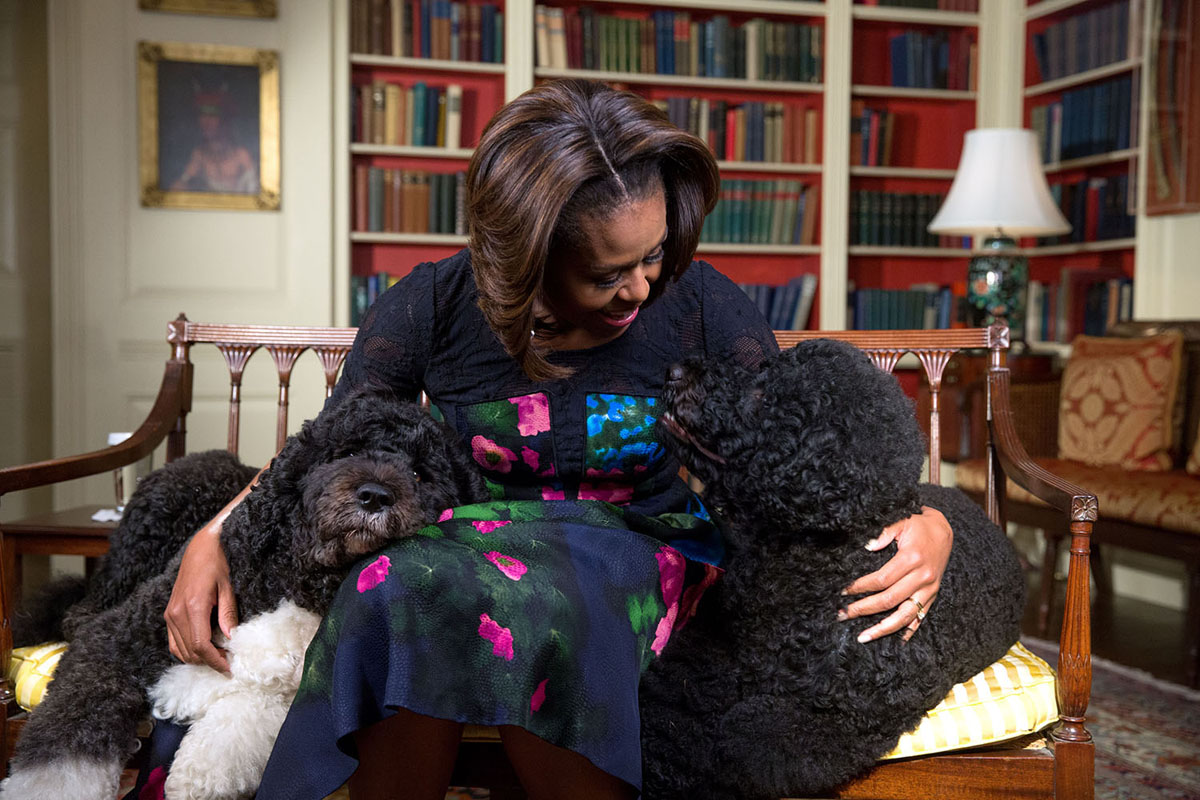 Photo Credit: Getty Images and Avalon.red