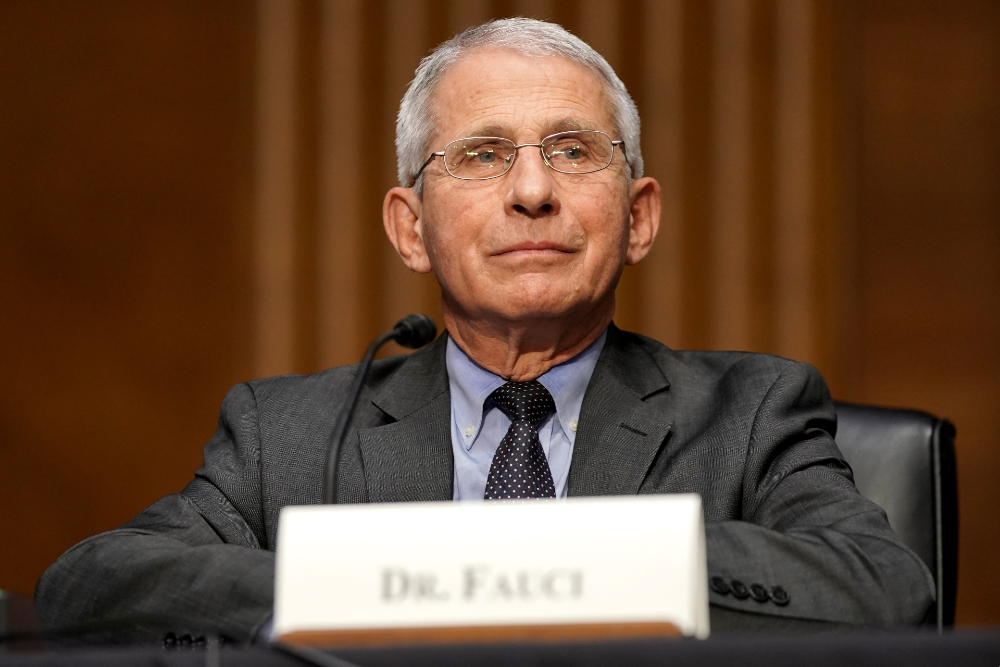 Dr. Anthony Fauci has served as a medical advisor to seven US presidents. He became a household name to a new generation during the COVID crisis but his legacy began long before then, rising to prominence in the 80s with his AIDS research. He is an extraordinary man, and I mean that in every sense. He is a brilliant and dedicated scientist who put his work and its benefit to society above his personal fame and self-promotion. Nothing showed Dr. Fauci's perseverance more than the year he stood next to then President Donald Trump as Trump mocked science and dismissed practical counsel regarding COVID. During that time, the non-Trump worshipping US populace came to see Dr. Fauci as a decent, disciplined man. We put our trust in his work and heeded his advice.
In compliance a the Freedom of Information Act request, 866 pages of Dr. Fauci's emails from March and April 2020 have been obtained by The Washington Post. Apparently, Dr. Fauci has always been known for responding to correspondences and that's something he still tried to maintain, even while inundated with questions and concerns about the coronavirus. And guess what? His emails prove that Dr. Fauci is every bit the person we thought he was. Below are some examples of the exchanges released to the WP.
March 28 email exchange with Chinese health official George Gao: "I saw the Science interview, how could I say such a word 'big mistake' about others? That was journalist's wording. Hope you understand," Gao, director of the Chinese Center for Disease Control and Prevention, wrote to Fauci in a March 28 email. "Lets work together to get the virus out of the earth."

Dr. Fauci's reply: "I understand completely. No problem. We will get through this together."

April 26 email from North Carolina Department of Safety chaplain Freddie Barnes: writing "to express my profound appreciation to you for your work during the COVID-19 pandemic."

"I especially appreciate how you have spent considerable time and capital reaching out to the Black and brown communities," Barnes wrote. "For you to be intentional about keeping minority communities in the loop is commendable, especially since these communities will be absorbing the disproportionate share of sicknesses and deaths coming from COVID-19."

He ended the email with a warning: "Take care and 'Cover your six' " — military slang for "watch your back."

April 14 email exchange with a senior official in the Office of the Surgeon General in the Army and U.S. Army Medical Command: "You are the voice of reason for millions of concerned citizens," wrote the official, whose name was redacted in the released emails. A list of questions followed: Can the virus be contracted from a corpse? Can someone who has taken hydroxychloroquine for years contract the virus? Are masks and gloves truly effective?

Finally: "What keeps you up at night, regarding COVID-19?"

Dr. Fauci's reply (a few days later): "I have said in the past that what keeps me up at night is the possibility of a pandemic respiratory infection. We are in that now, and what keeps me up at night is the response, a major part of which is the development of an effective vaccine and treatments for COVID-19."

April 11 Email exchange with Marc Short, Vice President Mike Pence's chief of staff re: some apparent crossed wires: "You correctly noticed the symptoms but misdiagnosed the root cause," Short wrote in a heavily redacted email that closes: "Apologies for a poor poker face."

Dr. Fauci's reply (who was pushing back on Trump's insistence to reopen the economy): "Thanks for the note. Understood. I wish you a peaceful and enjoyable day with your family."

Email exchange with former Fauci acquaintance (no date given): "stand up to power and speak the harsh truth to the people of this country."

"The leadership from the top is utterly lacking and incompetent and dangerous to the American people. … We need a unified and professional federal response to this unprecedented crisis," the man wrote. "My dad was born during the first worldwide modern pandemic, and I don't really want to see him leave from this current one."

Dr. Fauci's reply: "Thank you for your note. I hear you!"
The article has the full exchanges attached at the bottom of the article along with further details, like who Dr. Fauci consulted to make sure he gave the most thoughtful response. There are several others not listed above, like between Dr. Fauci and an NFL exec trying to find a way to safely play the season. Ultimately, Dr. Fauci said the virus was going to dictate the terms, an answer that ticked Trump off. Many of the emails were requests for Dr. Fauci's time, to have him come speak or appear in some video, podcast or film. There's mention of a Disney documentary that Bob Iger was behind. But the article never clarified if Dr. Fauci agreed to it. It does say the film will be released later this year, so that will be interesting to see. There's also some discussion on the exchange between Dr. Fauci and the Bill and Melinda Gates Foundation. The exchange is nice, because it culminated in a top Gates executive reaching out to Dr. Fauci concerned about his overexerting himself. But I was interested because the email exchanges showed Fauci enthusiastic about "a global vaccine effort." As we know, Bill Gates opposed lifting COVID vaccine patents earlier this year. However, he just reversed course on those oppositions so I'm wondering if Dr. Fauci got through to him.
I didn't need 866 pages of email to confirm what I already suspected about Dr. Fauci but I'm happy to have them. We know he sacrificed, we saw it on his face as the world plunged further into this ordeal. The fact that he maintained his humanity as well as his reputation while trying to get through to a hostile, corrupt administration is extraordinary. I don't know if Dr. Fauci ever plans to retire but man, if anyone has earned it, it's him.
Photo credit: Avalon Red and Getty Images