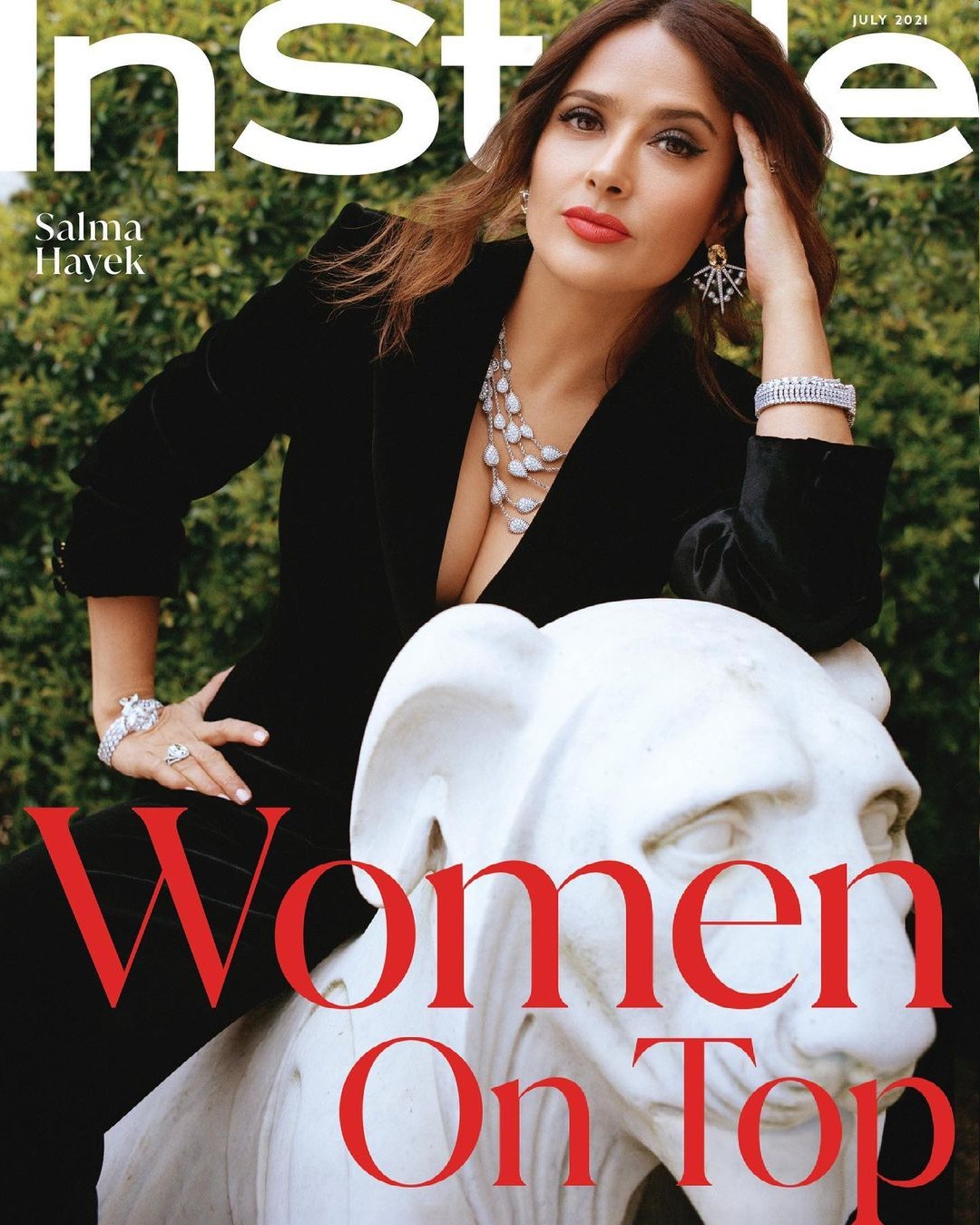 Salma Hayek covers the latest issue of InStyle to promote The Eternals, House of Gucci and The Hitman's Wife's Bodyguard. Salma has been doing a lot of press already this year, and she seems surprised with just how much she's been working in recent years. I think getting the job on Marvel's The Eternals was the biggest surprise, to play a superhero alien at the age of 54. Salma is really feeling herself these days because she's so in-demand, and she talked about that, plus some heartbreaking stuff about Harvey Weinstein and more. Some highlights:
Being in demand these days: "I was like, 'What's happening?' I mean, things have changed a lot in the last couple of years for women in general. But what I don't understand is why this is happening to me."

She regrets not speaking up earlier about Harvey Weinstein: "Some people got raped. It makes you wonder if you had said something [back then], would it have been different? How come I didn't have the courage? But I dealt with it to the best of my ability at the time. For me Frida was a political statement, a social statement, a feminist statement. It was my way of screaming. And Harvey used my way of screaming to repress me even more. So I could not let him win."

When asked about the bigotry she faces in Europe: She tells the story of a group of fancy French women who were surprised to learn that she was breastfeeding her baby daughter. One of the women speculated that breastfeeding must be a tradition "that comes from the Latin American Indian. She actually said that!" So Hayek explained the basic science behind the practice's biological benefits for newborns. "I was shocked that such sophisticated ladies, who've had so many children, didn't take the time to investigate it. They said, 'Oh, but it's terrible for the breasts.' I said, 'Really? Look at my breasts. No problems there!'"

She gained weight for her role in House of Gucci. "It was not even the end of the holiday yet, and I was like, 'OK, bring me caftans!'"

Losing weight is slower for Salma now: "I've lost very little. You go, 'Whoa, whoa, whoa.' You gain it so fast, but it takes so long to lose it." She's determined to get back in good shape, partly for health reasons and partly, she acknowledges, because of the pressures of "what's expected for a woman who people consider good-looking. As you get older, you're expected not to age. [Given] how much mileage I put on my body, and how much pressure and judgment I put on it, my body has been incredibly generous. I don't think I am some hot tamale, but I know that for my age, for the lifestyle that I lived, I'm not doing too badly. And I attribute all of this to meditation."

She finds it hard to talk to her 13-year-old: "She's amazing, and she mesmerizes me over and over, but you know, when I talk to her, I find myself out of words," Hayek says. She often rehearses future conversations with Valentina in her head. "Or when we fight a little bit, afterward I'll think, 'I should have said this or that, and I'm going to tell her next time I see her.' Then the next time comes and I find myself out of words again."

Her husband & his role as CEO of French luxury group Kering: "I'm lucky, and it makes my life easier, but it was never a priority for me," she says. Hayek notes that most of her close female friends are fashion obsessed, and they find it a bit unfair that she ended up with Pinault. "One friend said, 'I cannot believe that out of all of us, the one who cares the least about fashion is the one who landed that guy!' So I told my husband this. He laughed and said, 'That's why you landed me.'"

Her rescue owl, Kering: "When my husband's out of town, I sleep with the owl. Her favorite place to be is in the yoga room when I'm meditating. She's completely calm. She gets it." Hayek says she's developed an interestingly nuanced rapport with the bird, partly because Hayek doesn't treat her like a toy. She knows the importance of allowing the sensitive creature to do her own thing. "I understand her. I don't know if she understands me."
That story about the French women judging her for breastfeeding… wow. Is that a thing with upper-crust French ladies not breastfeeding their children? How bizarre. As for what she said about Weinstein… it happened around 2002, and I'm not sure what would have happened if Salma had come forward at the moment and time and said "this guy bullied me, he degraded me and forced me to do this demeaning sex scene because he's on some sick power trip." My fear is that if Salma had come forward then, in real time, it wouldn't have changed much of anything. Power protects power. What happened is not Salma's fault.
I need an "OK, bring me caftans!" t-shirt.
Cover & IG courtesy of InStyle.