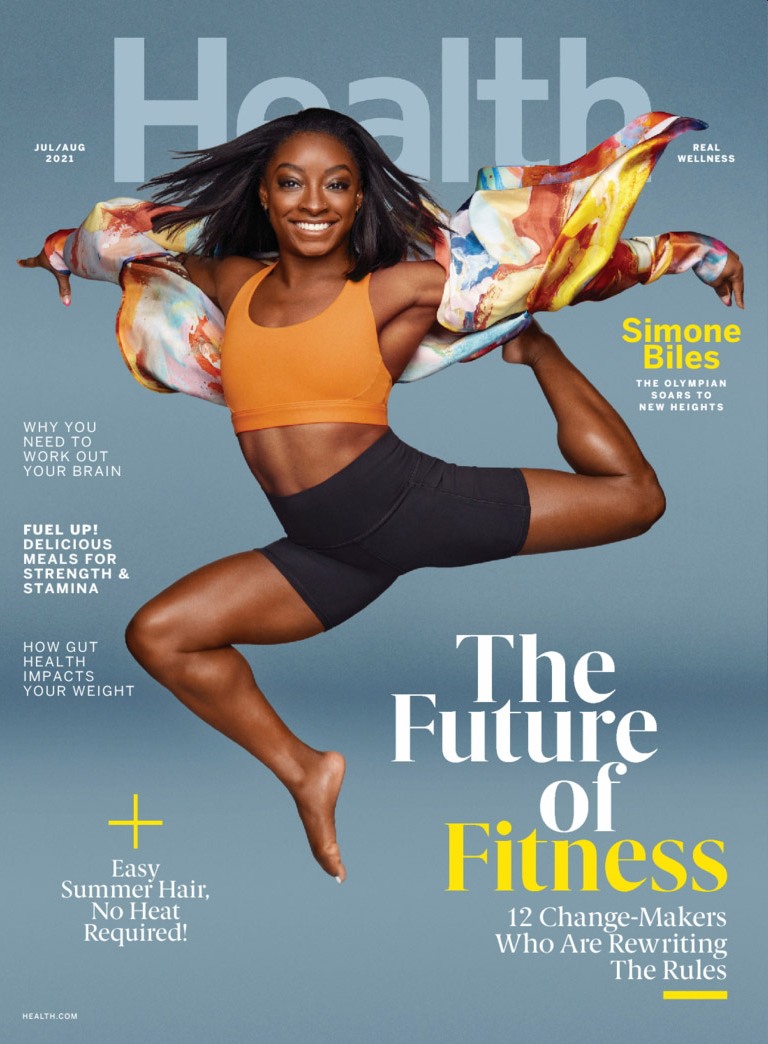 Fifteen months ago, Simone Biles was preparing for the Tokyo Olympics, in what was likely to be her final Olympic appearance as a gymnast. Olympic athletes plan out their training to peak for events like the Olympics, so there was so much careful planning that went into how Simone constructed her year, from diet to practice to therapy and recovery. And it all got blown up by the pandemic. So now at the age of 24, Simone is basically the "oldest" one on the US Gymnastics team and she's still hellbent on winning everything in Tokyo. She will win everything. Simone covers the latest issue of Health Magazine, in what is yet another Olympic preview. You can read the full piece here. Some highlights:
Finding out the Olympics were postponed for a year: "It was a whirlwind of emotions-I couldn't believe the news. I was sad. I was angry. I was annoyed. But I also knew it needed to happen to keep everyone safe and get the virus under control."

Another year of tough training. "I knew my coaches would make sure I was ready-no matter how long the postponement was. Of course, another year of training on your body really takes a toll. But I just knew I'd be ready."

Her parents own her training gym in Texas: "Representation matters, and we want to inspire the next generation to pursue their passion. Kids can come in and we will be training in the back, and they can see we are just like them. It helps them understand they can do it too."

Sponsorships: "I'm very picky about the brands I work with. Instead of just creating a product, they have to connect with a wider community and have an impact."

Self-care: "I do regular athletic massages and ice massages. I also use compression boots and take Epsom-salt baths. And I see my athletic doctor every Friday for a check-in."

Prioritizing mental health: "For a while, I saw a psychologist once every two weeks. That helped me get in tune with myself so that I felt more comfortable and less anxious."

Dating football player Jonathan Owens: "Since we are both professional athletes, we tend to eat very healthy. But I do love to snack. My weakness is cookies or sour candy."

She takes every Sunday off: "I really like to relax. So I'll hang by the pool with my boyfriend, or have my family come over."

Advice she would have given her younger self: "To not be so stubborn and to be a little bit happier-to know that it's not over just because something happens in one day. You can keep pushing." Has she taken her own advice? She sure has-well, part of it, at least. "I'm definitely happy. I guess I can still be pretty stubborn."
It's interesting to think about how many sponsorships Simone has probably said no to – she's arguably one of the most famous athletes in the world and for-sure the most famous athlete on the American Olympic team (perhaps jointly with Serena Williams). The number of companies lining up to get a piece of Simone Biles must be staggering. But she not only cares about what she puts her name on, but I also feel like she cares about not being an omnipresent athlete. That "less is more" thing, where she's so famous, she doesn't actually have to be in every commercial, she doesn't have to gobble up all the sponsorships.
As for what she says about mental health and going to therapy… I would imagine that she began seeing a therapist more regularly during the years-long Larry Nassar-abuse scandal. I would hope that every single girl, boy, woman and man in that whole catastrophe got a lot of access to mental health services.
Photos courtesy of Health Magazine.