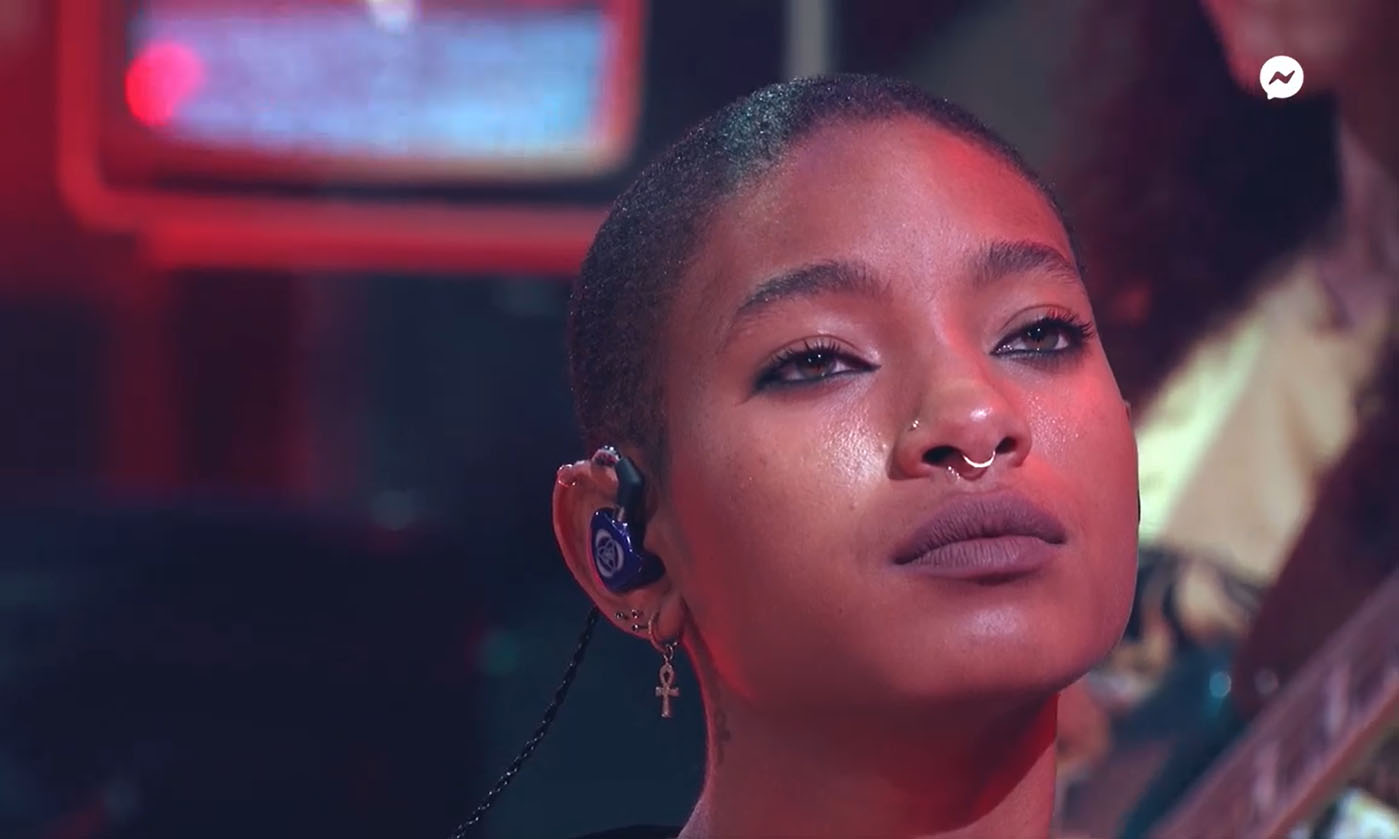 Last week, Jada Pinkett Smith credited her daughter Willow for encouraging her to shave off her hair after years of dealing with hair loss. Now, Willow has decided to upgrade her own hair game. During a live stream of her new album release concert on Facebook Watch, Willow remixed her 2011 hit, "Whip My Hair," into a punk rock sensation. During the performance, Willow had what looks like a band member shave her hair off on stage while she played a guitar rift. Let's just say, we now see where Willow inherited her beauty. Below are more details on Willow's hair transformation via Today:
On Friday, the 20-year-old singer released her new album, "lately I feel EVERYTHING," and in tandem with the release, she also produced a concert with Facebook Watch. She ended the almost hour-long set with a new punk rock version of the song that made her famous in 2010, "Whip My Hair."

"My favorite song in the set right now just because of how it feels to sing would probably have to be 'Whip My Hair," Smith, who is the daughter of Will Smith and Jada Pinkett Smith, said during a behind-the-scenes interview.

"I am thinking about shaving my head during the 'Whip My Hair' performance," she later added. "This is gonna be my third time in my life shaving my head. I'm always shaving my head at monumental times in my life when things are really changing and this is definitely one of those moments."

Near the end of her energetic performance, Willow sits down in a chair as someone shaves her head while she continues to play the guitar.
I love how Willow says that she has shaved her hair off three times in her young life and that she does that when she is in the middle of a life change. If this isn't the story of most Black women, then I don't know what to tell you. Every time I am going through some sort of life change I either cut all my hair off or shave it off, so I can relate. I also love how Willow made the connection between her "Whip My Hair" anthem to her desire to spread self love, acceptance and positivity. Like I said before, I used to play "Whip My Hair" for my Korean students back in 2012. My students loved that song. It really has been a delight watching Willow grow up into the beautiful confident woman she is. I know a lot of people used to side-eye the Smith kids but they really turned out to be quite grounded adults. As for Willow entering into punk rock, I love how she wishes to represent Black women, despite seeing the racist abuse her mother received when touring with her band. The punk genre is typically quite white and male. As talented and determined as Willow is, I am sure she will continue to inspire Black hair trends and Gen Z to do things they were told they couldn't.
— v (@ViralMaterial) July 17, 2021
The moment when Willow gets her head shaved is a the very end, at minute 47.