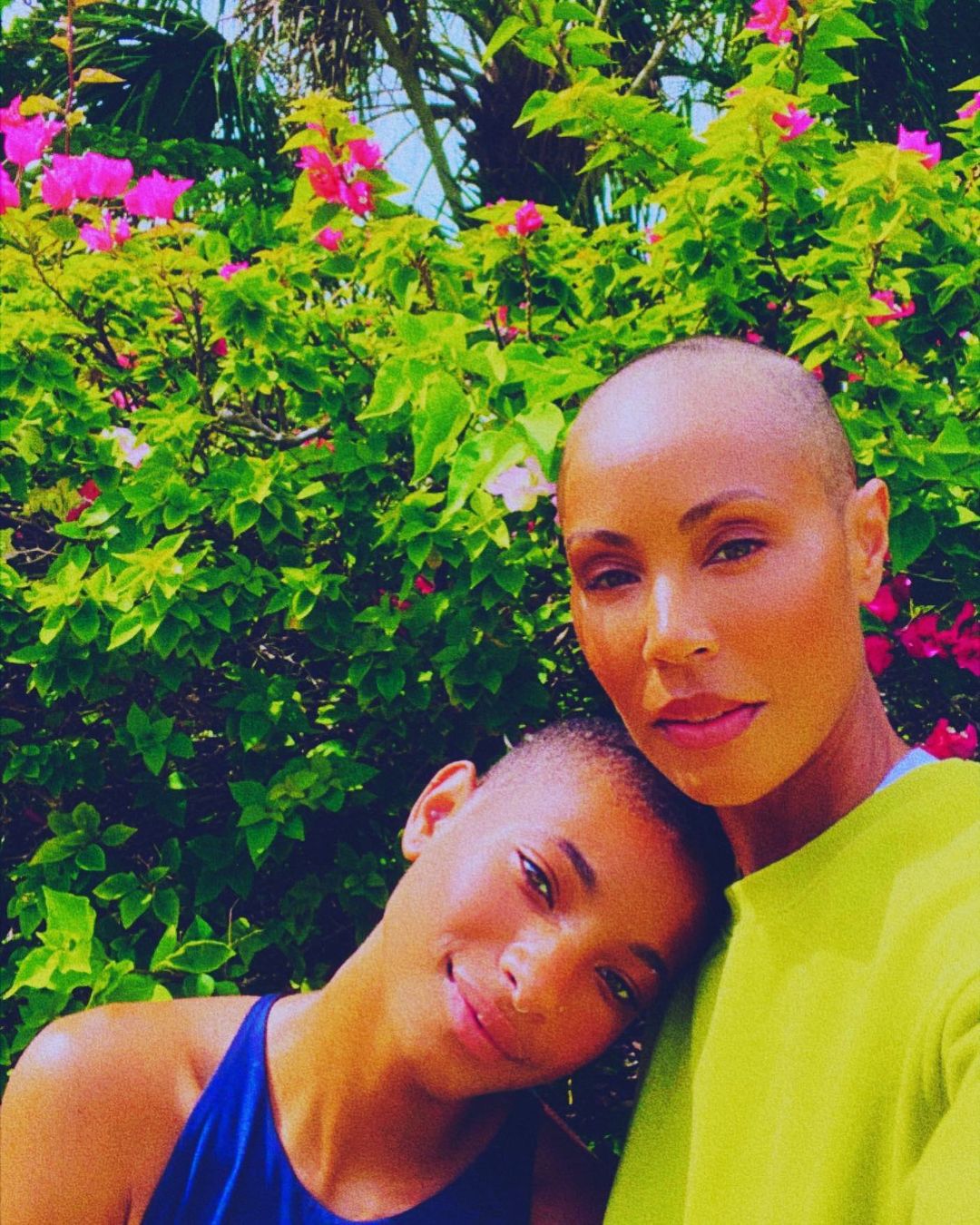 In 2018, Jada Pinkett-Smith revealed that she had been wearing headwraps and scarves because she had started losing her hair. Jada said that her hair started falling out in clumps in the shower one day. I could tell that it was a traumatic experience for Jada but she never mentioned it again, until recently. Earlier this week, Willow Smith posted a photo to Instagram where both she and Jada had freshly shaved heads. Jada posted a screenshot of Willow's post, stating that she was motivated by her daughter to finally "let it go." Below are a few more details from People:
On Monday, the actress re-posted an Instagram photo of herself and 20-year-old Willow Smith (who she shares with husband Will Smith) revealing her freshly shaved head. "Willow made me do it because it was time to let go," she captioned the post.

"BUT … my 50's are bout to be Divinely lit with this shed❣️😜" the Red Table Talk host added.

Willow, who has rocked a buzz cut on and off for years, was the first to unveil her mom's new 'do, posting the same photo with the caption, "💕🙏🏾"
OMG! Jada looks stunning with her head shaved. Let me tell you shaving it all off is freeing AF. In 2018 I was under a lot of stress and like Jada my hair started falling out in clumps. So I decided to just shave it off. I shaved my hair off three times between 2018 and 2019 and it was the most freeing thing I ever did. In fact, I never felt sexier. Somehow, shaving off my hair made me feel more feminine which is the opposite of what we are taught. Now it grows back quite thick. Perhaps by shaving it off, Jada will give her hair follicles the opportunity to regenerate but if not, Jade wears a bald fade well. I also like that Beyonce's mom, Tina Lawson, commented on the picture stating that Jada's new look highlighted her "soulful eyes" and "beautiful face." I agree, Jada looks stunning. I am happy that her daughter was so supportive and encouraged her mom to let go of her beliefs around hair. I will also add that Jada's bald 'do also makes her look more youthful. Jada better get it because I don't think she has ever looked more beautiful. I am proud of her for taking the leap and am happy that she is allowing us in on her hair journey like several other notable Black women. I hope these Black women start a movement of embracing their hair in all of its variety. Until then, Jada betta get some hoops and a bold lipstick and rock that ish like 1980s Grace Jones because I am here for it.