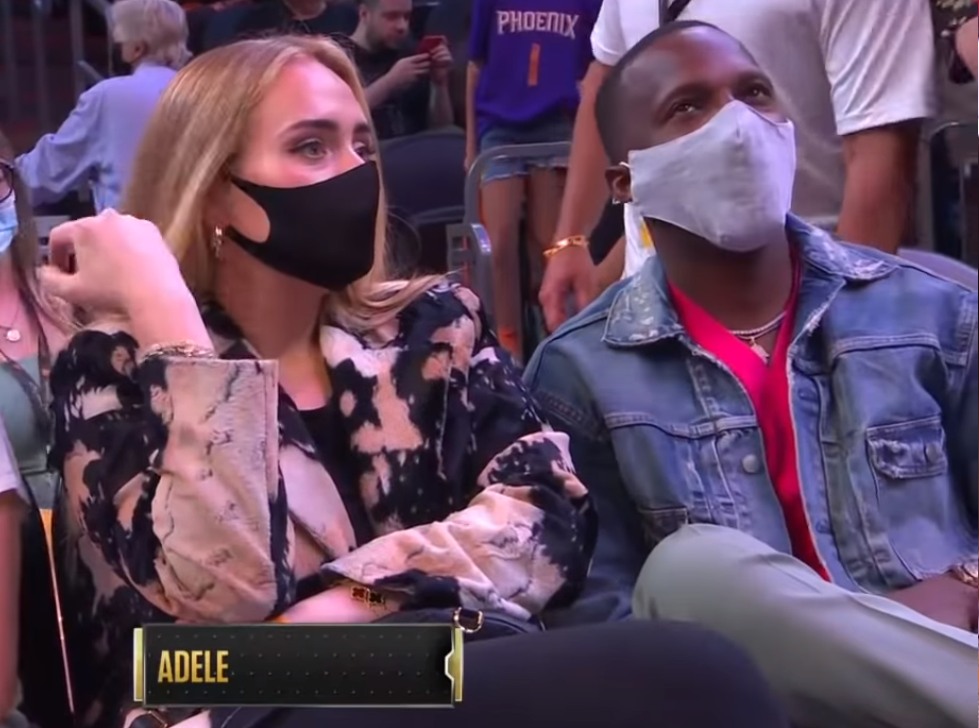 Adele spends most of her time in America these days. She's been primarily living in the LA area for years now. Her marriage fell apart years ago, and she's officially divorced now, although it took a while to formalize it. Adele also keeps her private life on lockdown. We don't know who she hangs out with or how many guys she's dated since her marriage ended. It's always a surprise whenever Adele does pop up at a public event. So people were like "why is Adele at Game 5 of the NBA Finals?" She showed up in Phoenix over the weekend out of nowhere, and she was seated beside Rich Paul, who is LeBron James' sports agent and friend. Now the NBA gossip is that Rich Paul and Adele have been dating for a while and Game 5 was their couple-debut.
Adele is reportedly back on the dating scene, but it's not with one of her music contemporaries … supposedly, it's someone in the sports world — LeBron James' sports world, to be exact.

ESPN's Brian Windhorst dropped the bombshell on his 'Lowe Post' podcast Saturday night … shortly after the Bucks beat the Suns for Game 5 of the NBA Finals. It was a star-studded game in the stands — and featured none other than Adele, sitting next to LeBron's agent, Rich Paul … a dude who's usually behind the scenes, but is a major NBA power broker.

Windhorst was describing the atmosphere and the famous faces in the crowd — and when he got to LeBron and Rich, he didn't even pretend to play coy with who he says Adele is as it relates to Rich. By that, we mean he straight-up referred to her as his full-blown girlfriend.

Adele was photographed getting cozy next to Rich during the game — but there were no obvious signs of PDA to indicate a relationship. In fact, before Windhorst said this … we'd argue no one even thought anything of the seating arrangement. But, this is … WOW!

Neither party has confirmed the relationship — we got calls into both of their camps, no word back yet — but knowing how plugged in Brian is with all things NBA … something tells us there may be some truth to this. The pro he is, he wouldn't just drop this without some insight … which he, perhaps, assumed was safe to talk about since they went "public," as he puts it. Sounds like this is something that's been known in NBA circles for a minute.

IF true, it might be one of the more surprising pairings we've seen in a while. Adele's been rumored to have dated Drake, Skepta and even Harry Styles at one point last year. Remember, she is newly single following the finalization of her divorce from ex, Simon. All of those rumblings were shot down, though … so it'll be interesting to see if/when they speak on this.
The only dating rumor I halfway believed was the Skepta one, just because it did feel like there were a lot of Adele-Skepta sightings and rumors and I did think there was something there. But if she's dating a sports agent, I'm not mad. I do feel like this is probably something well-known in the basketball community, or perhaps even more specifically, the LA Lakers community. Do sports agents' girlfriends sit in the WAG section? Apparently not – Adele and Rich Paul were front-row, courtside.
Rich Paul and Adele? Not even mad pic.twitter.com/4oZ24XP78M

— Stephen Dacres (@stephendacres) July 18, 2021
— v (@ViralMaterial) July 18, 2021
Screencaps courtesy of the NBA Finals/YouTube.