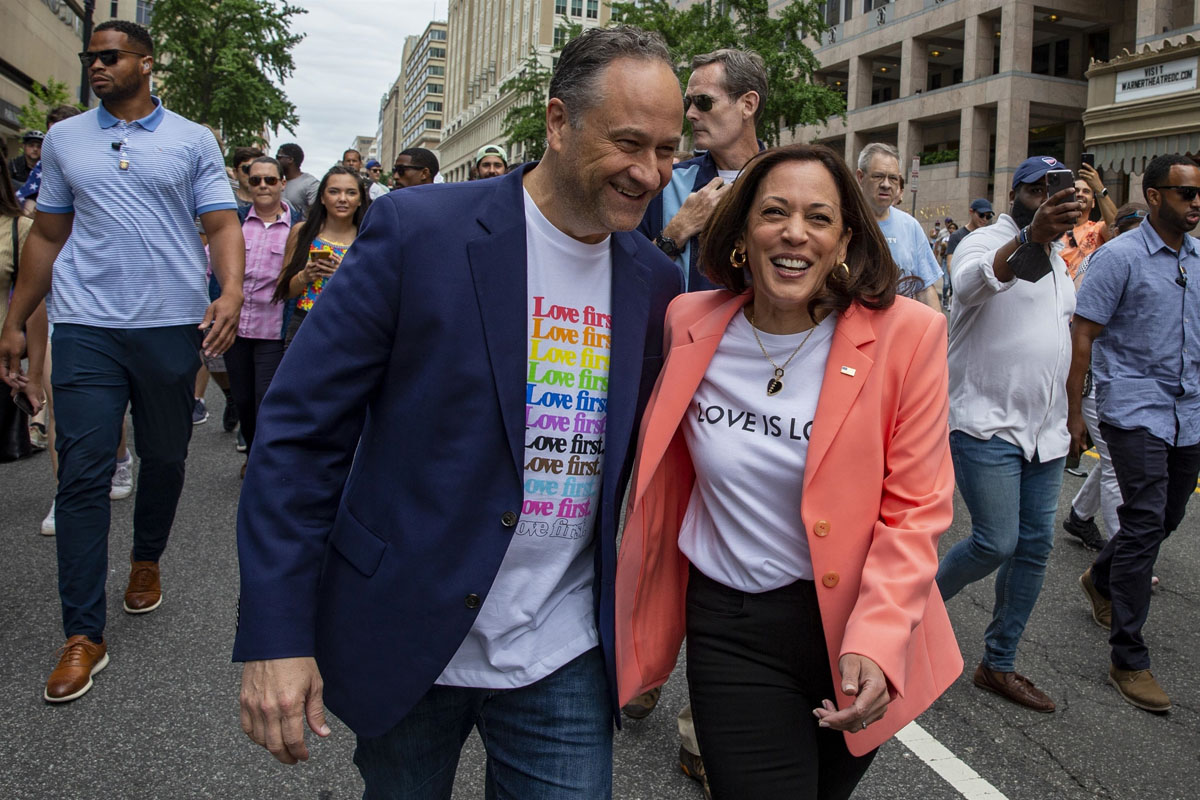 Kamala Harris and her husband, Doug Emhoff, marched in Washington DC's Pride Parade on Saturday. People Magazine notes that this makes Kamala the first sitting Vice President to march in a Pride event. Kamala also spoke at the event. She called for protections for the trans community and for youth and emphasized the Biden administration's commitment to LGBTQIA rights. Here's more, from People.
She spoke briefly at the event, advocating for the passage of the Equality Act while expressing her and President Joe Biden's commitment to advancing LGBTQ rights. "We need to make sure that our transgender community and our youth are all protected. We need, still, protections around employment and housing," Harris said, according to NBC Washington. "There is so much more work to do, and I know we are committed."

The Vice President also observed the fifth anniversary of the Pulse Nightclub shooting on Twitter, paying tribute to the 49 people who were killed at the Orlando gay club on June 12, 2016.

"Five years ago, 49 LGBTQ+ people and allies were enjoying an evening out at Pulse Nightclub," she wrote. "And then, in an instant, they were gone. Today, we remember those who died and their loved ones-and we recommit to building a world free from gun violence."

Harris' post came as President Biden issued his own statement announcing that he'll sign a piece of legislation to name the nightclub a national memorial, which recently passed the House and Senate. He also advocated for stricter gun control and the passage of the Equality Act, acknowledging that the LGBTQ community is disproportionately impacted by gun violence, particularly transgender women of color.

"In the memory of all of those lost at the Pulse nightclub five years ago, let us continue the work to be a nation at our best-one that recognizes and protects the dignity and safety of every American," Biden said in his statement.
Kamala and Doug both looked so cute in their Pride swag. I need Kamala's T-shirt because "Love is Love." It really is that simple. I am truly enjoying Pride month. I love going out to support my people and their community. I am also glad that Kamala commemorated the Pulse Nightclub shooting. I cannot believe it has been five years. It seems like yesterday when that tragedy happened. It made me fear for my friends and family in the community.
The last administration systematically rolled back protections for women, the LGBTQIA community, immigrants and Black people. I was expecting this administration to be more conservative like the Clintons but Biden and Harris have surprised me in their first six months in office. I am glad to see them attacking these issues at the beginning of their tenure. I will continue supporting Biden and Kamala while I fangirl their spouses equally. How could you not love supportive husbands and wives like Doug and Jilly from Philly?
The @VP and @SecondGentleman are on the move at Capital Pride 🌈 pic.twitter.com/F27RxDaoHJ

— Peter Velz (@PeterVelz46) June 12, 2021
Five years ago, 49 LGBTQ+ people and allies were enjoying an evening out at Pulse Nightclub. And then, in an instant, they were gone. Today, we remember those who died and their loved ones—and we recommit to building a world free from gun violence.

— Vice President Kamala Harris (@VP) June 12, 2021