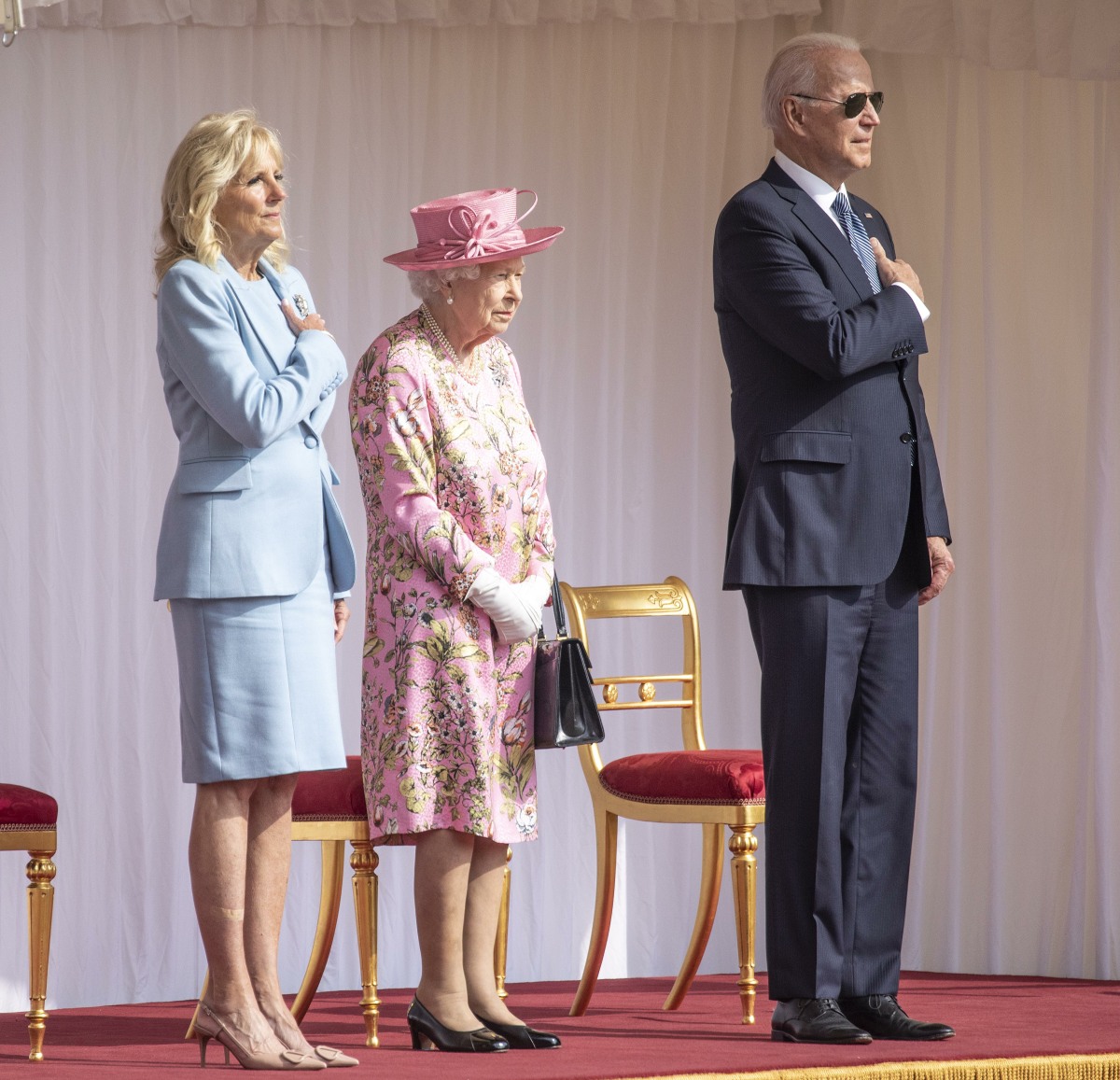 I knew it was a big deal – you might even say a "breach of protocol" – that President Joe Biden didn't take his sunglasses off for several minutes when he met Queen Elizabeth on Sunday at Windsor Castle. I knew that people on Salty White Folk Isle would be bitching about it for days, perhaps even weeks. It was the same thing when Michelle Obama dared to put her hand on the Queen's back – it was mentioned and discussed repeatedly, because tightasses love to clutch their pearls over gauche Americans. What I saw during the Biden visit was an Irish-American man on a very bright day who probably forgot to remove his cool aviator sunglasses. It shouldn't be a headline or an international incident, right? Wrong. Not only that, but President Biden revealed some of the topics he discussed with the Queen.
Joe Biden was today accused of breaching royal protocol by revealing the Queen asked him about Vladimir Putin and Xi Jinping during their talks at Windsor Castle – and for not removing his sunglasses. The US President, who visited the monarch with his wife Jill Biden on Sunday following the G7 summit in Cornwall last week, said she 'wanted to know' about the Russian and Chinese presidents and they had a 'long talk'.

Mr Biden told reporters before leaving London Heathrow Airport yesterday: 'We had a great talk. She wanted to know what the two leaders that I… the one I'm about to meet with, Mr Putin, and she wanted to know about Xi Jinping, and we had a long talk, and she was very generous.' However, it is generally frowned upon for anyone to reveal the contents of their private talks with the Queen – something that also happened when Mr Biden's predecessor Donald Trump visited her in Britain in 2018.

Speaking about the latest protocol breach, royal commentator Richard Fitzwilliams told MailOnline today: 'The Queen is supposed to have told Michelle Obama that royal protocol was rubbish. It has nonetheless been a rule that an audience with the Queen is strictly private and to reveal its contents is a breach of trust. President Biden, by revealing that the Queen had asked about the Russian and Chinese leaders, did breach this rule. It is very possible that, as the G7 sees itself as a bulwark of democracy against regimes such as Russia and China, that this comment may have been prearranged in line with this theme.'

Fitzwilliams continued: 'The President, who will soon be meeting President Putin, naturally gave no details. Biden's revelation of what the Queen asked was surprising, but it appeared to emphasise the message of her government and its transatlantic ally, which is the world's only superpower, that there is a great deal of concern about the activities of President Putin's totalitarian regime and that of China's President Xi too.'

Separately today, Mr Biden was also accused of breaking a second protocol by keeping his sunglasses on when he met the Queen despite the intense sunshine on a very hot day that saw temperatures hit 84F (29C) in London. Grant Harrold, a former butler to Prince Charles and Camilla, said Mr Biden should have removed his sunglasses at the point he greeted the Queen, rather than midway through the ceremony.

Mr Harrold told Newsweek : "If you're meeting the Queen face-to-face there's no sunglasses or anything like that at all because eye contact is quite important with any introduction. It's fine for Biden to have had sunglasses on but he should have removed them when he actually met the Queen. Everyone else has to, it doesn't matter who you are, even royals remove sunglasses when they meet royals. It's one of those rules I always write about in my etiquette texts. It is a breach of protocol. I get the sun might have been shining in his eyes but the queen didn't have sunglasses on. Jill, the First Lady, didn't have sunglasses on.'
While Gaffey Joe does say sh-t that he shouldn't, I would suspect that he didn't reveal anything which wasn't pre-arranged by Downing Street, the White House and Buckingham Palace. It's not like Pres. Biden is going to be like "then she told me that Putin is really short and has bad breath." Everybody was sticking to their talking points. As for the sunglasses… well, Joe gave those stuffy British people something to whine about for a few months. I can't wait for Dan Wootton's column, How Dare Woke Yank Disrespect Our Queen By Wearing Woke Sunglasses.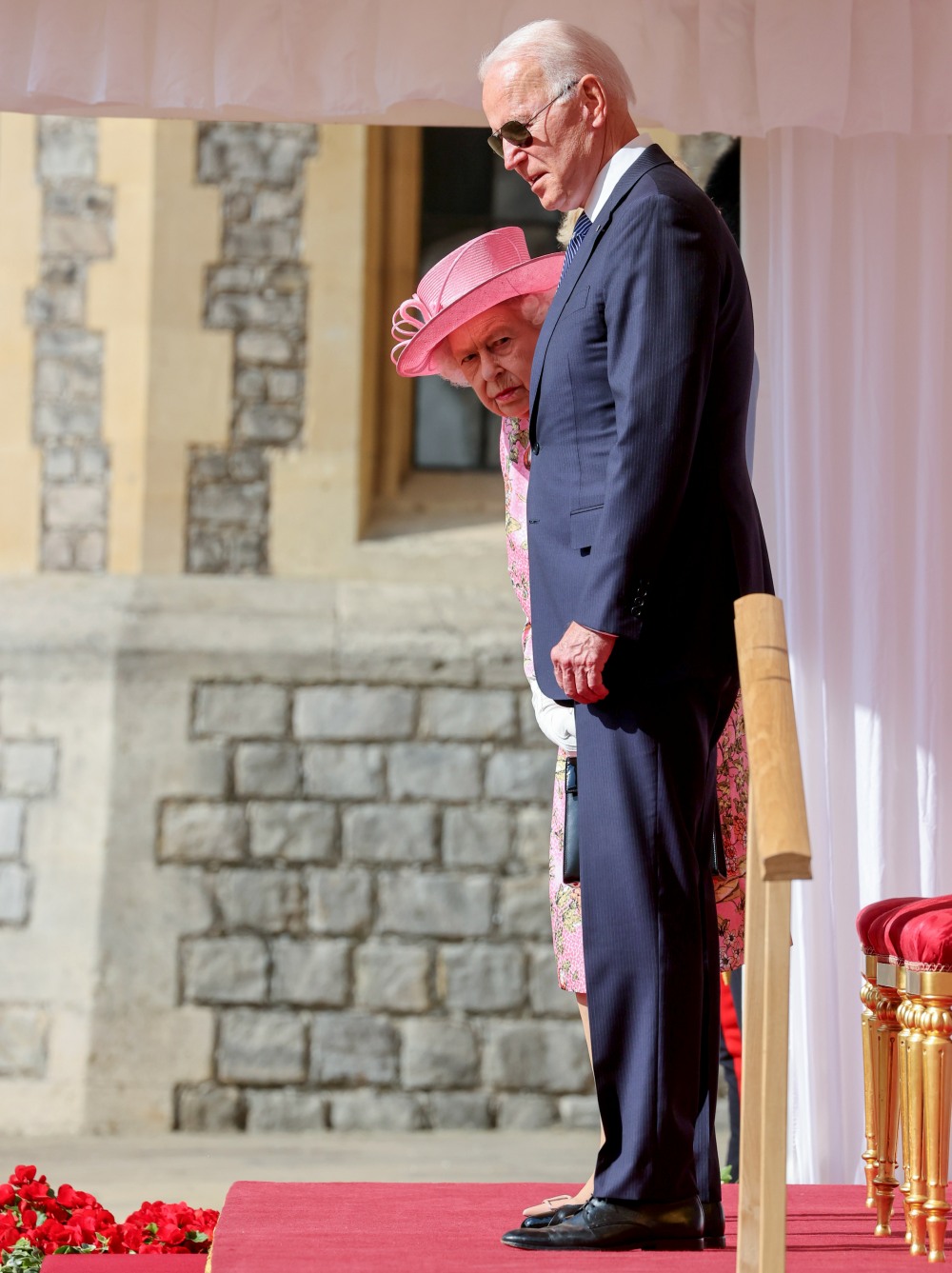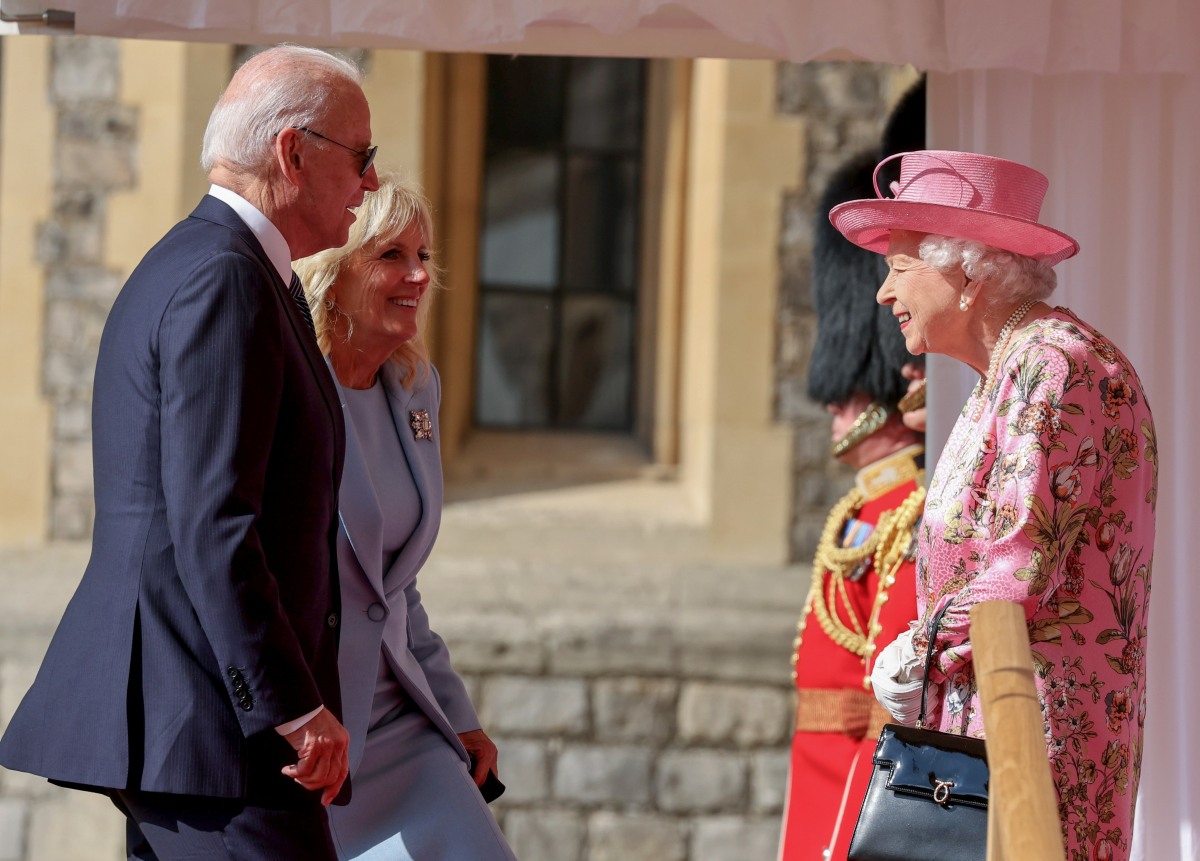 Photos courtesy of Avalon Red, Backgrid.