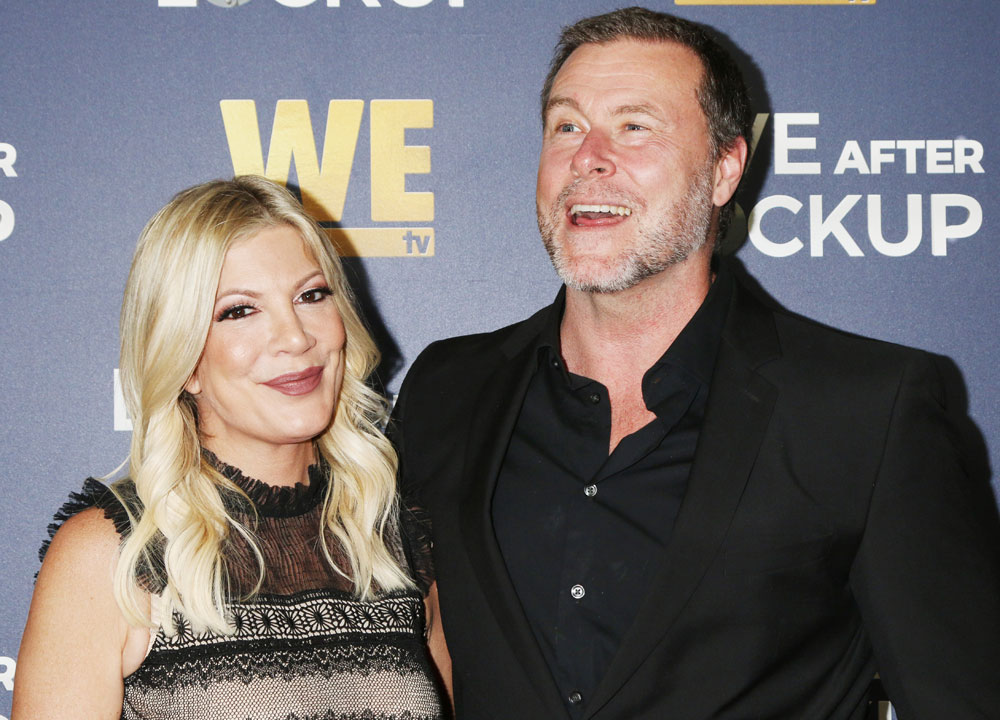 So what's up with Tori Spelling and Dean McDermott? That is the question Tori wants us to ask because she's been leaving a trail of breadcrumbs for the last six months. Dean was out of town filming while Tori was dropping Easter Eggs to the press that all is not well. The rumors started last November when Tori released the family Christmas card that featured herself and her five kids, but Dean was merely a headshot held by Tori. Tori said he was away working, and this was the best they could do.
In January, the whole family did a pap run for ice cream near their home in Calabasas. In March, Tori took the kids to the Farmers Market without Dean and without her wedding ring. Even more notable, the couple did not post about each other for Mother's Day, Father's Day or their 15th Wedding Anniversary on May 7. Last week, while appearing on her friend Jeff Lewis' Sirius XM show, Jeff asked Tori, who was wearing her wedding ring, if things were okay. Tori admitted that Dean was finally home from filming but since the kids and dogs were used to sleeping in her bed, she and Dean were in separate beds. Since that interview, fans have started the countdown clock on the Spelling-McDermott marriage and insiders are saying they are all but done.
After Tori Spelling fueled speculation about her marital woes by admitting she and Dean McDermott sleep in different rooms, a source reveals in the new issue of Us Weekly that things may be even worse than she let on.

"Tori and Dean have been having major issues for over a year now. The fact that she's talking about sleeping in separate beds is very telling, she wouldn't do that unless things were really not great between them," the source says.

Spelling, 48, and McDermott, 54, who wed in 2006, are the parents of sons Liam, 14, Finn, 8, and Beau, 4, and daughters Stella, 13, and Hattie, 9.

"Tori knows her kids see what she says online, so for her to say something publicly means the end could be very near," the insider adds.

The Beverly Hills, 90210, alum made headlines earlier this month when she told Jeff Lewis about her and her husband's sleeping arrangements after the 51-year-old Flipping Out alum pointed out that Spelling was wearing her wedding ring again.

"Right now, my kids and dogs sleep in my bed," Spelling said on SiriusXM's Jeff Lewis Liveon June 16. "Since he left — this is not good, you guys — but since he left [and] he was gone for six months filming in another country, they all stayed with me. So I currently still have four in the bedroom with me who have yet to go back to their rooms, yes."
I believe that Tori and Dean's marriage is always balancing on the edge. I'm sure they were blinded by lust once upon a time but at some point, their relationship became a commodity to Tori and she constantly has to weigh effort vs. output. Not to say they don't share any affection for each other, I'm sure they have some real feelings. But it's also a business relationship on some level.
My first reaction to this story was to call BS because it was all too beautifully crafted. Since I rarely wear a ring on my wedding finger, let alone my actual wedding ring, I know that can always be explained. Tori made sure she was photographed without it but had a plausible explanation if she needed it. It felt like a set up for the press, just like the Christmas card stunt. And her comments on Jeff's show seemed calculated as well. None of us knew they were in separate beds but somehow he knew to bring it up. Again, Tori had a good out if she wants it: She doesn't want to boot the kids, guys – don't make a big deal about this.
I think she's still deciding how she wants this to play out in the press. She definitely wants us to know there's trouble, but hasn't settled on divorce, separation or reconciliation. The part that gets me is both of them omitting the anniversary post. That's the loudest signal that they are looking to announce a split. Or at least a break that they can sell into another splashy vow renewal. Because it wasn't that long ago they were selling us how they were soulmates and didn't have relationship problems.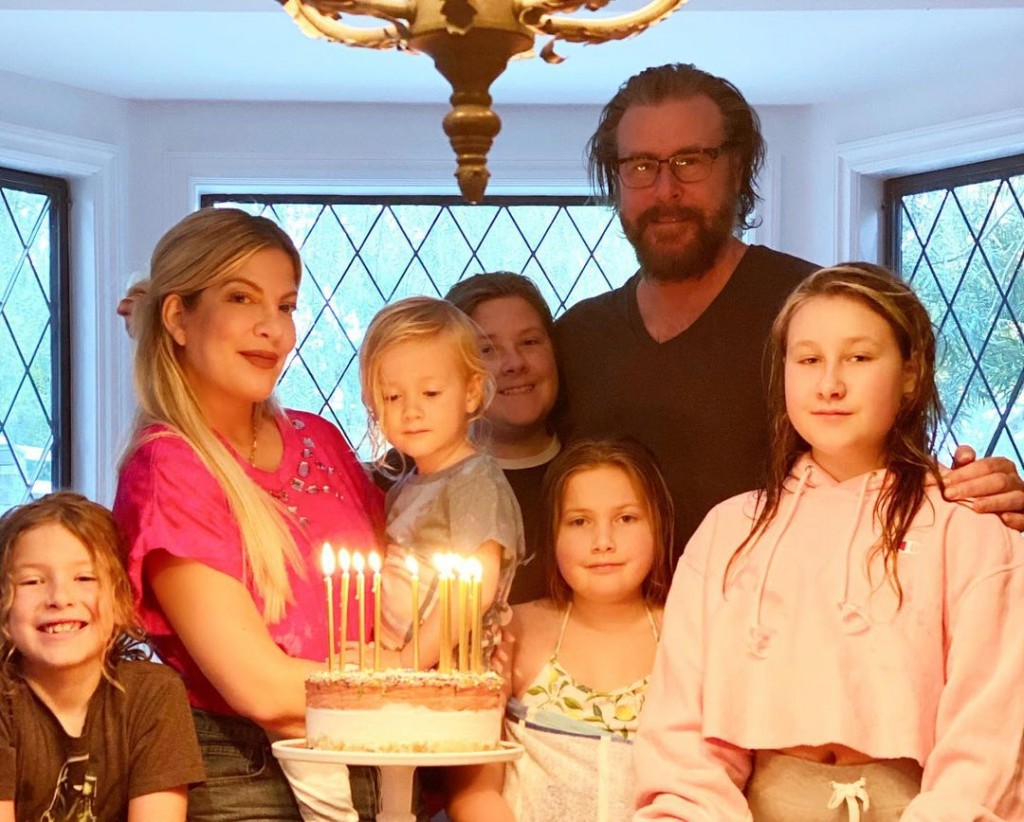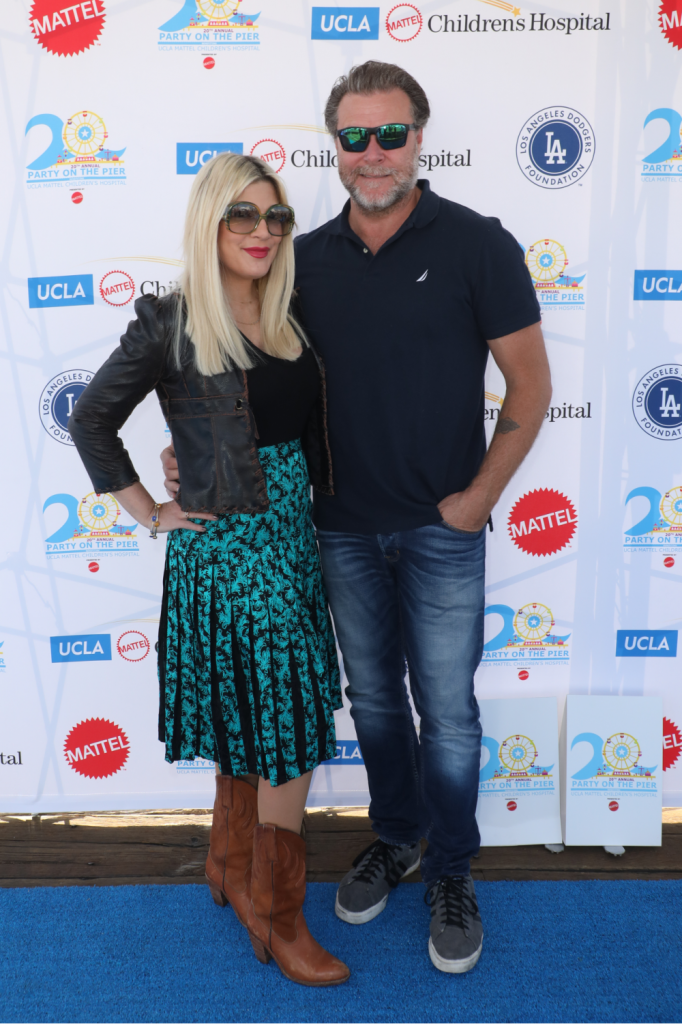 Photo credit: Wenn, Avalon Red and Instagram