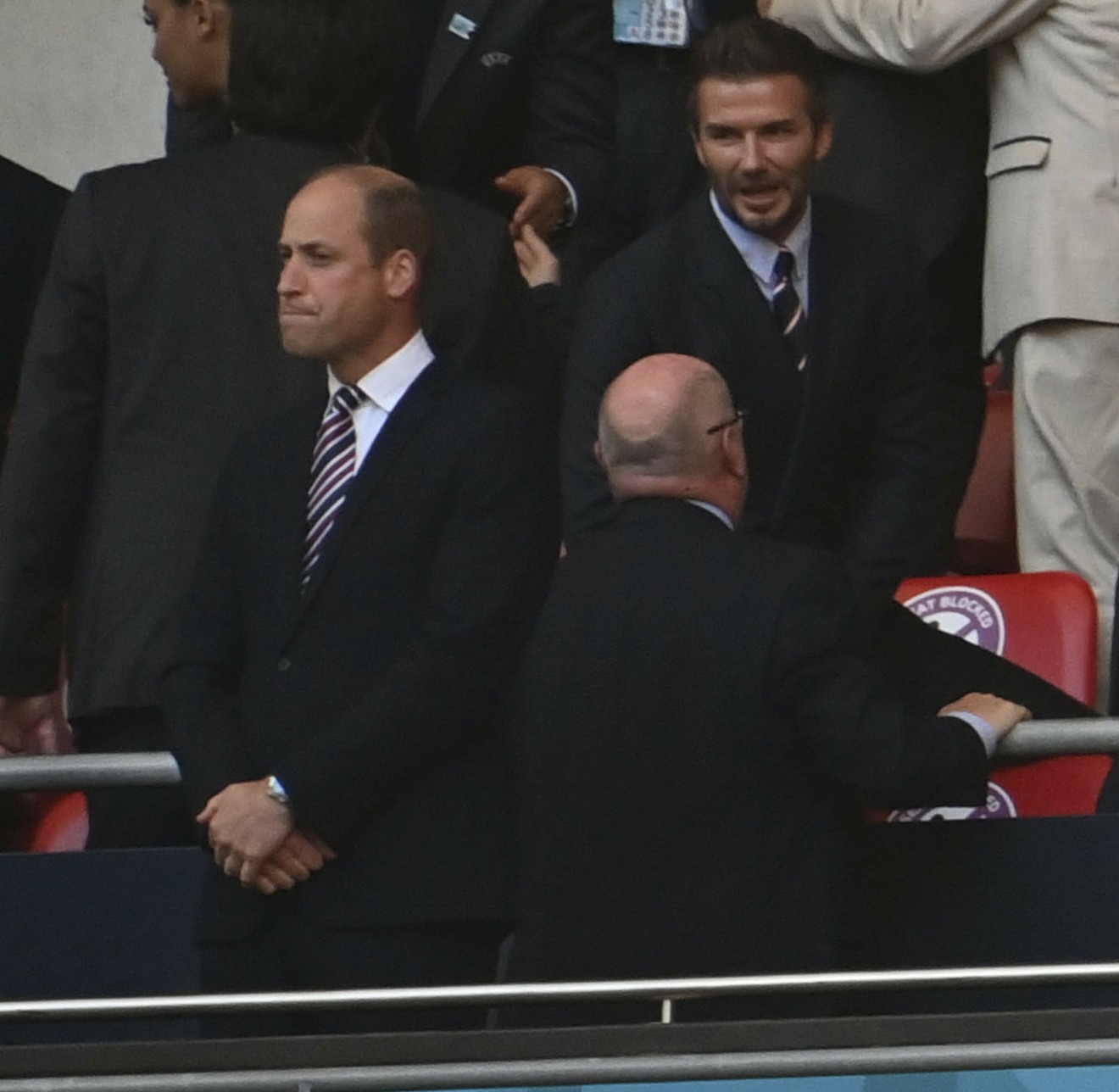 It's coming home, football's coming home. England's football team has been waiting decades to win a major championship, and stars have possibly aligned for them to win the Euros. It would be somewhat funny if England did win the Euros given Brexit, surely? In any case, last night was the second Euro semifinal, England vs. Denmark. England won, 2-1. Watching the match in person at Wembley Stadium? Football Association president Prince William. It's one of William's favorite "patronages" because "going to football matches" counts towards his royal-event numbers. Plus, he gets to hang out with footballers and William loves that.
In England's quarterfinal match last week, the Duchess of Cambridge and Prince George were in attendance with William. It was at that match that Kate *possibly* got exposed to Covid, although no one is saying that. Kate started her 10-day isolation period last Friday, so that's why Kate did not attend the semifinal. But where was George?

The Duke of Cambridge stepped out to watch England's semi-final match against Denmark at Wembley Stadium in the UEFA Euro Championships on Wednesday night. But many royal fans were wondering why Prince George didn't attend the game after he joined his parents, Prince William and Kate, to watch the Three Lions' 2-0 victory over Germany last week.

The simple reason why George didn't join his father at the match could be down to the timing. The seven-year-old enjoyed the after-school treat last week as the game kicked off at 5pm, but on this occasion, the 8pm start time might have been too late for the youngster on a school night.

After the Three Lions' win against Germany, royal and football fans alike were quick to take to social media and officially name the youngster England's "lucky charm".
First of all, it's funny that so many people were like "where's George?" I bet that got on William's last nerve, so well done! Poor Baldingham, already overshadowed by his son. As for why George didn't go… I mean, he is a little kid and that was pretty late, so I get that. Still, it's a historic sporting moment for England and one which William might regret not including his son. I kind of wonder if William just didn't want to deal with a sleepy almost-eight-year-old kid while he was trying to watch the game. If Kate had been able to attend, I bet they would have brought George and Kate would have been the one looking after George. (Sidenote: with all of the "where was George?" headlines, my first thought was "it's not William's week with the kids.")
Anyway, the Euro final is this Sunday, England vs. Italy. I bet George will attend.
What a game, what a result! A huge team effort @England.

The whole country will be behind you on Sunday #ItsComingHome

— The Duke and Duchess of Cambridge (@KensingtonRoyal) July 7, 2021
Photos courtesy of Avalon Red, Getty.