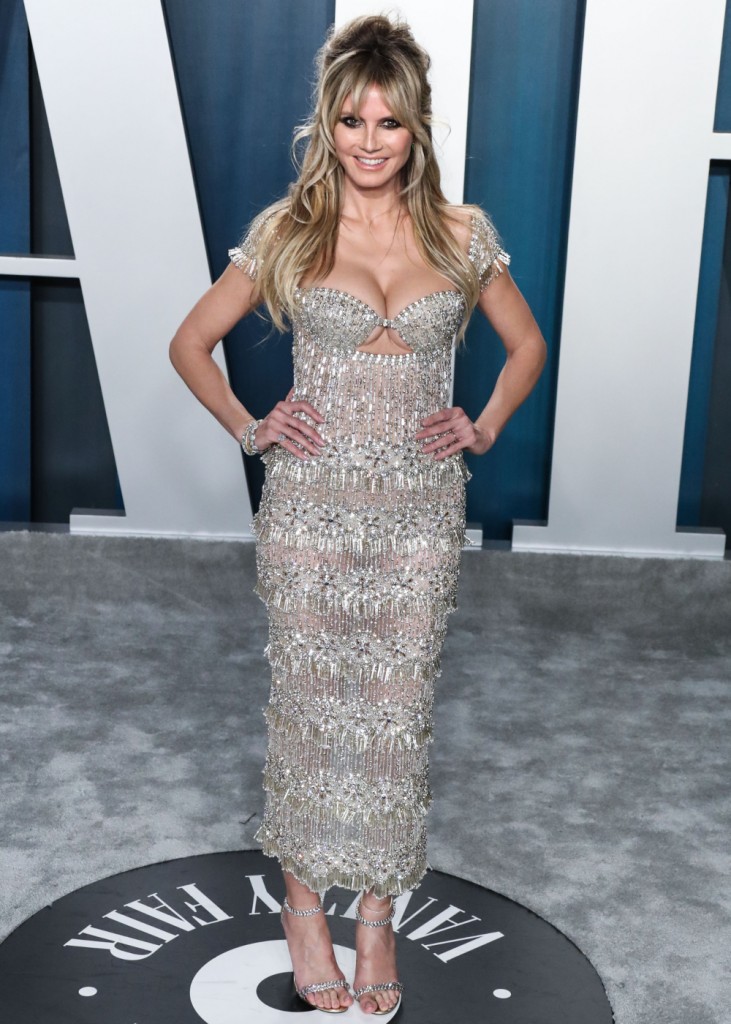 Last month we heard about Victoria Secret's big rebrand. They assembled a group of impressive women who made up the new VS Collective. The Collective is going to, "create revolutionary product collections, compelling and inspiring content, new internal associate programs and rally support for causes vital to women." Other than a Juneteenth post, I haven't seen a huge shift in their IG page, but I think they've been slowly changing their image over the last year so maybe the rollout slowly began before the announcement. The point is, Victoria's Secret is trying to change. And one of the original Angels, Heidi Klum, is happy to hear it. While saying she loved her time as a model for the brand, mostly because of the friendships she formed, Heidi said the company has needed to change for a while.
The OG Angel! Heidi Klum, who was a Victoria's Secret Angel from 1999 to 2010, is speaking out about the lingerie company's rebrand, VS Collective.

The relaunch, which was announced in June, claims to usher in a "new era" for the brand. It features "an ever-growing group of accomplished women who share a common passion to drive positive change," including actress Priyanka Chopra and soccer star Megan Rapinoe.

"About time, is all I can say. About time," the 48-year-old model said to The Sunday Project on July 11. "As a model, you go there, you are happy to have a job. When you are not the company, you do what you are told. But finally, looking at this now, I'm like, about time."

Victoria's Secret, which will also be launching The Victoria's Secret Global Fund for Women's Cancers to "fund innovative research projects aimed at progressing treatments and cures for women's cancers," previously canceled the official fashion show and the Angel title in 2019.

While Klum recognizes that the agency has been taking steps in the right direction, she also acknowledges that the speed at which they're changing is on the slower side.

"Good. You know, because things do need to change. They have been changing. It's been taking too long," she said to the Australian outlet.

The star, who has passed her love for modeling onto daughter 17-year-old daughter Leni, also told Body + Soul that she's "excited that they're [Victoria's Secret] understanding there are so many different people out there who want beautiful things to wear."

She's thrilled to see the change, but she admits that she "always loved the brand" during her run as an Angel.
I'm with Heidi in that I am happy to see Victoria Secret's evolve. I grew up with the catalogue supposedly being inspiration for what I wanted to look like. It was, don't get me wrong, but I knew not to look at it on my bad days or I'd feel worse. I simply couldn't hold myself to those standards. But I liked the product. I thought it was pretty and bought things for special occasions. There are a lot of companies out there doing it better now, however, so VS has to keep up with the times. As Kaiser pointed out in her write up, VS's issues went so far below the surface, an image overhaul was their only hope at survival. It would be nice to see people who look like me, but it would also be nice to see some stuff that looks nice on people like me. Like, shake it up a bit for us non-model types, don't just give us size zero lingerie in larger sizes.
As for Heidi, I think she means it. It's hard to look at someone who could still model the old VS ideal on the runway and hear her as an advocate, but it's always better to have a famous voice in our corner than not. I think watching her 17-year-old daughter entering the modeling fray might have Heidi scared. She knows how harsh the industry is and maybe she'd like Leni to be able to live a freer life than she did. And she's not saying the company is irredeemable, Heidi's glad they're adopting change. So, there's hope for Victoria and her Secret yet. Can't wait until we see this big overhaul, though, because Heidi's right about one thing, it's a little, "on the slower side" for sure.
Photo credit: Avalon Red, Instagram and Getty Images