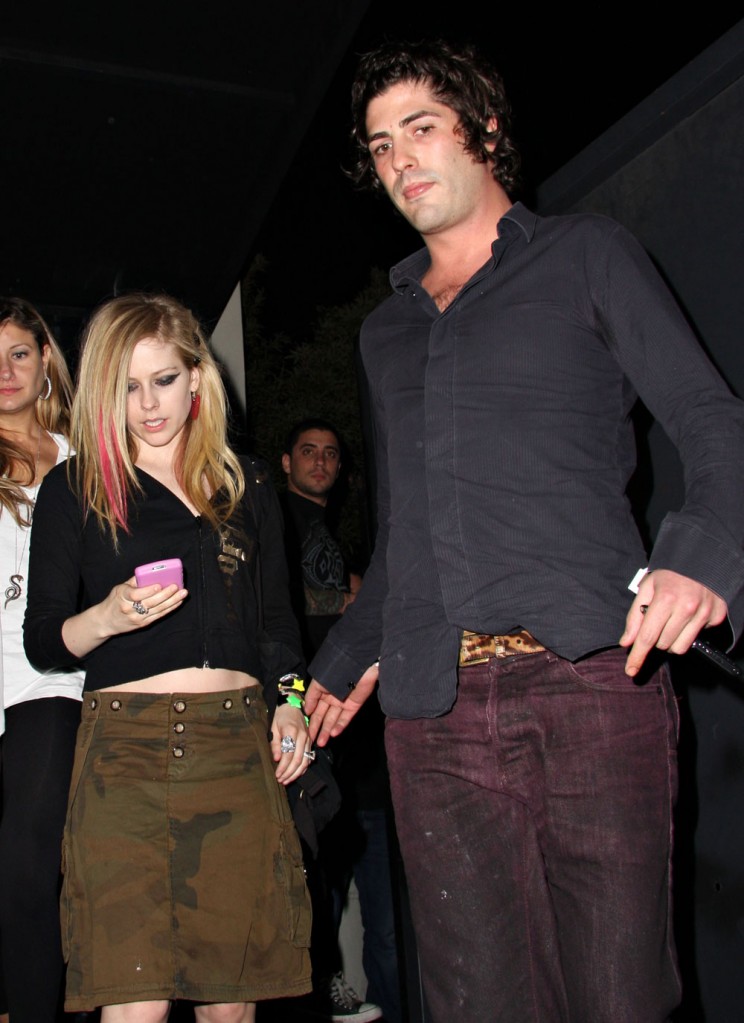 It seems like there might be more to the Avril Lagigne-Deryck Whibley divorce drama. Previously, we've heard random excuses for their split, stuff about Avril's drinking and partying, Deryck wanting babies, Avril cheating, Deryck cheating, both of them being too young and immature, and how basically both of them are ridiculous, stupid, ignorant wastes of space (I made that one up as one of "reasons" for their split, but it still works). Now we're hearing a new "reason" and it involves Brandon "Greasy Bear" Davis.
Avril and Greasy Bear have a somewhat well-documented friendship. "Friendship" being "they hang out occasionally and get drunk, maybe do some drugs". There were rumors last month that they may be romantically involved. And that's where In Touch is taking us – they claim that Brandon is "in love" with Avril, and asked her to divorce Deryck so they could be together. Sounds like someone's getting punk'd, doesn't it?
Avril Lavigne is telling friends that her three-year marriage to Deryck Whibley is ending because she tied the knot too young. But apparently it was really her close friendship with oil heir Brandon Davis that doomed the relationship.

Previously, In Touch reported that Deryck texted Brandon and told him to stay away from his wife after Avril and Brandon dined together, but her rep denied the incident. This time, according to an insider, it was Brandon who gave the ultimatum.

In early September, he told Avril to choose between him and her husband. "Brandon really likes Avril, but he's not keen on dating a married woman… Ever since they first met, they've had a connection. But Avril was married to Deryck, so Brandon kept it casual."

Now that she and Deryck have separated, the insider reveal that Avril and Brandon are planning to go public with their romance.

"They have major chemistry. They could wind up getting married," says the pal, adding that the pair have been meeting at his mother's Bel Air estate to avoid being photographed together.

They also had a rendezvous on a yacht in St. Tropez this summer, and Avril celebrated Brandon's 30th birthday with him at Koi in LA on September 2, giving him an expensive art book as a present.

"They are together," says the friend. "He loves Avril."
[From In Touch Weekly, print edition, October 5 2009]
Eh, I tend to think Avril deserves whatever she gets, she's such a little pill. But I did feel a very, very small twinge of sympathy for her because Brandon Davis is one sketchy, gross, disgusting piece of trash. His bigotry, nastiness, creepiness, drunkenness, and general sketchiness is rather legendary. My guess is that if any part of this is true, Brandon is just doing this as a joke, to see if he could get her to dump Deryck. But here's the part I don't think is true – that Avril would move from Deryck to any kind of real relationship with Brandon, or anyone else. That girl wants to party. She wants to get drunk and sleep with whoever she wants. You know, the same stuff she did while she was married.
Brandon Davis is shown out on 9/17/09 (with hat, credit: WENN) and 7/6/09 (smoking, credit: Ghost/Fame Pictures). Yes, he's wearing the same shirt two months later. Avril Lavigne is shown out with Brandon Davis on 2/12/09 (credit: Fame Pictures) and out shopping on 8/11/09 (credit: Right/Fame Pictures)