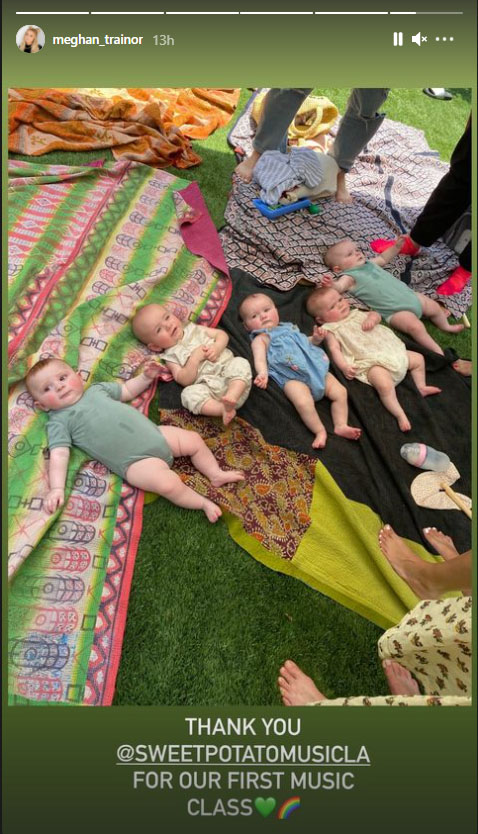 Hilary Duff arranged for a singing class over the weekend for a bunch of up and comers. Those attending were her daughter Mae, Mandy Moore's son. August, Ashley Tisdale's daughter .upiter, and Meghan Trainor's son. Riley. Talk about nepotism. Rounding out the band were the Poppys, the daughters of makeup artist Kelsey Deenihan and Food blogger Gaby Dalkin. The whole gang, ranging in age from three to six months, hung out on what was likely a bespoke, hand-dyed baby blanket blessed by nursing high-mountain yaks where they had their first music lesson. ET gave us some more details about the famous playdate.
A band of babies! Hilary Duff is getting her famous mom friends together for a big infant playdate!

Duff took to her Instagram story on Sunday to share some snapshots from a baby singing class, where her own 3-month-old baby, Mae, spent time with some other adorable babies.

Duff's little one was joined by Mandy Moore's 5-month-old son, August, as well as Ashley Tisdale's 3-month-old daughter, Jupiter, and Meghan Trainor's 5-month-old son Riley.

During the adorable class — which also included food blogger Gaby Dalkin's 6-month-old daughter and makeup artist Kelsey Deenihan Fisher's 4-month-old daughter, both of whom are named Poppy — all six babies laid around on blankets and, well, did what babies do: look absolutely adorable.
The ET article referred to it a few times as a "singing class." I can only hope we get a recording from it. I know babies that age are pretty good at flailing, so it would seem slapping a maraca in their hands and letting go to town would've been the way to go but what do I know. The point here is, start 'em young. These wastrels have been scrounging off their parents for long enough, it's about time they learned a trade. You know, I am writing that as a joke, but aren't all those actresses former child stars? Whoops.
I'm sure the "singing class" was just an excuse for the moms to get together and share new mom stories. Mandy, Ashley and Meghan are all first time moms so it was probably nice to get some seasoned mom advice from Hilary. It looks like they had a beautiful day for their get together and the babies maybe met their lifelong friend group. It's sweet. If they decide to form a band, they have a great foundation. Plus, they recruited a makeup artist and personal chef in the Poppys so really, they're all set to go.
My goodness, these bebes are adorbs.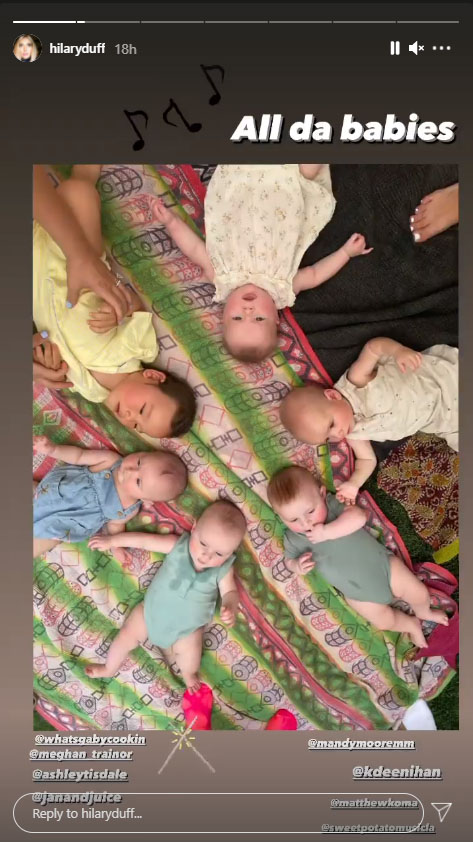 Photo credit: Avalon Red and Instagram