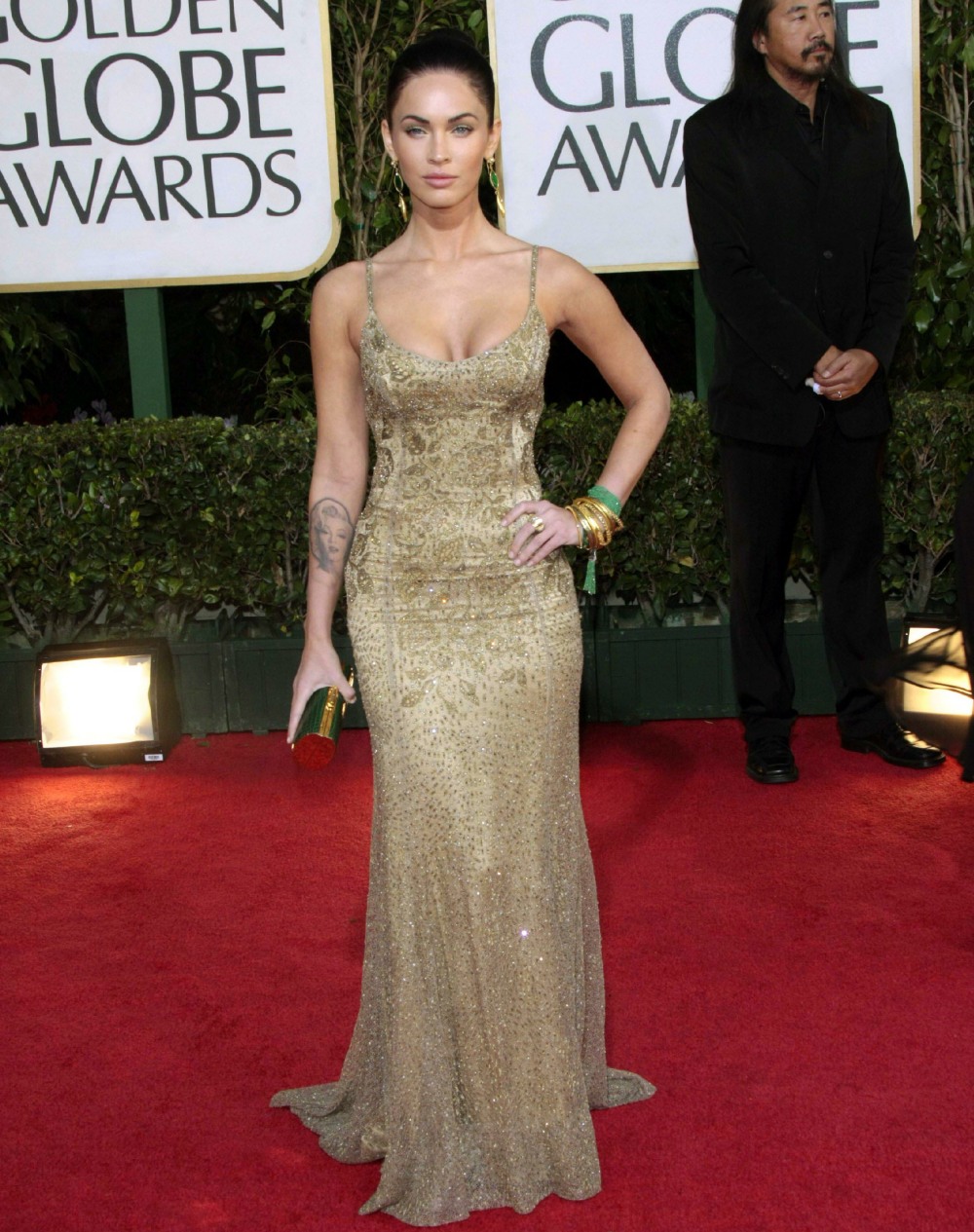 The Megan Fox Renaissance is still happening, and there's a tendency to believe that Megan Fox was just minding her business during the early years of her career, and people just decided to yell at her constantly. There's more nuance to the situation with Fox though – for years, she just flat-out lied in interviews and talked an enormous amount of sh-t. There was a reason people thought she was kind of an a–hole, you know? I bring this up because Megan explained why she stopped drinking and how it was related to a somewhat infamous interview she gave at the Golden Globes in 2009. I forgot some of these quotes from 2009 and I cracked up seeing them again.
Megan Fox is taking responsibility for comments she made at the 2009 Golden Globe Awards while explaining her decision not to drink today. In a recent interview with Who What Wear, the 35-year-old actress reflected on different iconic ensembles she has rocked over the years, pausing after arriving at her stunning gold 2009 Globes gown to address remarks she made after having alcohol that night.

"I was sat at a table with Blake Lively and all three Jonas Brothers," said Fox. "At the Golden Globes, they always put those giant bottles of Moët champagne on the table — I went through multiple glasses of that. Now I don't drink, and this is why: I was belligerent and said a bunch of s— I shouldn't have said on the red carpet after that," the Midnight in the Switchgrass star went on. "I think I got in a lot of trouble for whatever I said on the red carpet at this event. I don't remember why, but I know I did. You can look that up," she added.

In a clip from Fox's 2009 red-carpet interview, obtained by TMZ, the actress said in part that she believes looks like "a doppelgänger for Alan Alda" before adding, "I'm a man."

"I'm so painfully insecure. I'm on the verge of vomiting right now," she told Giuliana Rancic. "I'm so horrified that I'm here."

Fox also told Rancic, 46, "I really want [Salma Hayek's] boobs," which she called "amazing" and "perfect," and touched on why then-boyfriend Brian Austin Green wasn't in attendance with her at the event. (The actor, 48, confirmed their split last year after almost 10 years of marriage.)

"He doesn't want to be my date. He's a man — he has an ego," she said of Green. "I think he's probably working on music; I don't think he cares [about watching the show]."

Fox also said "I basically starve myself for a month" to achieve her "22-inch waist," before quickly adding, "I'm kidding. I did a lot of Pilates. An immense amount of Pilates."
"An immense amount of Pilates" took me out. And that comment about BAG – well, just add it to the pile of comments she made over the years where she indicated that BAG was not supportive of her career or her fame. The thing is, I looked up the video of this interview, and I included it below. This… um, was a red carpet interview on the Golden Globes. As in, it happened BEFORE the Globes ceremony. She wasn't drunk yet, or at least she doesn't have the excuse of "I was drinking champagne at the table." She might have been drunk when she arrived at the Globes, absolutely. But again, this is before she was seated at the Golden Globes ceremony.
She also uses the word "tr–ny."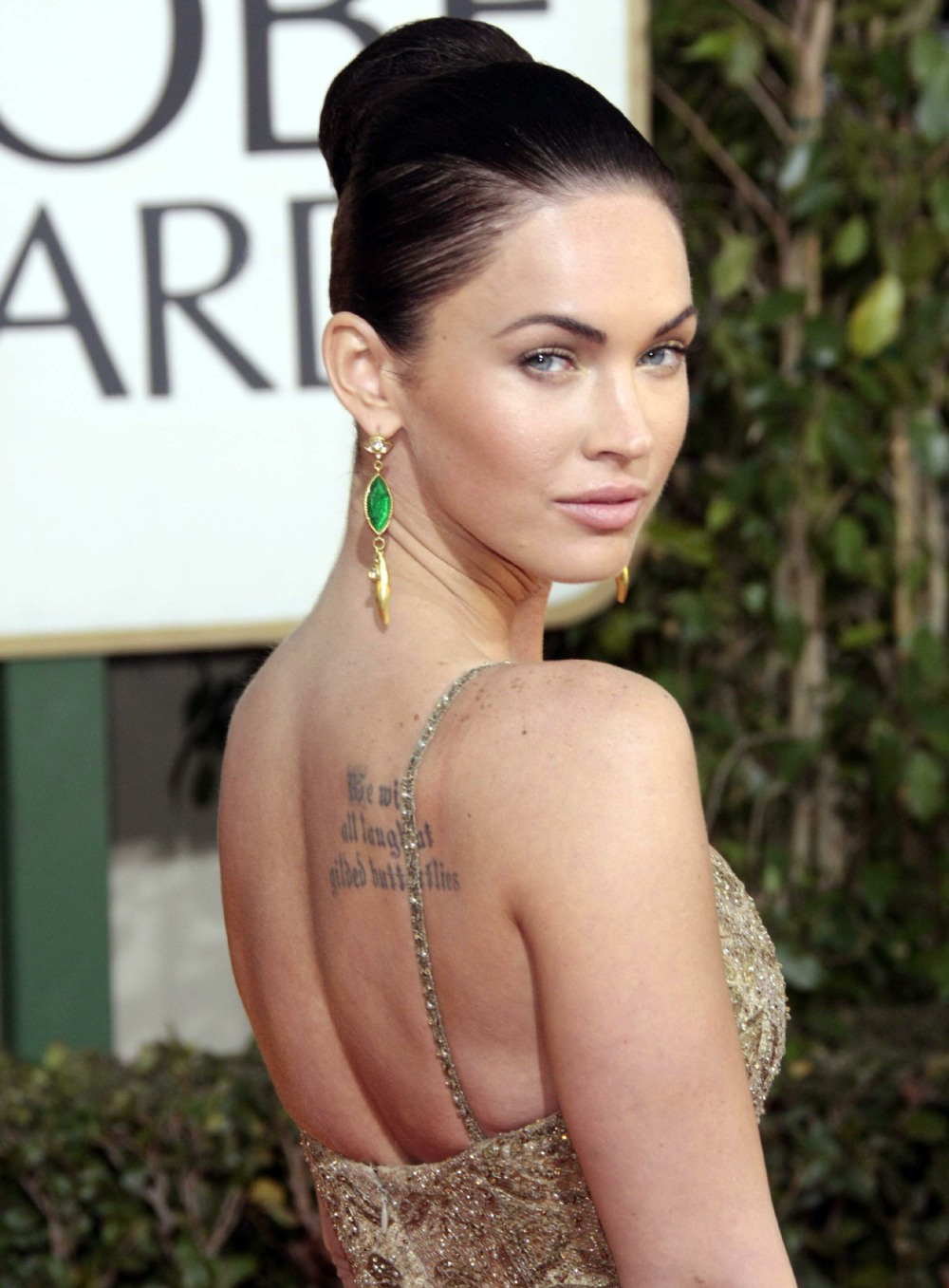 Photos courtesy of Avalon Red.