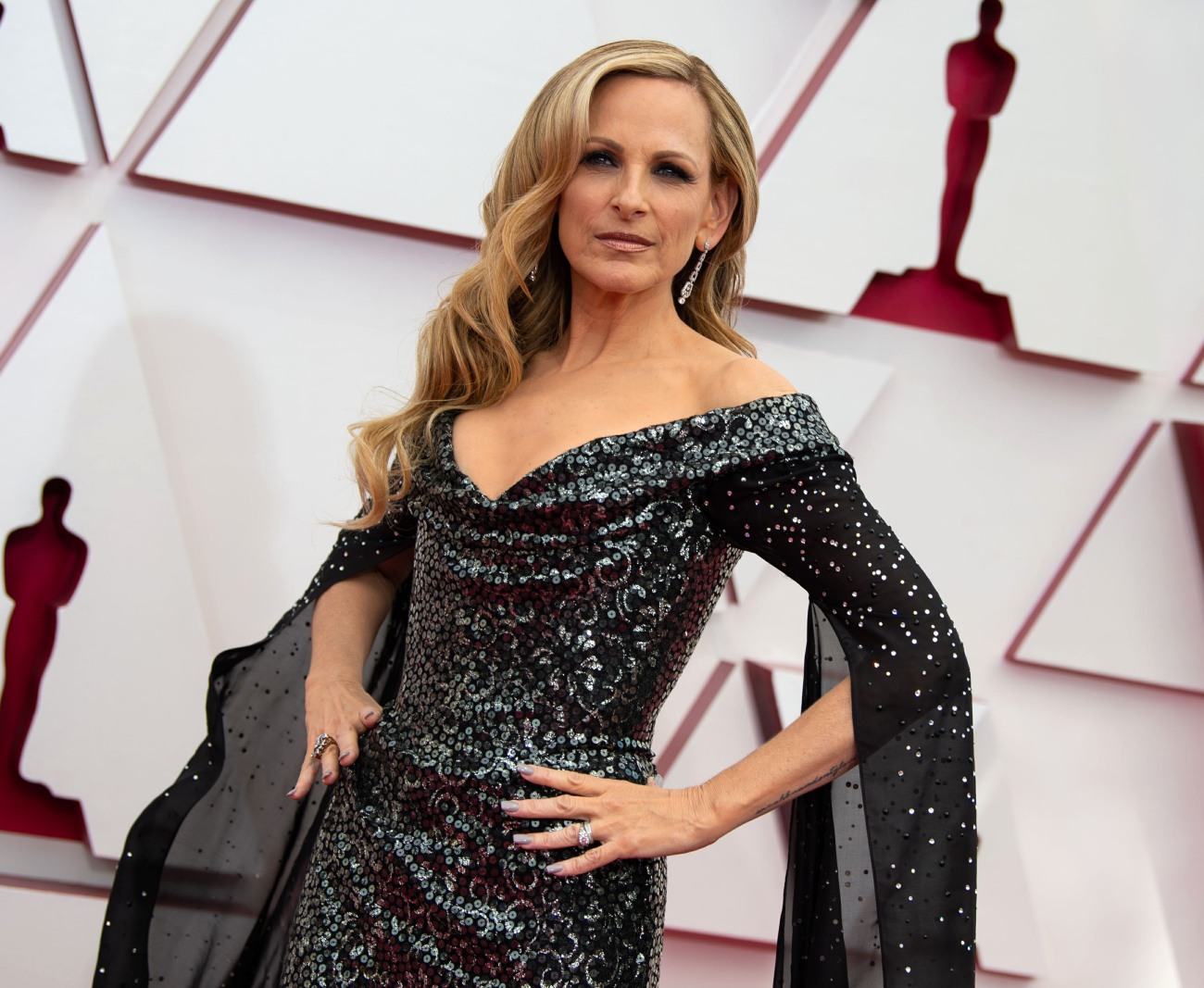 Marlee Matlin has a new interview with the Daily Beast to promote CODA, a film about deaf parents and their hearing child. That's what the acronym stands for: Child of Deaf Adults. CODA went to Sundance this year and it was a huge hit, and Apple bought it for $25 million. People are pretty convinced that Marlee will probably get nominated for another Oscar, and that the film will likely get nominated for a lot of awards too. Marlee spoke to the Daily Beast about the film, about William Hurt and Donald Trump and a lot more. Some highlights:
On CODA: "I hope that people will approach the film with an open mind. Don't think of it as 'a film for deaf people.' It's about a different language, just like you would watch any movie with subtitles, and it comes with a rich history and a beauty that you can't ignore. At the end of the day, it's one of thousands of stories in our community that we want to share with people."

Originally, filmmakers were going to use hearing actors to play deaf characters: "The idea was presented to me that there would be hearing people who would be playing those roles, and I thought, are you kidding me? I didn't have to freak out and I didn't have to go crazy and scream about it, I just calmly said, "If you do it, then I am out." Simple as that. And I guess my feelings—and what I was trying to represent—worked. I mean, it was a no-brainer.

Hollywood is historically very ableist. "There's still a lot of ableism and a lot of work to do in Hollywood—especially in terms of deaf and disabled communities being represented, even in terms of casting. Nowadays, "diversity" is the buzzword. We're seeing it every day, from every corner of the business, and rightfully so. But it seems, when they're talking about diversity, to not remember that the deaf and disabled communities are part of the conversation. For as long as I've been in the business, 35 years, I've talked about how diversity should include deaf and disabled actors, and I've had so many conversations about this. People come and go in this entertainment industry—the ones who run the studios, who have the power, who green-light films—and not everyone who comes onboard agrees with everyone else. Now, we're experiencing a generational difference with people who have more progressive opinions, but when it comes to this particular topic, the same thing keeps happening.

Winning the Oscar for Children of a Lesser God: "You know, it's funny—I had nothing to compare it to when I got the award. There were no deaf nominees before me, so there was no blueprint to follow. I understood the enormity of it when it happened, and it was nice to be in the history books in that way, but it was a really tough time for me. Listen, I got nominated when I was in rehab. And I was busy and focused on taking care of myself. Then I win an Oscar, and it all happened so fast. So then I thought, OK, what am I going to do about work? I got to work in a film with Ed Harris [Walker] right after winning the Oscar, then I moved out to California and I lived with the Winklers [Henry and Stacey]. They invited me out for the weekend to think about my career prospects, and two days turned into two years living with the Winkler family. They said, "Clean your room, Marlee, it's been two years!"

On William Hurt's emotional abuse during their relationship: "I'm smiling right now, because if that happened right now, things would have turned out much differently. I would have slugged him. [Laughs] Yeah, I was very young, as you said. I sat in the limousine, took off my shoes, and was like, "Holy sh-t! How did this happen? I've got an Oscar!" and I'm looking at him, wondering what he's thinking. And he goes, "So many talented actors have worked so hard to get this award you just got. What makes you think you deserved it?" I'm loud and I talk a lot, but I could not say a word when he made that comment. And you know what? I understand very clearly now that that was an oppressive relationship, but at the time, I just didn't know what to say. All I can say is, that would never happen to me today. Never.

On William Hurt's physical & sexual abuse: "I think it's because it happened so long ago—it was way back when—and I'm not going to excuse his behavior nor am I going to judge his behavior. It's something that's with me and stays with me, and I think about it from time to time—I do—and sometimes I get PTSD from it, but I've grown up, and I've learned, and I know how important it is to stand up for yourself, and I've passed along that message to my daughter. I know what happened. I can't change what happened, but I can hopefully change my own attitude about it and my experience and move on with my life. And I'm there for anybody who's gone through similar circumstances. I'm right there if a friend is in a similar position, because I've been there.

When Donald Trump allegedly called her the r-word when she did Celebrity Apprentice: "In all honesty, I was surprised. I still say to this day allegedly, because there were five or six crew members who confirmed to me that he wrote out, "Is she retarded?" But if that were true, I only knew him casually throughout the years and he was nothing but nice to me to my face. I never had an opportunity to sit down and talk to him, so I was surprised. Maybe I was ignorant and didn't know. But he never in person spoke down to me. He responded to what I said by saying, "I never said that to that woman," and he never expanded, so I don't know what that means. Maybe he did say it and just wanted to refute it. But I didn't want to waste too much of my energy on it other than to say, it's not something you should say about anybody. And I just moved on.
She's a lot kinder and more evolved about William Hurt than I could ever be. It's not even that we only learned about Hurt's abusive nature when she wrote her memoir either – people knew that sh-t at the time, that he was treating her like crap, that he was emotionally abusive. People found out a lot more when she wrote her memoir and I guess that she feels like, hey, there's nothing else to do now but tell the truth. The most surprising part of this interview was finding out how close she is to Henry Winkler and his wife. She describes him as a second father, she got married at his house (because he insisted on it) and she lived at the Winkler house on-and-off throughout her 20s, it sounds like. What a mensch!! I love stories like that, when you find out someone is actually a really lovely person who mentors and helps people and treats everyone like family.
Anyway, can't wait to see CODA.
Photos courtesy of Avalon Red.