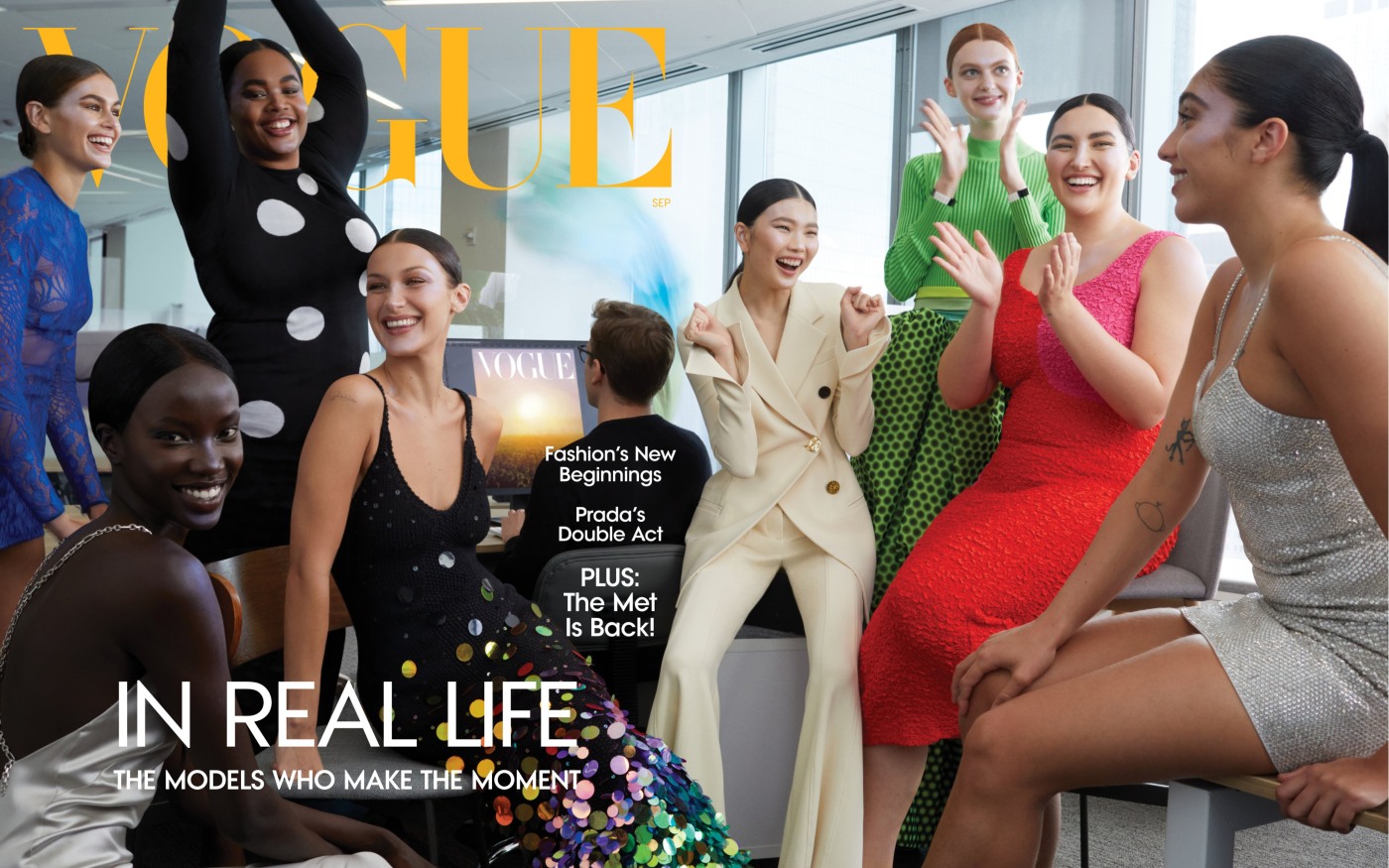 Someone mentioned in the comments that there was a rumor going around that Adele would be the cover girl for Vogue's September issue. If only! Instead, we get this September issue which… it's not great, let's be honest. I know what Anna Wintour was going for, truly. I understand the idea behind it, and if even if you don't understand the ideas behind it, the self-congratulatory cover story beats us over the head with it: diversity, inclusion, no more sizeism or racism! We're still ageist though, don't worry!
The "cover models" are Kaia Gerber, Anok Yai, Ariel Nicholson, Bella Hadid, Lola Leon (in the right-hand corner), Sherry Shi, Yumi Nu and Precious Lee. Precious is "the Black model who is not a sample size." Yumi Nu is "the Asian model who is not a sample size." Bella is a white-presenting half-Palestinian woman. Kaia is white bread. Sherry is Chinese-American. Anok is Sudanase-American. Ariel is a trans woman. Lola is half-Cuban and half-Italian-American. So, when we take a moment to identify these women and grasp what Vogue is trying to represent, how do you feel? Does it feel like "too little too late"? Does it feel like tokenism? Does it feel like maybe the idea was okay but the execution kind of sucks? Because most of all, I just feel like this is a bad photo for the damn cover. It feels like the only thing uniting these women is youth and slicked-down hair with center parts.
As I said, the Vogue cover article is very self-congratulatory as various fashion industry professionals seem shell-shocked by the fact that they can't gatekeep their way out of this. They desperately want to make the fashion industry white and thin again and they're only pretending to be happy with this new turn of events all while feverishly muttering to themselves "but what about the sample sizes?!?!" This paragraph was particular rich:
It is tempting to pan across the faces on these pages and see the shattering of beauty norms: There's no dominant type, no singular standard for readers to measure themselves against. For far too long, that standard was bone-thin, painfully young, cisgender, and, by an overwhelming margin, white. Such uniformity now seems outrageous, both antiquated and out of sync with a culture rejoicing in the hard-fought visibility of people who mirror the splendid multiplicity of our modern global society. Yet the mind snags on this idea that beauty norms have gone out the window: There is still, of course, currency in being a slim, conventionally pretty white woman, as most-followed female TikTok stars Charli D'Amelio and Addison Rae might attest. On Instagram, lingerie ads featuring women with voluptuous fat rolls alternate with others for products promising speedy post-pandemic weight loss. There's work yet to do on this front.
I'm sorry, this is a whole mess. Here's a cookie for "trying" though. I know you won't eat it.
Cover & IGs courtesy of Vogue.