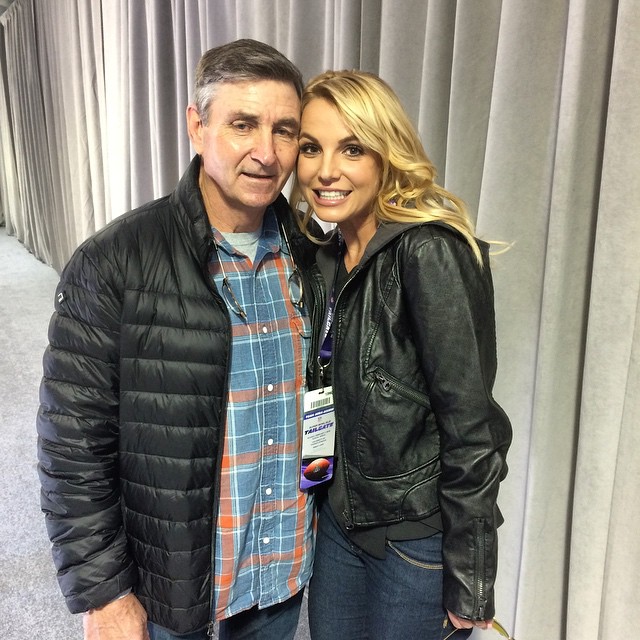 I'm going to try to summarize all of the crap that's happened around Britney Spears and her conservatorship over the past 72 hours, but in case you want a more thorough read, Variety has a good piece about the back and forth. Britney's father Jamie Spears – who is still technically the conservator of Britney's estate – filed a declaration with the court overseeing Britney and her conservatorship. In the declaration, Jamie claimed that Britney's personal conservator Jodi Montgomery had spoken to him and shared concerns that Britney is "mentally sick" and in need of a 5150 psychiatric hold. Then Jodi issued her own statement slapping back at Jamie:
Jamie Spears says that Britney Spears' personal conservator, Jodi Montgomery, told him that his daughter is "mentally sick" and wanted to place her under a 5150 psychiatric hold. Now, in a statement obtained by Variety, Montgomery is pushing back on Mr. Spears claims — and, once again, asking him to step down from his daughter's conservatorship.

"Ms. Montgomery implores Mr. Spears to stop the attacks," Montgomery's statement says, in part. "It does no good; it only does harm. We all need to focus on one thing, and one thing only — the health, well-being and best interests of Britney Spears."

In new court documents, filed on Friday morning with the Los Angeles Superior Court, Spears' father alleged that Montgomery called him last month to say that she is concerned about his daughter's behavior and mental health and believes she might need to be placed under a 5150 psychiatric hold.

"On July 9, 2021, I received a phone call from Ms. Montgomery," Mr. Spears says in the docs. "During our call, Ms. Montgomery sounded very distraught and expressed how concerned she was about my daughter's recent behavior and overall mental health. Ms. Montgomery explained that my daughter was not timely or properly taking her medications, was not listening to the recommendations of her medical team and refused to even see some of her doctors." Spears' father says that Montgomery asked for his help in addressing these issues, as she was "very worried" about the "direction my daughter was heading in."

In response, an attorney for Montgomery, Laurieann Wright, tells Variety: "Ms. Montgomery does have concerns about Ms. Spears' 'recent behavior and overall mental health,' as set forth in Jamie Spears' Declaration dated August 6, 2021. Due to medical privacy, Ms. Montgomery cannot go into those concerns with any further detail except to say that having her father Jamie Spears continuing to serve as her Conservator instead of a neutral professional fiduciary is having a serious impact on Ms. Spears' mental health. Notably, Jamie Spears has yet to resign as Ms. Spears' Conservator of the Person, which is why Ms. Montgomery continues to serve as Temporary Conservator of the Person. It is in Ms. Spears' best interests that her father step down as her Conservator, so he can go back to just being Ms. Spears' father, and working on a healthy, supportive father-daughter relationship."

Montgomery denies Mr. Spears' claim that she suggested the singer be placed under a psychiatric hold. "Mr. Spears' declaration misrepresents what Ms. Montgomery said to him in relation to a potential 5150 psychiatric hold for Ms. Spears," the statement says. "At no time did Ms. Montgomery express to Mr. Spears that Ms. Spears would currently qualify for such a hold. The concern that Ms. Montgomery did raise to Mr. Spears during their telephone call is that forcing Ms. Spears to take the stand to testify or to have her evaluated would move the needle in the wrong direction for her mental health."
Jamie is trying to do several things all at once. He wants to defend himself and his actions as Britney's conservator while also driving a wedge between Jodi Montgomery and Britney, since it's clear that Britney actually likes Jodi and respects Jodi's decision-making as her personal conservator. Jamie is desperate to retain as much control over all aspects of Britney and he wants Jodi to be off the conservatorship. And Jamie just wants everyone to believe that Britney is crazy and lying about everything.
The fact that Jodi Montgomery is now publicly pleading (and privately pleading) with Jamie to remove himself from the financial aspect of the conservatorship is very interesting too. For all we know, Jodi has been making that argument privately for some time now, as it has been clear for years that Jamie has used his position to financially abuse his daughter and steal from her. Jodi and Britney's new lawyer, Mathew Rosengart, have been making the case for weeks that the need to remove Jamie is not even about the money right now, it's about Britney's mental health. Britney's personal conservator, personal lawyer and personal doctors are apparently all in agreement: Jamie Spears is detrimental to Britney's health.
Variety also notes that Mathew Rosengart has been looking through Jamie's financial management of Britney's estate and he seems pretty shocked by what he's turned up so far, including Jamie's anger at the expense of Britney going on vacation to Hawaii. Rosengart wants Jamie completely removed financially from his daughter and Rosengart wants a full audit.
Photos courtesy of Britney's IG, Avalon Red and Backgrid.