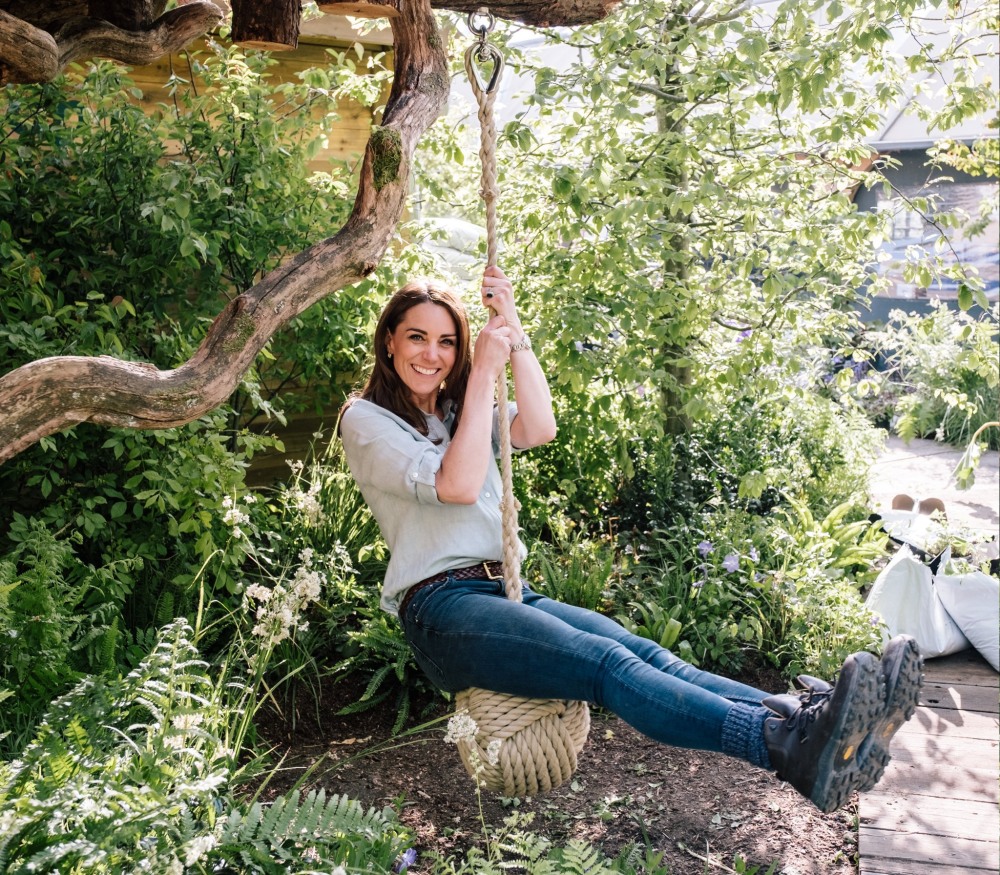 Back in June, the Duchess of Cambridge visited one of her patronages, which is always a rare and notable event. She visited the Natural History Museum and made an appearance to promote the museum's Urban Nature Project. It's basically a little slice of country life for all of the city kids in London, although there seems to be a "working outdoors" aspect of it too, interactive stuff to teach kids about pollinators, beehives, gardening, etc. For the visit, Kate brought a treat for the kids: a jar of honey from what she described as her beehives. There was some confusion as to how we never heard about Kate-the-beekeeper before now, and why Kate's sudden interest in beekeeping, honey, hives and apiaries? No one really knew.
Well, they're doing some kind of follow-up so at least the whole "I keep keen bees!" thing wasn't a one-off. The Cambridges' social media posted these photos of butterflies and Princess Charlotte holding a butterfly to highlight the Big Butterfly Count in the UK. The nonprofit organization Butterfly Conservation has urged people to "count butterflies" on their properties as a way to highlight the importance of pollinators like butterflies. They also want people to post photos of the butterflies in their gardens. The group is trying to help parents teach kids about Lepidopterology. The Keens posted the photos with this message:
We wanted to share these beautiful Peacock and Red Admiral butterflies as part of Big #ButterflyCount initiative taking place across the UK.

@savebutterflies are encouraging us all to count these incredible creatures because not only are they beautiful creatures to be around but they are also extremely important. Butterflies are vital parts of the ecosystem as both pollinators and components of the food chain.

Hopefully you can beat last year's total, @savebutterflies
[From The Cambridges' social media]
Kensington Palace staffers are getting better at organizing some of this stuff for the lazy Cambridges, aren't they? The first time I realized that there are a few people in KP who are somewhat good at their jobs was when Kate was attached to the Hold Still project, which was fantastic and she barely had to do anything to get a huge amount of credit. This is the same – who doesn't love butterflies and pollinators? Who doesn't want to teach their kids about fun science and task their kids with "counting butterflies"? It fits perfectly with the Cambridges' narrow interests.
(Should I even say it? This Butterfly Count thing has been happening for weeks. KP posted these photos on Saturday, August 7th… the day before the "count" ended. A day late and a dollar short! I mean, they weren't late, but they certainly weren't early.)
PS… Did Kate take the photos of the butterflies? If so, she's gotten better at photography. But the IG doesn't credit her with the pics, so I don't know.
Photos courtesy of Avalon Red, Instagram.