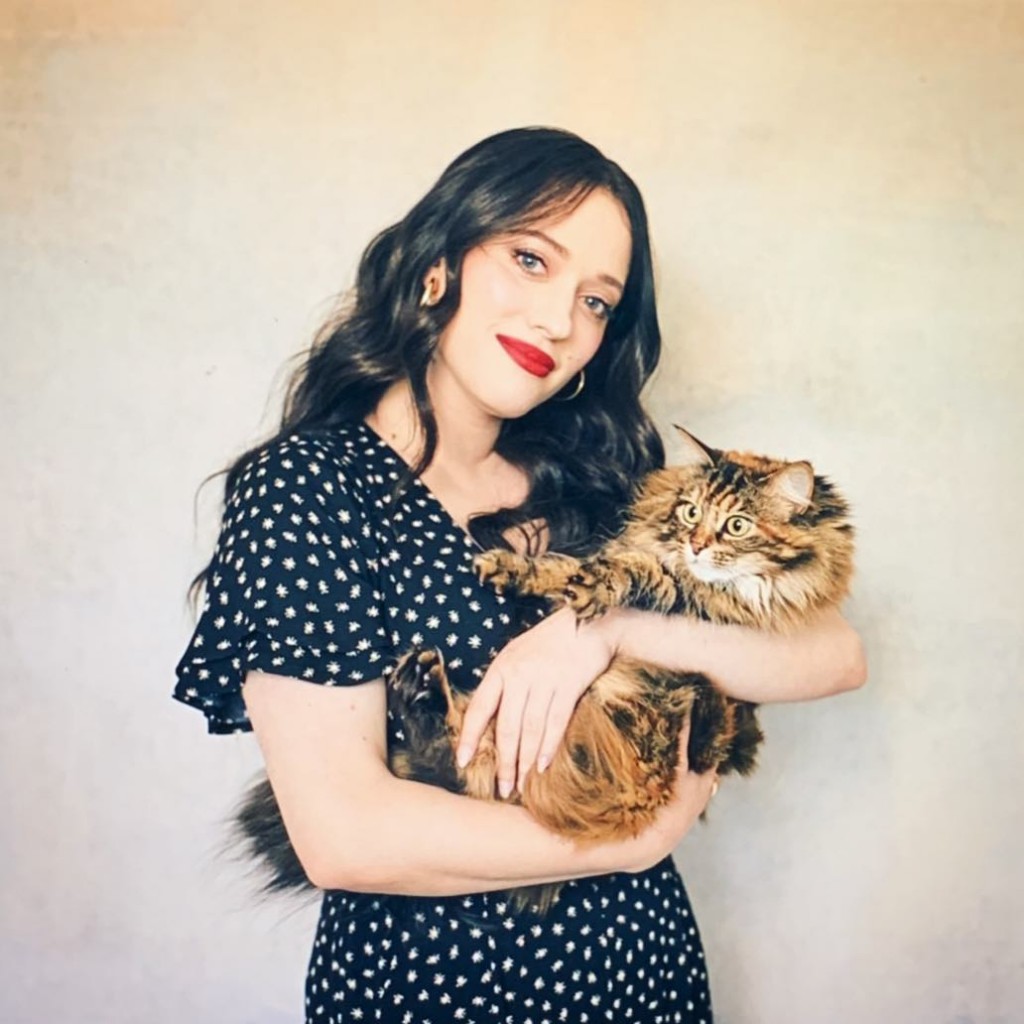 Kat Dennings is mom to Millie, eight. Millie, is a domestic long-haired tabby that she rescued as a kitten. If you spend any time at all on Kat's Instagram, Millie is featured prominently, as she should be, she's a marvel in every way. So it comes as no surprise that Kat puts extra thought into her baby's birthday celebrations. Kat, who is partnering with Royal Canin to promote National Take Your Cat to the Vet Day on August 22, talked about Millie's guilty pleasure which happens to be the little pouches the chopsticks come in when you order Chinese take out. And what Baby wants, Baby gets. Kat collected all the wrappers she could over the course of a few months so when Millie's big day arrived, Kat was able to shower her in chopstick wrapper love.
Kat Dennings will do anything to make her cat, Millie, happy!

The Dollface star, 35, tells PEOPLE exclusively about the hilarious habit her furry friend picked up — and how she eventually catered to it.

"Millie has very limited access to anything dangerous. I'm an insane helicopter mom when it comes to her. This cat loves anytime I get sushi takeout or delivery or whatever, and you know how the chopsticks come in that little chopstick pouch? There's something about the chopstick pouch that drives this cat wild," the actress, who's partnered with Royal Canin to raise awareness about their National Take Your Cat to the Vet Day campaign, says about her cat's quirk.

"She loves the empty chopstick pouch. She hoarded that," she continues. "She would find one and drag it upstairs and hide it, and I just found this little stash of empty chopstick pouches."
Dennings once went the extra mile to pull off an "insane" chopstick pouch feat for Millie's birthday.

"I saved all the chopsticks pouches for months and months, and I surprised her. She sat on the bed, and I filmed it in slow motion — again, I know, I'm insane. I threw a hundred chopstick wrappers into the air and filmed her reaction, and she could not believe it," she says. "So I don't know if that story says more about Millie or about me."
Kat said she filmed this chopstick pouch confetti fete, but I can't find evidence of it. Maybe that was just a sacred moment between mother and daughter on her special day. Looking at photos of Millie on Kat's IG, I can kind of get a sense of her personality and even picturing this scene is bringing me much joy. I love that she did this for Millie. Think about the planning that went into it and how excited she must've been every time she tucked away another wrapper. And the great thing is that, unlike ungrateful children who will call you out on repeating yourself, Kat can make it rain chopstick wrappers every year and Millie will be just as dazzled as if it was happening the first time.
It will surprise no one here to know that I, too, celebrate my pets' birthdays. Growing up, our gift to our Irish Setter was a trash bag full of balloons suspended from a tree. He'd knock it down and chase the balloons down one by one until he'd popped each one. I tried that with my Jindos and they were so terrified, they hid from the bag/balloons for hours. To this day, they regard balloons brought in for other's birthdays with great suspicion. Another birthday I "delivered" them mail, because they love to attack junk mail when we bring it in. But they knew it was my daughter who put it in the mailbox and just looked at us weird when we opened the door. Maybe I'll try the chopstick wrapper thing. My new kitten will love it, I know that.
The National Take Your Cat to the Vet Day is a good initiative because cats really don't tell us when they get sick. They tend to go off and deal with their issues, not always successfully, so regular vet care is especially important for cats. Low-cost clinics are starting to open back up, so make sure your kitty gets checked out.
Also, I forgot Kat was engaged. She and her fiancé, Andrew W.K. seem to have a lot of fun together. Obviously Mille approves of him, or Kat would've kicked him to the curb.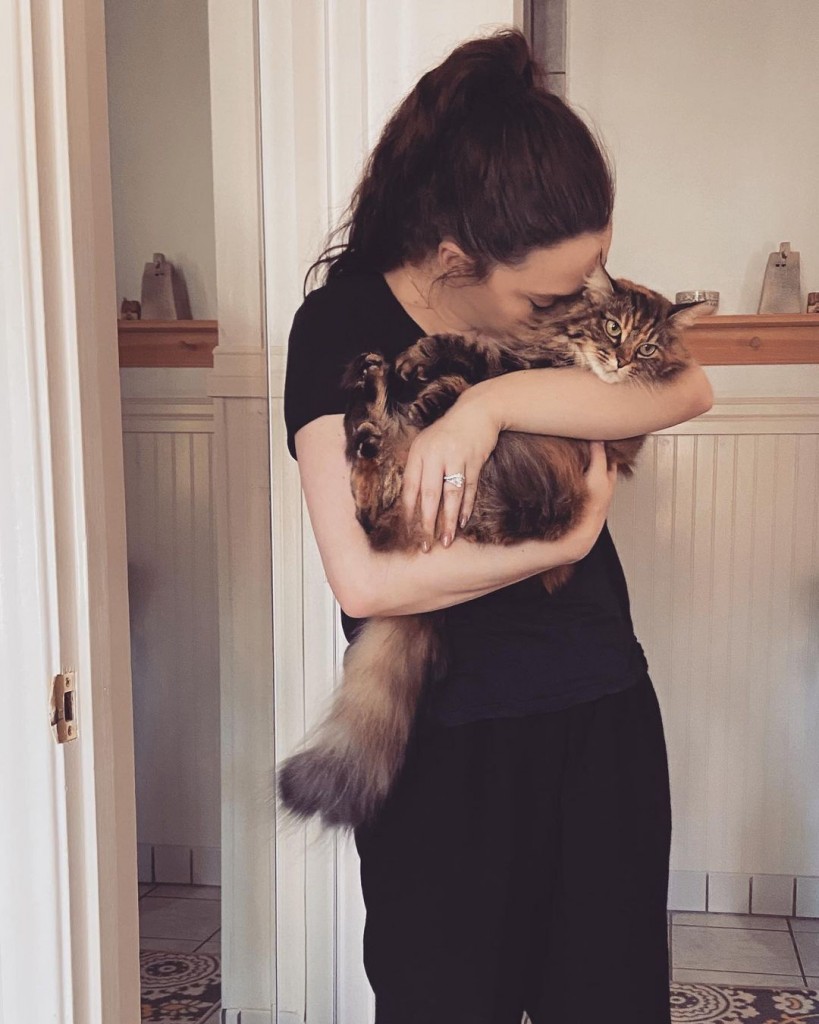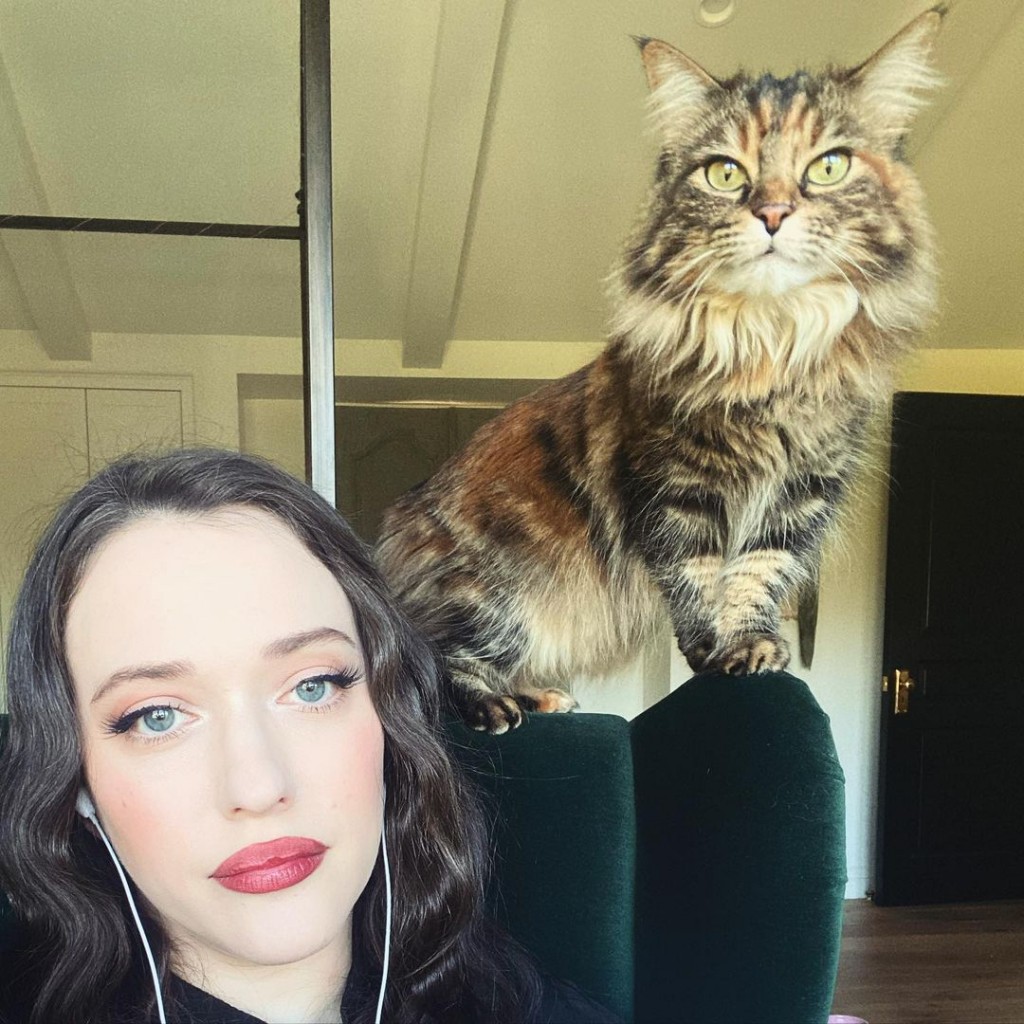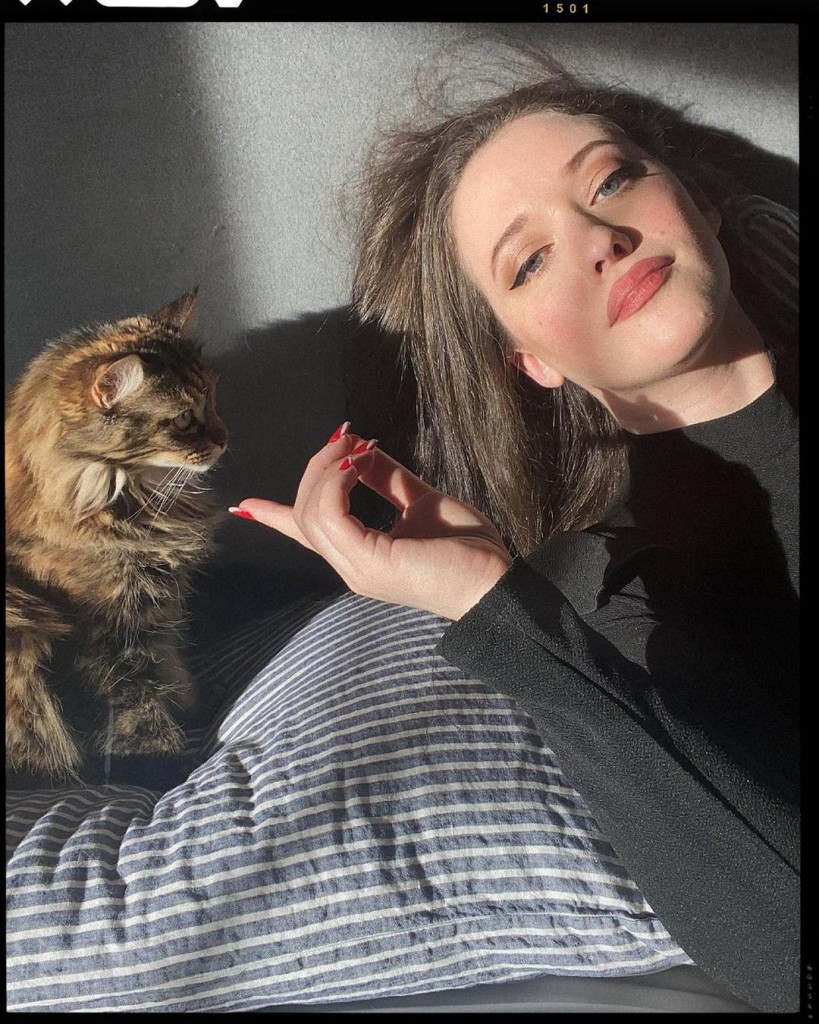 Photo credit: Instagram